Supporters of Aaron Swartz, the 26-year-old Internet activist who committed suicide last week, gathered in New York to remember the computer prodigy on Saturday, with some calling for changes in the criminal justice system they blame for his death.
Swartz, who at 14 helped create an early version of the Web feed system RSS and believed the fruits of academic research and other information should be freely available to all, was found dead a week ago in his Brooklyn apartment.
The city's chief medical examiner ruled the death a suicide by hanging.
He had been facing trial on federal charges he used the Massachusetts Institute of Technology's computer networks to steal more than 4 million articles from JSTOR, an online archive and journal distribution service.
Swartz, who had also worked on the popular website Reddit, had faced a maximum sentence of 31 years in prison and fines of up to $1 million.
"He told me about the 4.5 million downloads of scholarly articles, and my first thought was why isn't MIT celebrating this?" Edward Tufte, an emeritus professor of computer science at Yale University and a friend of Swartz, said to applause from the crowd gathered in The Cooper Union's Great Hall in Manhattan.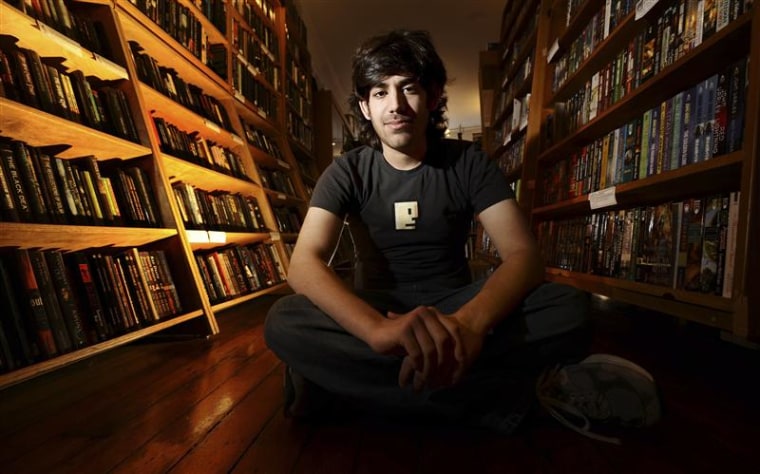 Taren Stinebrickner-Kauffman, Swartz's partner, criticized what she described as MIT's "indifference" to the saga, saying the school could have acted to end his prosecution.
The president of MIT said this week the school was investigating its role in Swartz's case. JSTOR has said in a statement it settled any dispute with Swartz in 2011 and praised his "important contributions to the development of the Internet."
Call for change
At the memorial, attended by hundreds of friends and supporters, the strongest criticisms were reserved for prosecutors in the office of Carmen Ortiz, the U.S. Attorney for Massachusetts.

Roy Singham, the chairman of ThoughtWorks, a software consultancy firm where Swartz worked, called the case against Swartz "an abuse of state power" intended to intimidate Swartz. He called for the reform of the Computer Fraud and Abuse Act under which Swartz was prosecuted.
Swartz's partner said it all became too much for him to bear.
"He was so scared and so frustrated and more than anything so weary I just don't think he could take it another day," Stinebrickner-Kauffman said, adding the pair had discussed getting married after the trial.
Ortiz has defended her office's actions, saying prosecutors "took on the difficult task of enforcing a law they had taken an oath to uphold, and did so reasonably."
She said they offered Swartz a deal to plead guilty to multiple counts of wire fraud and computer fraud and spend six months at a low-security facility.
Swartz was remembered as a precocious talent who began addressing technology conferences as a teenager and whose quirks included being loath to wash his dishes and preferring bland foods like crackers and white rice.
Many speakers said he was by far the smartest and most intellectually curious person they had known, and called on those in attendance to continue his work of trying to widen the public's access to information and communication channels.
Stinebrickner-Kauffman said Swartz disliked grand ceremonies and would have been uncomfortable with some aspects of his own memorial.
"But memorial services are for the living," she said, repeating it several times like a mantra, "and last Friday he forfeited his right to decide that."
(Editing by Cynthia Johnston and Xavier Briand)