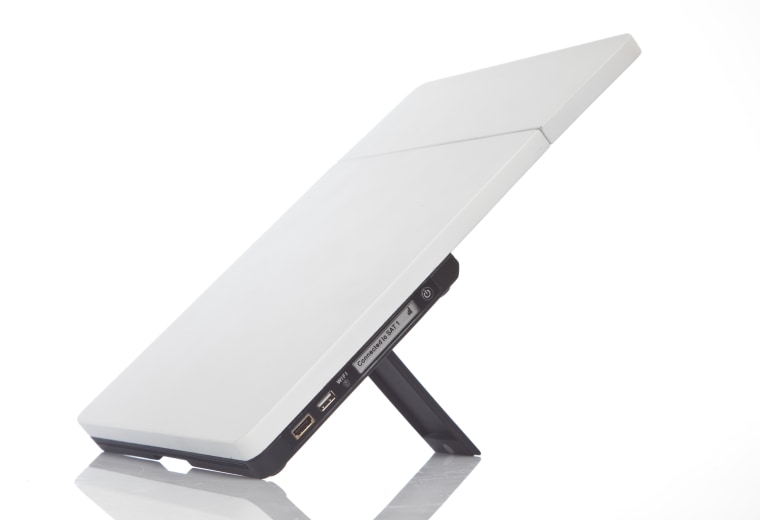 A lightweight, compact antenna made with an exotic "metamaterial" will soon bring broadband satellite Internet connections to anyone, anywhere with a portable laptop-sized hotspot.
The hotspot is the first product to be offered by Kymeta, a startup launched Tuesday by Intellectual Ventures, a Bellevue, Wash.,- based patent and research company led by former Microsoft chief technology officer Nathan Myhrvold. 

The metamaterial at the heart of the company's antenna manipulates electromagnetic radiation to point and steer a radio beam so that it stays locked onto a satellite. 
The same type of exotic material is behind efforts to create a Harry Potteresque invisibility cloak by manipulating light waves. The antenna technology works with waves further down the electromagnetic spectrum, Kymeta CEO Vern Fotheringham explained to me Tuesday.
The hotspot will deliver speeds of 10 to 20 megabytes per second, at a data plan price point equivalent to today's 3G and 4G wireless networks.
"It is a totally different marketplace that hasn't been able to be exploited," Fotheringham said.
The marketplace is now available thanks to the metamaterial technology in combination with an expected tenfold increase in satellite broadband capacity by 2015, compared with 2010.
The company expects to have a pre-production prototype in 18 months and the first devices on stores shelves by late 2014 or early 2015.
The device "can literally be set up by anybody just by aiming the satellite hotspot towards the orbital arc [of the satellite]," Fotheringham said. "And because the technology creates a beam that automatically aligns with the satellite, there is no sophisticated pointing required. Anyone can set one of these things up in a matter of minutes."
The technology, he added, could be used by traditional satellite Internet service providers such as Dish and HughesNet as well as mobile satellite provider Inmarsat.
The current technologies behind Dish and HughesNet use fixed parabolic dish antennas, take an average of about 30 minutes to set up and are not easily transported, Fotheringham said.
The new antenna could make it easier for their customers to get service.
Following the rollout of the portable hotspots, the company aims to sell its technology for use on airplanes, trains, boats and in other mobile environments.
Updated at 11:15 am PT to reflect target relationship with satellite internet service providers.
John Roach is a contributing writer for NBC News Digital. To learn more about him, check out his website. For more of our Future of Technology series, watch the featured video below.