The word is out on social media: Any country can try to use a service like Facebook or Twitter to spread state-backed propaganda under fake names in other countries.
All it takes is a time-tested, publicly available playbook — and the will to try.
That is the lesson security analysts said they're drawing after the disclosure this week by Facebook that Iran had for years succeeded in using the social network for propaganda purposes, much as Russia has allegedly done.
Since 2011, people linked to Iranian state media had set up Facebook pages with fake names and used them to blast out divisive messages aimed at other countries, including the United States and Britain, Facebook said on Tuesday. Facebook added that it had removed hundreds of the Iranian-linked pages, and in a similar action, Twitter said it had taken down hundreds more accounts on its service.
"It demonstrates that there are actors out there beyond Russia who perceive there to be value in pursuing these kinds of activities," said Lee Foster, a manager at private security firm FireEye, which tipped off Facebook to part of the Iranian network.
Russia popularized the idea that social media networks could be easily used for information warfare, after its agents spread propaganda on Facebook in particular in the run-up to the 2016 U.S. presidential election, according to U.S. intelligence agencies and an indictment this year of Russian nationals.
There is no allegation that Iranians and Russians were working together, and Facebook has ramped up its spending on security measures to try to root out what it calls "information operations" by governments.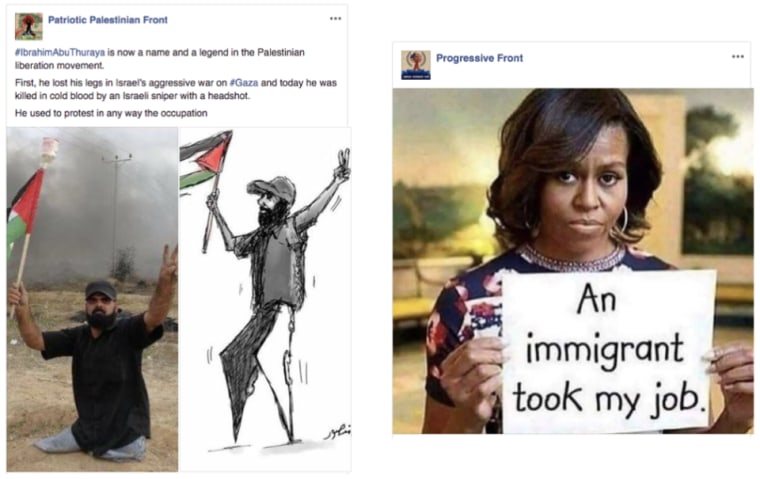 But just about any nation can use the same playbook, and several may already be veterans at it, experts said.
"There's nothing preventing anyone else from adopting that, and you look at the political situation out there and it's ripe to be exploited," said Ben West, a senior analyst at Stratfor Threat Lens. "The fault lines are ripe to be exploited."
The only thing holding countries back, Foster said, is whether a covert social media operation is worth the effort and potential blowback.
"What it comes down to is a political decision as to whether they see any value in doing so," he said.
Russia has denied meddling on social media, and Iran this week called the accusations against it absurd, according to Reuters.
Similar allegations against Iran go back years. In 2014, cyber intelligence firm iSight Partners said it had uncovered an espionage campaign by Iranian hackers that included fake social networking accounts and a fake news website.
The similarities between what Iran and Russia did on social media are difficult to miss, according to samples released by Facebook and by U.S. lawmakers.
Both set up social media accounts with vague names that disguised who was behind them. Iranians used names such as "The British Left" or "Liberty Front Press," while Russians had pages such as "Born Liberal" and "Blacktivists."
They tried their hands at buying ads, with the Iranians spending around $12,000, apparently much less than the $100,000 that Facebook says Russians spent.
And they posted commentary on inflammatory racial and ethnic subjects. While the Russians posted in the United States about the Ku Klux Klan and the Confederate flag, the Iranians boosted Scottish independence and mocked President Donald Trump's embrace of North Korean leader Kim Jong-un.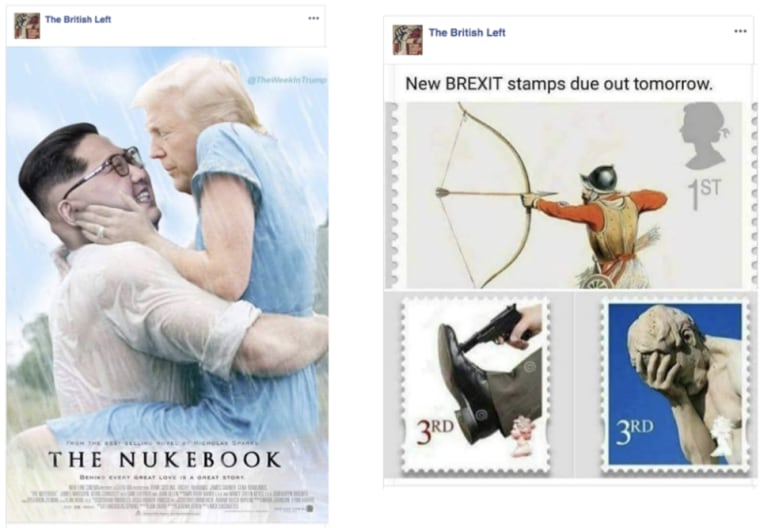 Some posts latched onto viral internet memes, such as a photo of former first lady Michelle Obama holding up a sheet of paper doctored with a joke. "An immigrant took my job," the sheet reads in a post by the Iranians, a reference to Trump's Slovenia-born wife Melania.
"If you're running information operations, it would be weird not to jump on viral content and use it for your own purposes," said Graham Brookie, director of the Digital Forensic Research Lab at the Atlantic Council, a think tank that has partnered with Facebook to analyze disinformation campaigns.
One difference is that there is no allegation Iran tried to sway an election; Russians supported Trump's campaign in 2016 and disparaged his Democratic opponent Hillary Clinton, according to an indictment brought by U.S. prosecutors.
Lawmakers seized on the similarities between the alleged Iranian and Russian operations to urge the Trump administration to do more to stop foreign governments from turning social media networks into battlegrounds.
"The Kremlin playbook of meddling now used by Iran. By failing to deter Russia, Trump paved the way for every US adversary to interfere in our democracy. Time for Congress to act!" Sen. Richard Blumenthal, D-Conn., said in a tweet.
European lawmakers also expressed alarm that Iranians targeted Britain.
"We need to do more to protect our elections and tackle the online challenges to elections head on," said Vera Jourova, a European commissioner who has been involved in writing election regulations for the region, the New York Times reported.
But Foster, of FireEye, said that even if U.S. and European authorities are able to build up their defenses, social media battles may still rage in other parts of the world. A regional conflict between small countries, for example, may be hard to spot, he said.
"It takes dedicating resources to investigate the activity and unmask the campaigns," Foster said. "You have to be actively looking for them."