SAN FRANCISCO — President Donald Trump and the European Union, who don't agree on much, have a new dispute: how to handle the enormous power of modern tech companies.
On Thursday morning, Trump tweeted a complaint about the $5 billion fine that E.U. regulators levied against Google for squeezing out rivals through its mobile Android operating system, claiming that it reflected just another example of Europeans' taking advantage of the U.S.
The E.U. perspective, however, is the polar opposite. In European eyes, the U.S. has allowed its tech companies to become too powerful, forcing the E.U. to step in.
The most recent fine centered around Android, the mobile operating system that Google gives away to smartphone manufacturers — which helps push people to use Google apps, including the basic search function.
"Google has used Android as a vehicle to cement the dominance of its search engine," said Margrethe Vestager, the E.U. commissioner in charge of competition policy, in a statement. "These practices have denied rivals the chance to innovate and compete on the merits."
The punishment was not a one-off. In June 2017, the E.U. hit Google with a then-record $2.7 billion fine for displaying its own shopping results in its search engine before those of competitors.
The main U.S. regulator, the Federal Trade Commission, has in recent years been less keen to go after tech companies. In 2012, the FTC issued a then-record $22.5 million fine against Google for misleading consumers about the privacy of Apple's Safari browser.
The difference in action highlights how the E.U. and U.S. are split over how to handle technology companies, particularly as they struggle to balance the enormous power of Google, Facebook and Amazon with the emergence of rivals from China, some of which are even bigger than their American counterparts.
China rising
In the digital arms race, there's growing concern that putting any serious restrictions on U.S. tech companies will open the door for Chinese rivals.
If U.S. regulators are too "heavy-handed," they'll risk creating opportunities for Chinese companies to swoop in and take the lead, according to Sen. Mark Warner, D-Va., who spoke at Recode's Code Conference in May.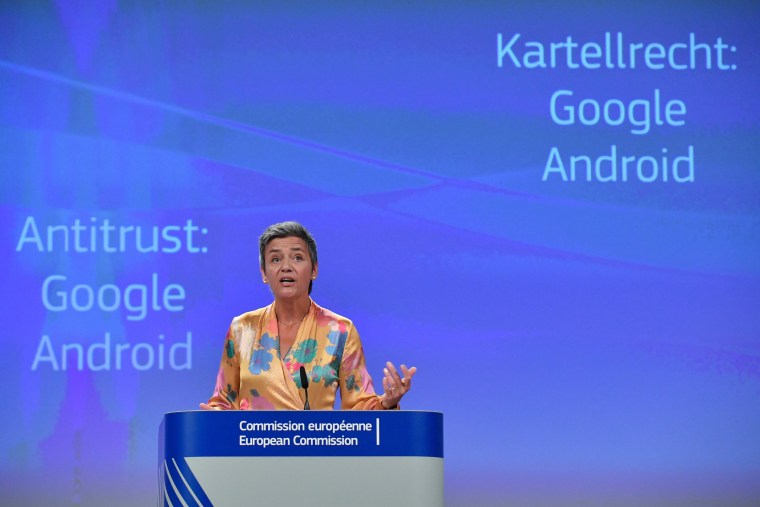 Warner has advocated for regulation, but also warned that Chinese companies, which have close relationships with China's government, are ready to pounce on any openings.
"If we simply replace those entities, market entities, with Alibaba and Tencent and have them combine their information with a billion people in the world of artificial intelligence, they start with a bigger end, that may give them a bigger lead that no other companies can catch up with," Warner said.
Patrick Moorhead, the principal analyst at Moor Insights & Strategy, said the fine is a "European phenomenon." He said he believes the political climate in Washington is focused more on China's growing dominance.
"I think the U.S. is more concerned with our large tech companies competing against China than breaking up monopolies," he said.
Trust busters
The E.U. fine provides some ammunition for a growing group of tech critics in the U.S., including academics, politicians and even some newly appointed regulators, who have been calling for the government to reconsider how it applies antitrust rules.
In May, the FTC swore in two new Democratic commissioners who have spoken publicly about the power and responsibilities of tech companies. Joseph Simons, the new chair of the FTC, said on Wednesday that the agency is "very interested" in learning more about the E.U. fine.
Sandeep Vaheesan, policy counsel at the Open Markets Institute, a leading think tank on antitrust issues, said this isn't just talk.
"Given the public concerns about the power of the platform, it's more likely we see action now than at any point in the past," Vaheesan said.
Not long ago, the FTC might have been leading the charge against Google. The E.U.-Google case has close parallels to the blockbuster U.S. antitrust case against Microsoft in 1998. Microsoft used its Windows software dominance to push its Internet Explorer web browser, similar to Google's use of Android and its apps.
As a result of the case, Microsoft agreed to give consumers a choice of web browsers, breaking up the dominance of Internet Explorer.
Though seen at the time as a symbolic victory that left Microsoft mostly unscathed, the case is now believed to have put the brakes on Microsoft's willingness to innovate or use its market power to push around other companies. That helped give rise to a new search engine: Google.