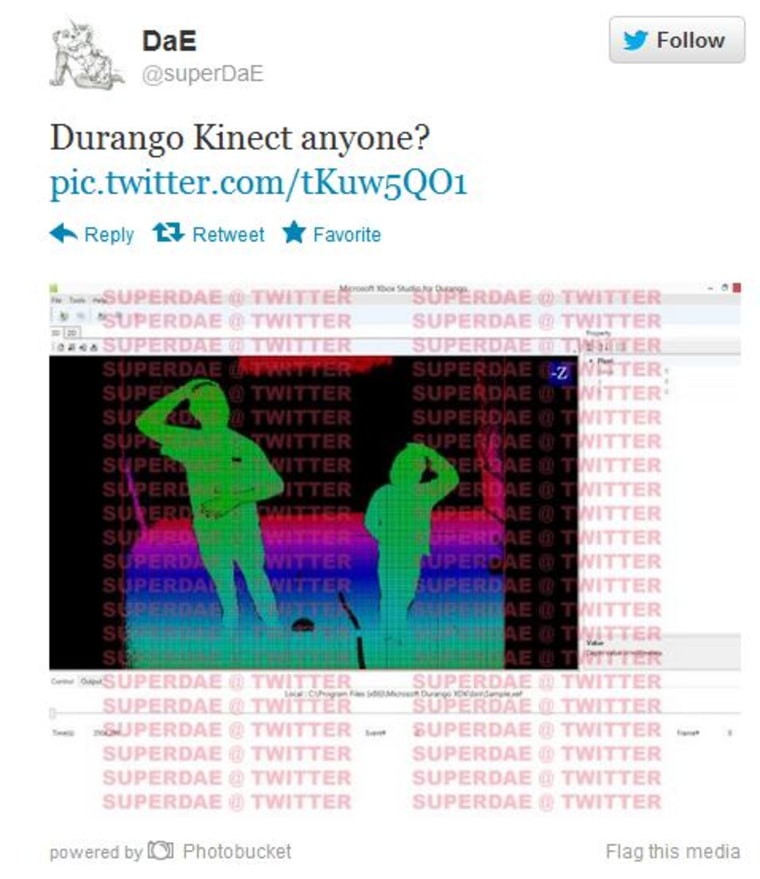 An anonymous Twitter user has posted an image online that purports to be a screenshot taken from a new Kinect motion-sensing device.
The screenshot -- posted by a Twitter user going by the name superDaE -- shows a more detailed image apparently captured by the device while running on Durango (the code-name for the sequel to the Xbox 360). 
The image shows that the Kinect 2 is able to capture far more detail than the first Kinect, including the player's individual fingers.
Though the image is being passed around on Twitter and throughout the gaming community, whether it is for real can't be officially confirmed. However, unammed Microsoft sources have told The Verge  the image is genuine.
This is just the latest in a string of leaks claiming to reveal details about what Microsoft has in store for its next video game console and next motion control device.
Last week, this same Twitter user also leaked images of what he said was the Durango development kit he was in possession of.  Meanwhile, a Microsoft manager may have ... or may not have ... accidentally confirmed a new Xbox is on the way.
Also, earlier this year, leaked documents allegedly revealed a more powerful Xbox that will make use of augmented reality glasses as well as a Kinect 2 that can track up to four players at a time.
Of course, if Microsoft would finally, at long last, officially reveal the Next Xbox 720 Durango, perhaps everyone would  stop spreading rumors about it.
Via The Verge
Winda Benedetti writes about video games for NBC News. You can follow her tweets about games and other things on Twitter here @WindaBenedetti and you can follow her on Google+. Meanwhile, be sure to check out the IN-GAME FACEBOOK PAGE to discuss the day's gaming news and reviews.