Worried that your face is being detected and recorded on everything from security cameras to Google Glass? Don these infrared-emitting glasses to prevent your face from being recognized, and your only worry will be how dorky you look.
The "privacy visor," created by associate professor Isao Echizen at Japan's National Institute of Informatics, use bright, near-infrared LEDs to blast cameras with light that they can see but humans can't. The software that detects faces gets confused and decides that this brightly lit object isn't a face.
It's an idea that has existed in various forms since facial recognition became possible: whether wearing sunglasses, contorting one's features or just growing a beard, faking out the cameras has always been a possibility. These glasses are just a little more convenient.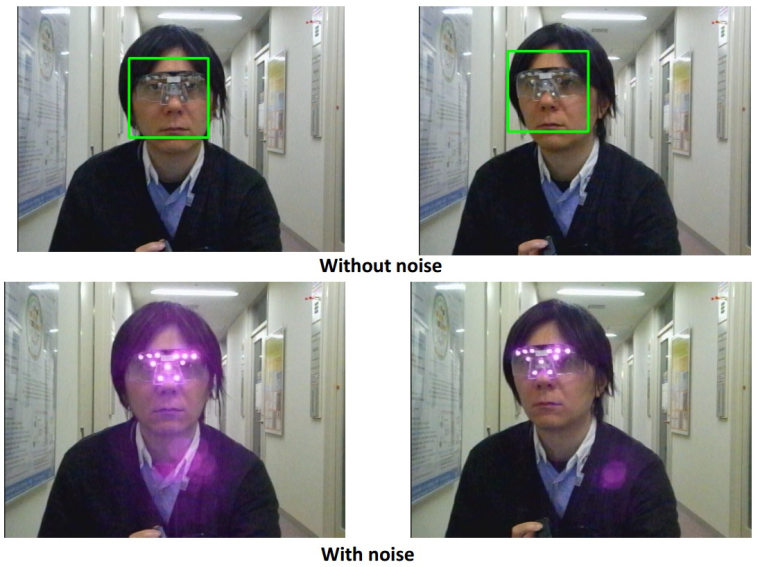 While it works, this system can still be fooled. Many cameras filter out the type of light generated by the LEDs, for instance, and in some conditions the LEDs might not produce enough light to dazzle the camera. And, of course, there's nothing actually preventing pictures or video from being taken, even if your face couldn't be automatically detected in them.
The privacy visor won't be going on sale any time soon, but if wearable cameras get any more popular, there will surely be a demand for something like it before long. Watch the technology in action in this video from Diginfo.tv:
Devin Coldewey is a contributing writer for NBC News Digital. His personal website is coldewey.cc.