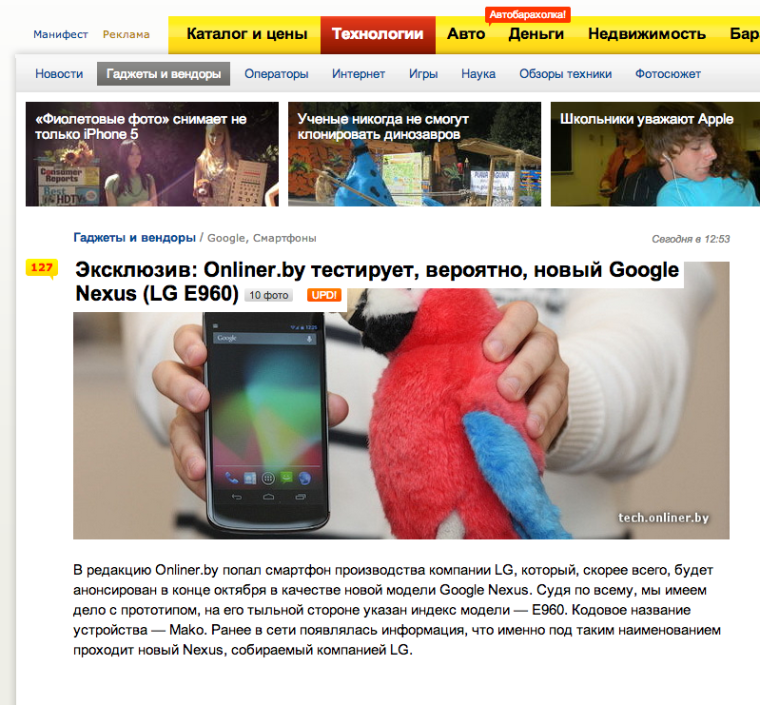 Some photos of what may be the next Google Nexus smartphone leaked this earlier week, but now a whole prototype may have slipped out. Rumor is that this LG-made device will be officially unveiled on Oct. 29.
This latest bit of Nexus-related gossip comes via the folks at Russian news site Onliner, who say that they got their hands on what appears to be a prototype of the next version of Google's Nexus smartphone. The device appears to match the one we've seen in previously leaked images.
According to Onliner's report, the prototype device is codenamed "E960" and runs Android 4.1.2. It supposedly has a 1.5-GHz quad-core processor, 2 GB of RAM, and 8 GB of storage. Its screen measures 4.7 inches and has a resolution of 768 x 1280 pixels.
It's not clear from the rumor posts to date whether or not the phone is 4G LTE capable, but we'd hope — and even expect — that it does.
Onliner's report reiterates the idea that the next Google Nexus smartphone will be announced on Oct. 29. We would not be surprised if this detail turns out to be true as that day would be almost exactly a year from the moment Samsung and Google announced the current Google Nexus.
Want more tech news or interesting links? You'll get plenty of both if you keep up with Rosa Golijan, the writer of this post, by following her on Twitter, subscribing to her Facebook posts, or circling her on Google+.