Forget the Xbox, PlayStation and Wii -- the game machine everyone is talking about today is the Ouya.
If you haven't heard about Ouya, that's because it doesn't, technically, exist as anything but a prototype yet. But it looks like it won't be long before the silver and black cube designed to deliver games to your television will be made available to the public -- for $99.
That is, Ouya's creators  have, in a matter of two days, raised more than $3 million to produce the machine. They had originally hoped to make $950,000 in 30 days through the crowdfunding site Kickstarter. But according to the Kickstarter blog, the Ouya project passed that mark and raised $1 million in pledges in its first eight hours -- making it the fastest Kickstarter project to reach the million dollar mark.
"We never anticipated that it would blow up like this." Ouya founder Julie Uhrman told Venture Beat. 

So what, exactly, is Ouya (pronounced like booyah without the b)? It's an Android-powered open gaming console designed by well-known industrial designer and philanthropist Yves Behar (he designed the One Laptop Per Child laptops). The "open" part of that sentence means that while game developers must get permission from the companies behind the Xbox 360, PlayStation 3 and Wii and pay for expensive development kits to make games for those machines, that won't be the case with Ouya.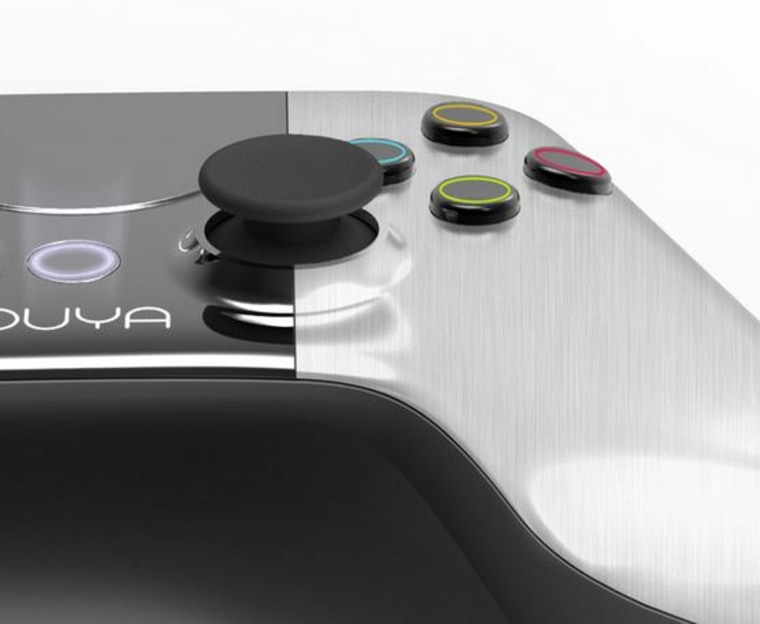 All developers will be welcome to make games for the Ouya without any licensing fees, retail fees or publishing fees say the gadget's creators.  Instead, every Ouya will be its own development kit so developers won't need to purchase a license or an additional software development kit. And it will be open to developers, hackers and hobbyists of all stripes.
"The console market is pushing developers away," say Ouya's creators on their Kickstarter page. "We've seen a brain drain: some of the best, most creative gamemakers are focused on mobile and social games because those platforms are more developer-friendly."

The San-Francisco company behind Ouya hopes to harness the excitement found among independent developers working on mobile and social games and bring their games to the home television screen. And games from big publishers will find a welcome home on the machine as well, says Uhrman.
There is only one condition developers must meet: at least some of the gameplay they offer has to be free. 
"We borrowed the free-to-play model from games like 'League of Legends,' 'Team Fortress 2,' 'Triple Town,' and many others," explains the Ouya Kickstarter page. "Developers can offer a free demo with a full-game upgrade, in-game items or powers, or ask you to subscribe."
Ouya is currently scheduled for a March 2013 launch and its creators promise a price under $100. Check out the full Ouya pitch here:
Meanwhile, several prominent independent developers are already throwing their weight -- or at least their positive quotes -- behind the project. 
"I'm excited for Ouya! I am a firm believer that there is always room to challenge the status quo," says Jenova Chen, the developer behind innovative PlayStation Network favorites "flOw," "Flower" and "Journey."

"Our games will work so well on a TV, we just need an easy way to get them there. Ouya could be it," writes Marek Rabas of Madfinger Games.

Of course, Ouya -- with its Nvidia Tegra 3 quad-core processor, 1GB of RAM and 8GB of internal flash storage -- will be significantly less powerful than the Xbox 360 and PlayStation 3 (not to mention the next generation of mainstream game machines).
Meanwhile, not everyone is entirely bullish on the upstart game console. Over at PC World, writer Alex Rubens suspects that piracy could be a big problem with this inexpensive Android cube. 
Reporter Ian Fisch of game industry blog Gamasutra also outlined a number of potential problems -- a lackluster Android game library, the fact that fewer and fewer gamers want to play games on their TVs, and obsolete Android specs, among them. He also points out something that I couldn't help but notice -- the Ouya interface (in the video above) looks a lot like the Xbox Live interface. 
All in all, Fisch wonders if "these people are in over their heads."
And they may be. But one thing is for certain -- with more than 24,000 backers in only two days, the Ouya folks have tapped into something that resonates with many gamers. We'll see if it continues to resonate once it officially hits the market.
Winda Benedetti writes about video games for NBCNews.com. You can follow her tweets about games and other things on Twitter here @WindaBenedetti and you follow her on Google+. Meanwhile, be sure to check out the IN-GAME FACEBOOK PAGE to discuss the day's gaming news and reviews.