In an exclusive interview with TODAY's Matt Lauer, first lady Michelle Obama revealed that her daughters Sasha and Malia don't have Facebook profiles. She explained that she doesn't think Facebook is something young kids need, which leaves us wondering: Who does need Facebook? And at what age?
Based on data by marketing research company ComScore, we know that roughly one of every eight minutes spent online is spent on Facebook. That's about 12 percent!
During that time, people do whatever it is anyone normally does on social networking sites — supposedly this involves some sort of poking — as well as plenty of things we should never do. Like bullying teachers, stalking old flames, humiliating former lovers, and suing each other over petty things. We generally overlook the negative stuff because social networks like Facebook serve as a pretty significant form of communication online — to the point of gradually killing e-mail usage.
Basically we — the supposedly responsible adult Facebook users — can claim that we get some great use out of the social networking site and that it makes our lives simpler despite having a few drawbacks. But what about our kids? Is Michelle Obama on to something when she says that the younger folks don't need the site?
We know that Facebook's terms of service require that individuals creating accounts be over the age of 13, but we also know that doesn't stop kids of any age from fibbing about their ages and signing up anyway — with or without their parents' blessings. What we still don't know is whether those kids ever actually think the site is useful or necessary for reasons that don't begin with "my friends said it was cool." Even without that knowledge though, what is the point at which we're willing to accept that our kids need to get their Facebook fix? Is there one at all?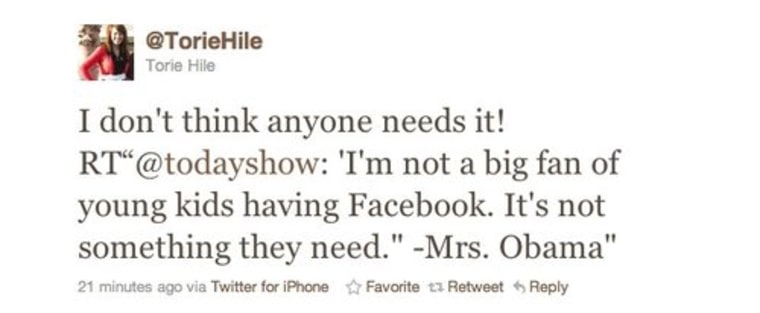 For that matter, do any of us really need Facebook at all or are we in agreement with some Twitter users, such as this one, who proclaim that no one actually needs that particular site in his or her life?
Related stories:
 Rosa Golijan writes about tech here and there. If she wasn't obsessed with Twitter, she'd tell you to go like her on Facebook.