Paul Allen, who co-founded software giant Microsoft with his childhood friend Bill Gates before turning his attention to sports and philanthropy, died on Monday from non-Hodgkin's lymphoma, his family said in a statement. He was 65.
His death unleashed an outpouring of condolences from the sports world, where Allen was known as a Super Bowl-winning football team owner, and the tech industry, where he held a beloved place as a pioneering executive who used his wealth to take on technological challenges.
"His contributions to the world of technology and philanthropy will live on for generations to come," Gates said in a statement.
Allen died in Seattle from the disease he began battling a decade ago, his family said in a statement released by Vulcan Inc, a company Allen founded to pursue his various interests.
Allen was the 27th-richest person in the world, according to the Bloomberg Billionaires Index, which placed his net worth at $26.1 billion. Most of his wealth came from stock in Microsoft, which he and Gates co-founded in 1975.
In a 2011 autobiography, Allen portrayed his role as the company's "ideas" and "vision" person, while Gates contributed an aptitude for business. The two met as children at a Seattle private school.
Allen and Gates battled and their friendship wore down while at Microsoft, he wrote, comparing his years at the company to a "failed romance."
Allen left Microsoft in 1983, after his initial diagnosis of Hodgkin's lymphoma, but by a decade later the company's Windows operating system had become the dominant way that people used personal computers.
Though the company later faltered after a U.S. Justice Department antitrust lawsuit, it remains among the largest U.S. companies. Allen and Gates also later repaired their friendship.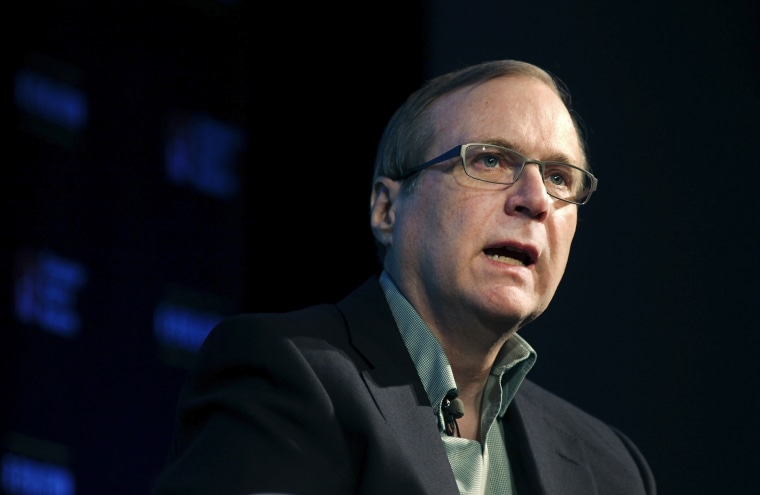 Gates on Monday said he was heartbroken by Allen's death.
"From our early days together at Lakeside School, through our partnership in the creation of Microsoft, to some of our joint philanthropic projects over the years, Paul was a true partner and dear friend. Personal computing would not have existed without him," Gates said in a statement.
Allen poured much of his wealth and interest into professional sports. He was the owner of the NFL's Seattle Seahawks and the NBA's Portland Trail Blazers.
In 2010, he committed to giving the majority of his riches to charity, signing a "giving pledge" promoted by Gates and billionaire investor Warren Buffett. Two years later he said he would give $300 million to neuroscience research.
His sister, Jody Allen, called him "a remarkable individual on every level" and said that his family and friends "were blessed to experience his wit, warmth, his generosity and deep concern."
NFL Commissioner Roger Goodell on Monday credited Allen with helping to advise the league on ways to make the league safer and protect players from unnecessary risk, while former Seahawks running back Marshawn Lynch said he was praying for Allen's family.
"Big dog rest easy as you go home," Lynch said on Twitter.
Allen revealed the return of his non-Hodgkin's lymphoma two weeks ago, writing on Twitter that the disease he battled in 2009 had returned and that he had begun treatment. At the time his doctors were optimistic he would see a good result, Allen said then.
His other, varied interests included building the world's largest plane by wingspan, called the Stratolaunch, in order to help rocket ships into space, and founding a museum dedicated to the late guitarist Jimi Hendrix. (The museum's focus later broadened.)
"Among many other things he was a pioneer of commercial space travel," wrote business mogul Richard Branson, whose Virgin Galactic is also working on taking paying customers to space. "We shared a belief that by exploring space in new ways we can improve life on Earth."
Allen played guitar as well and was a "killer" guitarist, musician and record producer Quincy Jones said on Monday.
Concerned about threats to elephants in Africa, Allen deployed drones and other technology to try to catch poachers.
Washington Gov. Jay Inslee called Allen a "giant" in the state's history.
Microsoft CEO Satya Nadella released a statement via the company's Twitter account pointing to Allen's legacy.
"Paul Allen's contributions to our company, our industry and to our community are indispensable," Nadella said. "As co-founder of Microsoft, in his own quiet and persistent way, he created magical products, experiences and institutions, and in doing so, he changed the world."
Amazon CEO Jeff Bezos also expressed his condolences.
"Very sad to hear of Paul Allen's passing," Bezos tweeted. "His passion for invention and pushing forward inspired so many. He was relentless to the end. My heart goes out to Paul's family and friends."