Even though Facebook for Android came out later than Facebook for Apple, the Android app — like the mobile OS itself — has taken the lead over its iPhone/iPad counterpart.
AppData documented the rise in Facebook for Android's daily users, which culminated in this week's technical knockout with 58.8 million daily active users, vs. Facebook for iPhone's 57.6 million. (These are, by the way, the official mobile apps made by Facebook, not third-party ones.)
Of course, considering the increasing ubiquity of Android devices and downloads, it shouldn't come as too much of a shock to anyone that it's on top, especially since it's a free download.
It was never a question of if  Facebook for Android would gain more users, but rather, when it would surpass the iPhone Facebook users. Just this past week, it added 1.3 million users. Consider that about a month ago, on Nov. 19, Facebook for Android had a little over 53 million daily active users.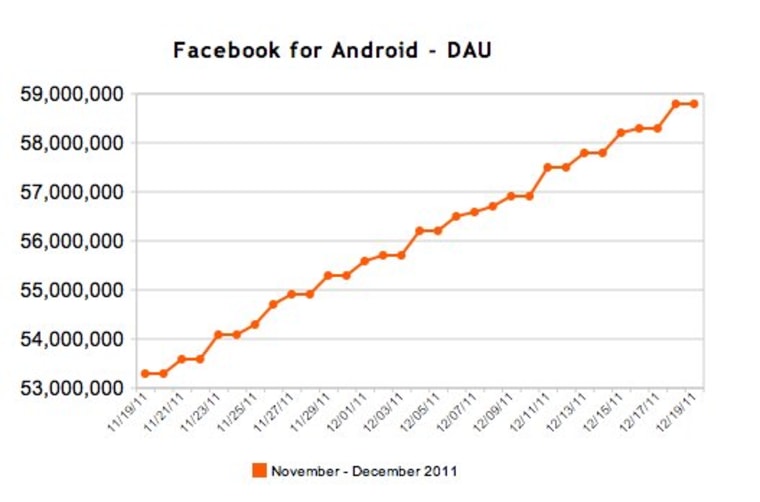 In contrast, Facebook for iPhone added only 300,000 daily active users in the past week, and during the same month duration only gained 2.5 million daily active users.
On a monthly active user basis, Facebook for iPhone is still ahead, with 99.5 million vs. Facebook for Android's 86.1 million. But again, Android picked up 1.6 million monthly active users in the past 7 days, showing a faster rate of additions than Facebook for iPhone, which only gained 500,000 monthly active users in the same time period.
The latest update to the app, released on Android Market Dec. 15, aligns it with the Timeline changes on Facebook, which is also reflected in the most recent Facebook for iPhone update. Other improvements include: one-press navigation to groups, apps, pages and settings; zoom on friends' photo tags; and faster notifications.
In a recent Nielsen report, Facebook is second only to the Android Market as the most used app on Androids.
More stories:
Check out Technolog on Facebook, and on Twitter, follow Athima Chansanchai, who is also trying to keep her head above water in the Google+ stream.