Tech billionaire Elon Musk defended his promotion of conspiracy theories, called the work-from-home trend morally wrong and criticized the direction of tech startup OpenAI in a wide-ranging and at times combative interview Tuesday with CNBC. 
The hourlong interview touched on subjects from autonomous vehicles and online free speech to how much sleep Musk gets and whether some of his tweets are antisemitic — a reflection of his broad interests and influence as one of the world's richest people. 
Musk said he wouldn't stop sharing extremist views, even after a tweet hours earlier about fellow billionaire George Soros was widely condemned, including by the Israeli government.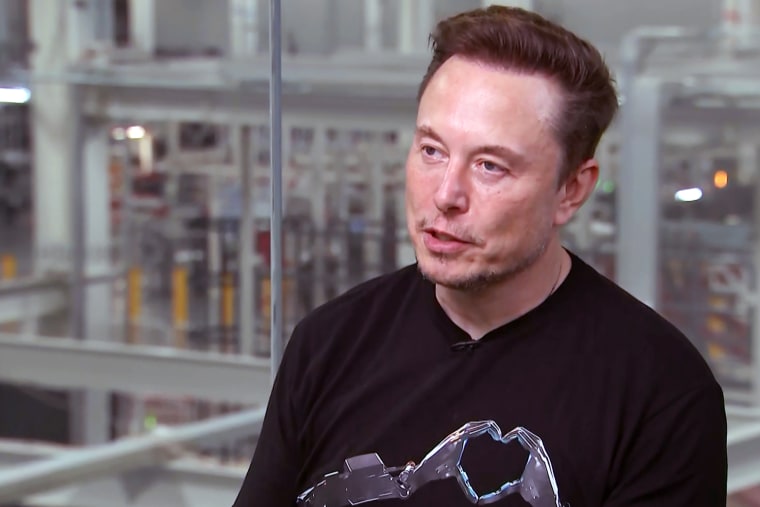 "I'll say what I want to say, and if the consequence of doing that is losing money, so be it," Musk told CNBC anchor David Faber in the interview, broadcast live from a Tesla facility in Texas. 
Musk's public statements, especially on Twitter, which he owns, have increasingly veered into online conspiracy theories in recent weeks. 
He attacked Soros in several tweets Monday, saying that Soros "wants to erode the very fabric of civilization" and that he "hates humanity." Musk compared Soros, who is a frequent target of anti-Jewish hatred, to Magneto, a fictional Jewish supervillain. 
Some Twitter users offered a theory for Musk's motivation: Hours before the attacks, a fund Soros controls reported selling its shares in Tesla, of which Musk is CEO. 
The attack on Soros drew a swift and pointed denunciation from an official at Israel's Foreign Affairs Ministry, David Saranga, who tweeted that Twitter was "filled with AntiSemitic conspiracies and hate speech targeting Jews around the world." 
"Unfortunately Twitter does nothing to address this problem," Saranga wrote. 
Musk alleged in other recent tweets that "elites" were falsifying examples of racial prejudice and that Meta CEO Mark Zuckerberg "bought" the 2020 election. Another tweet used a meme popular with white supremacists to try to explain the first two amendments to the Constitution. 
Musk told Faber that he stood by his tweets and that he is a "prosemite," not an antisemite.  
"I think that's true. That's my opinion," he said of his attack on Soros. 
Musk continued to insert himself into a discussion of the motives of a gunman who killed at least eight people at a mall in Texas this month. Although law enforcement officials have said the gunman was a suspected neo-Nazi sympathizer, Musk second-guessed them. 
"It should not be ascribed to white supremacy if it's false," he said. 
The interview occurred at a whirlwind time for Musk, one of the richest people in the world. 
On a business level, he recently hired a new CEO for Twitter, and his company SpaceX tested the most powerful rocket ever created. Tuesday was also the day of Tesla's annual shareholder meeting, where he promised to deliver the long-delayed Cybertruck. 
On a geopolitical level, he met Monday with French President Emmanuel Macron. Over the weekend, he waded into Turkish national elections when he complied with a government order there to censor the tweets of opponents to President Recep Tayyip Erdoğan. 
And on a personal level, authorities in the U.S. Virgin Islands said in a court filing Monday that they are seeking documents from Musk in connection with a lawsuit accusing JPMorgan Chase of having helped to enable the late sex offender Jeffrey Epstein. 
All the while, Musk keeps popping up in celebrity news, with tabloid coverage of his visits to a Formula 1 race in Miami and a music festival in Cabo San Lucas on Mexico's Pacific coast. 
Musk, asked about the upheaval at Twitter since he bought it for $44 billion last year, said some of his layoffs may have gone too far by cutting people he shouldn't have. 
"Desperate times call for desperate measures," he said. "We're not quite at break-even yet, but we're close. We need to do it fast. And if you do it fast, unfortunately, there's gonna be some babies thrown out with the bathwater." 
Faber asked Musk about an issue the tech industry and other office-based businesses are still wrestling with: how much flexibility there should be to work remotely. He said software engineers and others who have traditionally worked from offices should continue to do so, in part because blue-collar workers can't work from home. 
"People who make your food that gets delivered — they can't work from home. The people that come fix your house, they can't work from home, but you can? Does that seem morally right? That's messed up," he said. 
"You see it as a moral issue?" Faber asked. 
"Yes. It's a productivity issue, but it's also a moral issue," Musk said.
Musk said he remained upset about the direction of OpenAI, a company he helped to start as a nonprofit, open-source organization in 2015. Musk said he was instrumental in recruiting key scientists and even came up with the name. 
"It wouldn't exist without me," he said. "OpenAI was meant to be open, as in open-source." 
Now, however, OpenAI is partly for-profit, and it closely guards much of its work, a shift that began in 2019 as it tried to compete with Google and other companies for talent. 
"It would be as if you started a nonprofit to save the Amazon rainforest and they transformed themselves into a lumber company," he said. 
The interview was unusual in part because Musk rarely grants time to large news outlets, which he frequently criticizes as biased.
Musk said he granted the interview at the recommendation of talent agent and public relations executive Ari Emanuel. 
"I'm not doing an interview with CNBC, the organization, I'm doing an interview with David Faber at Ari Emanuel's recommendation," Musk tweeted. "If David was at another news org, I would still do it." 
CNBC is a part of NBCUniversal News Group, which also includes NBC News.