After predictions of a direct hit, NASA's Kennedy Space Center and Cape Canaveral seems to have shouldered its way through the storm.
Currently a team of 116 employees from NASA, Cape Canaveral Air Force Station and their commercial space partners are hunkered down and riding out the storm at the Kennedy Space Center's Emergency Operations Center.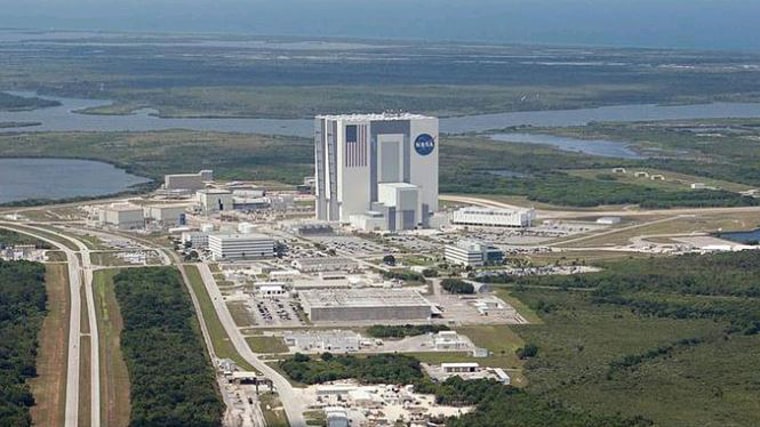 After the went dropped below 50 knots, workers were able to venture out and do initial damage inspections, George Diller, a public affairs officer at NASA's Kennedy Space Center, told NBC News Friday afternoon.
They found the facility made it through mostly unscathed.
Related: NASA Deployed This Whale-Shaped Drone to Monitor the Hurricane
"It's mostly roof damage and other collateral damage like windows and doors, but no major damage to the major facilities and none to flight hardware, including the GOES-R weather satellite, Orion or the Boeing commercial crew vehicle," he said.
The group of over a hundred sheltered inside the emergency center will likely move back to their respective buildings and areas by Saturday, Diller said.
NASA's facilities sit on the coast and were initially forecasted to take a direct Category 5 level beating from Hurricane Matthew. The storm was eventually downgraded to Category 4 before it hit.
Each facility has their own storm plan which would typically involve a limited number of people staying behind in each facility, Diller said.
But NASA decided to not take any chances.
There were worries a storm surge could cause flooding, however a NASA blog post this morning reported the surge has been "relatively minimal."
The Damage Assessment and Recovery Team will begin a formal evaluation Saturday morning, according to NASA.
"In a Category 4 or 5 storm, they don't think its safe to have people scattered around in those facilities," Diller told NBC News on Thursday as Florida braced for impact. "We have brought in food and cots we are going to put down tonight and blankets and pillows.
"We are basically here until its over," he added.