As Netflix execs ring in the new year, they'll probably pray that things get better in 2012. A fresh consumer study reveals a big drop in the beleaguered video company's customer satisfaction scores, mostly due to poor handling of the separation of its streaming and DVD plans — and the price hike that went with it. 
ForeSee, an analytics firm specializing in the consumer experience, released its annual Holiday E-Retail Satisfaction index, which shows that even as Amazon has risen to top place, Netflix has slid the most. As the two go head to head in the video streaming competition, the company predicts the two will continue to go in opposite directions, with "a gulf that may be too wide for Netflix to overcome anytime soon."
Netflix took hits in almost every measurement ForeSee compiles as part of the index.
With its satisfaction decline, Netflix has gone from satisfaction superstar to merely average, matching the index's aggregate score of 79 (up one point from 78 in the 2010 holiday shopping season). Netflix saw scores drop in every single element of the website that ForeSee measures, including site content, site functionality, merchandise and prices.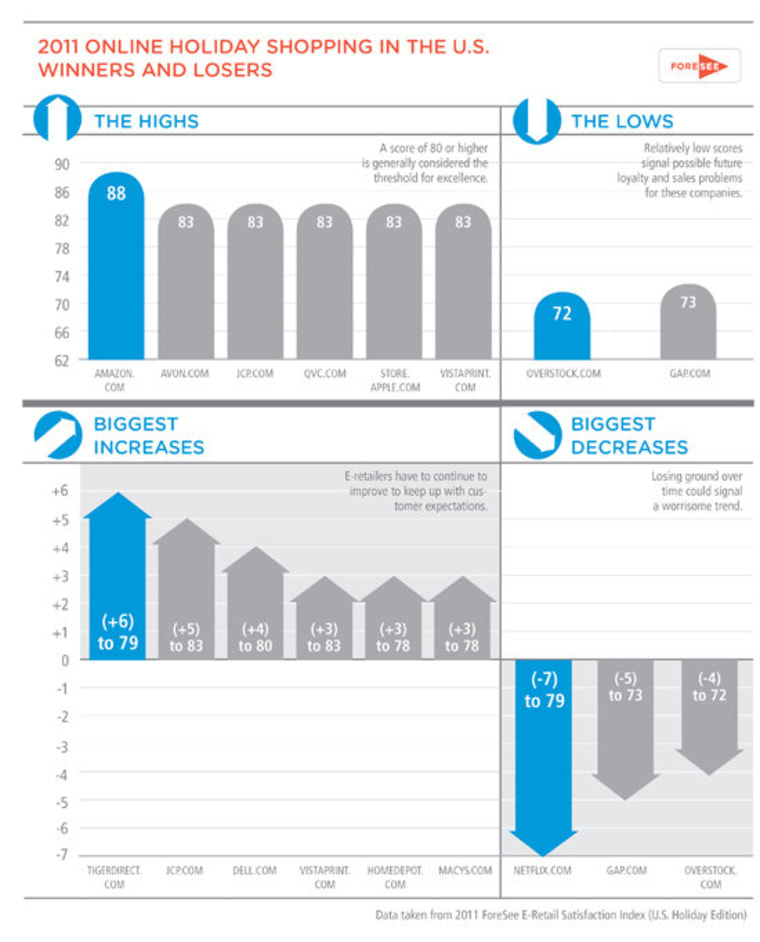 Netflix has been trying to regain its footing since the summer, according to CEO Reed Hastings, when the company "greatly upset many domestic Netflix members with our significant DVD-related pricing changes, and to a lesser degree, with the proposed-and-now-cancelled rebranding of our DVD service," referring to the short, unhappy life of the Qwikster almost-spin-off.
Elsewhere in Hastings' third quarter letter to shareholders, he and CFO David Wells acknowledge that a "temporary cancellation surge" was the price to pay for the way they handled the 60 percent price increase that came with separating its streaming and DVD plans.
We think that $7.99 for unlimited streaming and $7.99 for unlimited DVD are both very aggressive low prices, relative to competition and to the value of the services, and they are the right place for Netflix to be in the long term. What we misjudged was how quickly to move there. We compounded the problem with our lack of explanation about the rising cost of the expansion of streaming content, and steady DVD costs, so that absent that explanation, many perceived us as greedy. Finally, we announced and then retracted a separate brand for DVD.
We first saw that wave of derision engulf the company over the summer, when more than 100,000 comments slammed the Netflix Facebook page and official blog following the separation announcement, which gave once-loyal costumers no choice in the matter, just a perfunctory heads-up that change was a-comin'. And after that, Netflix could do no right, with members complaining about snafus like the much smaller volume of streaming choices vs. DVDs (tens of thousands vs. millions), Qwikster and the threat of not being able to watch more than one stream at a time in the same household. 
Despite the threats of a mass exodus, Netflix members for the most part stayed put, though, as the company has acknowledged, it meant downgrading to streaming only. But that is, after all, the company's focus as it moves steadily into the tablet space and continues its infiltration onto TVs via video game consoles, Blu-ray players and dedicated devices like Roku's set-top boxes. 
TechCrunch recently ran a story about Citi analysts whose survey still put Netflix ahead of Hulu (and way ahead of Amazon) as the go-to site for streaming TV/movie watching, and another one that showed people spending twice as much time on Netflix than on Hulu.
Looks like whatever happens, there's almost no way 2012 won't be a better year for Netflix than this one.
More stories:
Check out Technolog on Facebook, and on Twitter, follow Athima Chansanchai, who is also trying to keep her head above water in the Google+ stream.