Samsung's worst-ever recall could cost the company as much as $17 billion after it announced Tuesday it had completely halted all Note 7 production.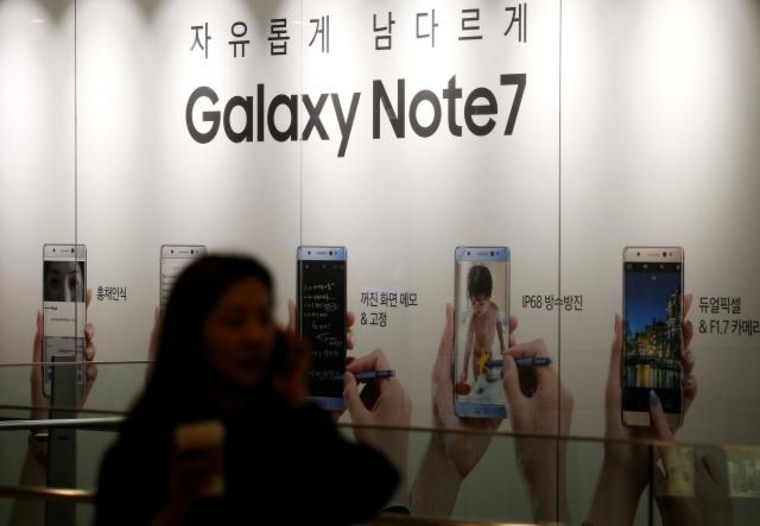 Samsung announced the recall of 2.5 million Note 7s in early September following numerous reports of the phones catching fire and on Tuesday the crisis deepened: The company told mobile carriers to stop sales or exchange of the $882 device and asked users to shut off their phones while it investigated new reports of fires in replacement Note 7s.
As the world's top-selling smartphone company awaits results of probe by U.S. safety regulators, some investors and analysts predict Samsung will move on to successor models to limit the financial and reputational damage.
Stopping all sales of the Note 7 would translate into lost sales of up to 19 million phones, or nearly $17 billion, that the firm was expected to generate during the Note 7's product cycle, according to analysts including those at Credit Suisse.
Broker Nomura estimates Samsung may have to incur up to 1.6 trillion won of disposal costs in the fourth quarter, assuming around 4 million Note 7s have been made.
For Samsung, with a market value of $235 billion and $69 billion in cash and equivalents at the end of June, the loss of sales of one model could be absorbed.
The bigger problem will be long-term impact on its reputation and brand, analysts and experts say.
"We think the Note 7 incident may hurt demand for Samsung's other smartphone models as well," Nomura analysts said in a note, adding it may have to slash Samsung's fourth-quarter mobile division profit estimates by as much as 85 percent.
"The (Note 7) unit is forever going to be tarnished and the danger is that the brand becomes irretrievably damaged as well," said Stephen Robb, a partner at UK law firm Weightmans.
"They need to be writing to every customer with an apology and some form of 'compensation'... It will clearly be costly for the company but the alternative is to end up going the way of Nokia and Blackberry."
Samsung also faces lawsuits, with at least two consumers taking the company to the court in the United States to claim compensation on damages stemming from the faulty smartphone.
The firm received 92 reports of batteries overheating in the United States, including 26 reports of burns and 55 reports of property damage, according to the U.S. regulator's announcement of the Sept. 15 recall.
The Note 7 woes may also roil Samsung's component business, an important and growing source of revenue, as it provides key smartphone parts such as phone screens and memory chips.