Starting today, passengers on KLM Royal Dutch Airlines will be able to confirm a flight, check in for travel, get boarding passes, make itinerary updates, and chat to customer service – all from the Facebook Messenger app.
"This is one that I've been personally eager to solve for a while: Removing stress and complication from air travel," wrote Facebook's vice president for messaging products David Marcus in (of course) a Facebook post announcing the new feature. "Goodbye forgetting the combination of your frequent flyer alphanumerical number and password to obtain your boarding pass, and holding for a long time on the phone to change flights."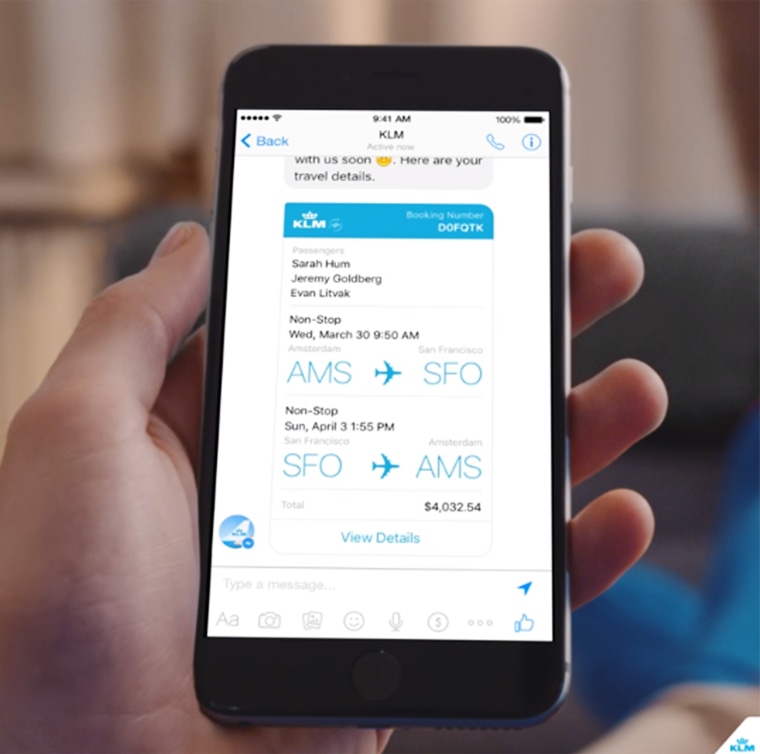 Facebook head of travel, education and consumer services strategy Lee McCabe first mentioned the partnership last year, announcing at a travel conference that Facebook was in talks with KLM to develop a "common place to communicate."
The collaboration is the newest example of Facebook's focus on ways to strengthen its business-to-consumer interface. It was revealed last month that the social media giant will be including ads in Messenger, and also enabling businesses to directly communicate with users who previously made contact with them.
"The new Messenger service is a perfect addition to KLM's social strategy," wrote KLM CEO Pieter Elbers in a statement. "Last year, we activated the Messenger button on our Facebook Page, allowing customers to contact KLM even more directly via private messaging. Cases increased by 40%, which shows customers appreciate this form of communication. We are now taking our service to customers a step further, offering them the option of receiving all relevant flight documents and information in a single Messenger overview."
Response to the new feature was almost unanimously positive. "Brilliant! I hope it will become the new norm," wrote one Facebook user in response to Marcus's Facebook post. "So convenient. Messenger making our lives easier," wrote another.
With some 800 million users across the globe, Facebook's Messenger app is becoming the platform's strongest social innovator. In addition to texting oversized thumbs-up signs and making video calls, users can now book an Uber/Lyft ride, send and receive money, and spice up their conversations with a variety of outside apps such as JibJab and Meme Blast.
Facebook is also beta testing a virtual concierge named M, who will be able to book tickets, make travel plans, and perhaps advise on James Bond theme tunes.
"This is a new day for all of us global travelers, and KLM is paving the way," wrote Marcus, in a clear indication -- or invitation -- that more airlines should follow suit.