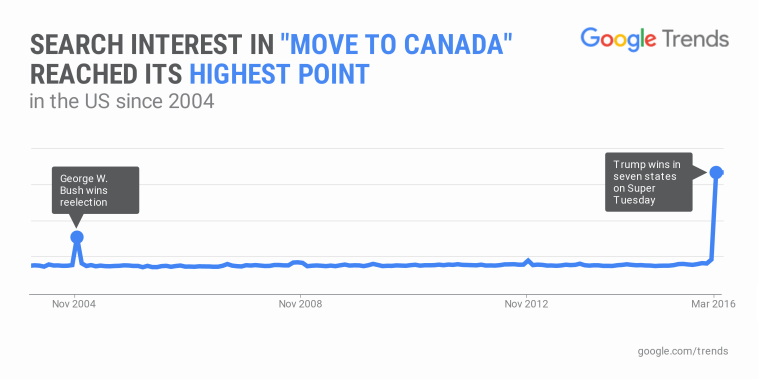 Hot on the heels of Super Tuesday wins by Hillary Clinton and Donald Trump, Google searches for "how to move to Canada" soared, according to one of the search engine's data editors.
Google's Simon Rogers tweeted the soaring search results as the final votes were tallied on Super Tuesday, around 9:15pm. As of Wednesday around 4:30pm EST, searches inquiring about how to make an exodus to America's friendly neighbor to the north were still hitting the roof, up 1,450 percent compared to the same time the day before, according to Google.
One entrepreneurial Canadian island has already embraced an anticipated influx of Americans: The website for Cape Breton in Novia Scotia promotes the island's virtues under the headline "Cape Breton if Trump Wins." The website's creator, Rob Calabrese, received 2,000 inquiries in the first three days.
"We just thought it would be a good opportunity to let people know: If you're nervous about the possibility of Trump being president ... this is how it is here," Calabrese said of the seaside location. "We would really love to see ya."