Will I score on the first date? Is he or she a crazed cult member? Could this hottie be the one I spend the rest of my life with?
We've always assumed that we have to discover certain things about our romantic interests gradually, but based on data collected by OKTrends — a research blog run by the folks behind popular dating site OKCupid — we can solve some of those mysteries by asking specific questions on the very first date.
Don't believe it? Consider this these numbers:
No matter their gender or orientation, beer-lovers are 60% more likely to be okay with sleeping with someone they've just met. Sadly, this is the only question with a meaningful correlation for women. For men there are a few others: In a certain light, wouldn't nuclear war be exciting? ("Yes" implied 83% odds of first-date sex)Assuming you were in the position to do so, would you launch nuclear weapons under any circumstances? ("Yes" implied 82% odds of first-date sex)Could you imagine yourself killing someone? ("Yes" implied 82% odds of first-date sex)
Ok, you see the statistics, but what do they mean to you? They mean that you could casually ask a girl if she happens to like the taste of beer and have a reasonable idea of the odds that she'll hop into bed with you after the first dinner.
Are you catching on? Let's talk about another incredibly useful question: "Do you prefer the people in your life to be simple or complex?"
Based on the answer to that question, you can discover your sweetheart's political leanings without ever directly touching on the topic:

Mind you, like any of the questions listed here, this one isn't guaranteed to always hit the nail on the head. OKTrend's Christian Rudder explains that "[t]his correlation is for a nationwide dataset; it won't be as useful in places where one ideology is much more prevelant than the other. For example, in New York City there are lots of people who like simplicity and yet have Liberal politics."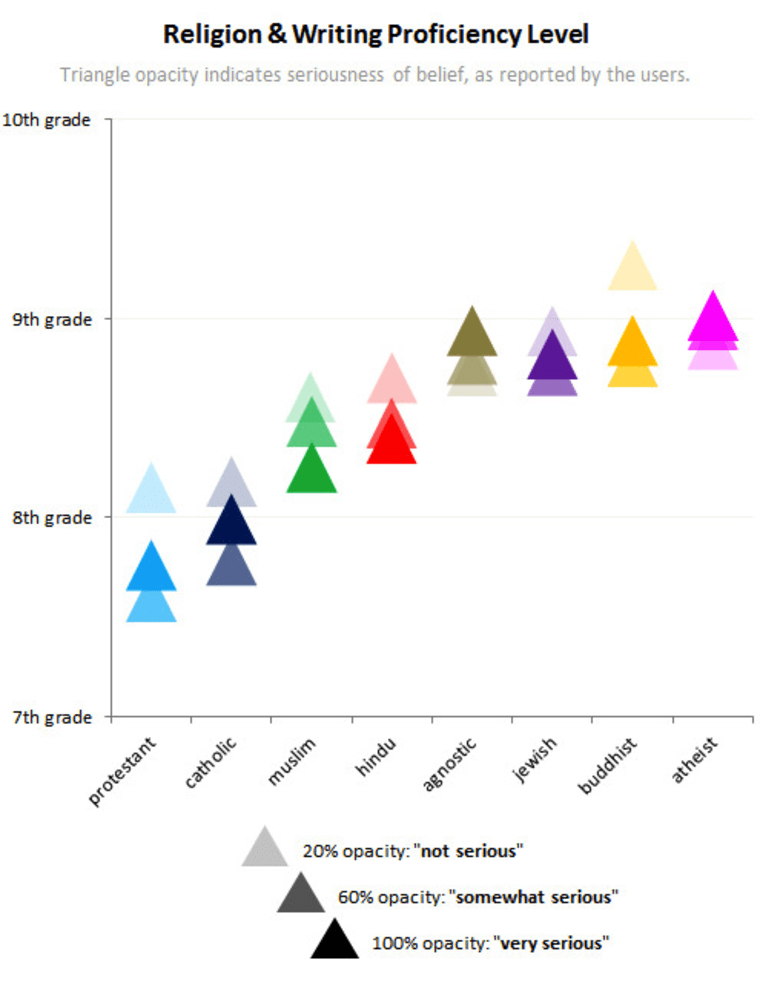 Let's say you don't really care about your partner's political stance. What matters to you is his or her religious beliefs. How do you discover those right off the bat without offending? Simple. Casually ask: "Do spelling and grammar mistakes annoy you?" The answer will reveal a great deal:
If your date answers 'no'—i.e. is okay with bad grammar and spelling—the odds of him or her being at least moderately religious is slightly better than 2:1.
Mind-blowing, right? Feel free to head over to OKTrends and check out a few interactive charts that'll cover how to approach all the first date questions mentioned above. It could be one of the best things you do all day.
Related stories:
Rosa Golijan writes about tech here and there. If she wasn't obsessed with Twitter, she'd tell you to go like her on Facebook.