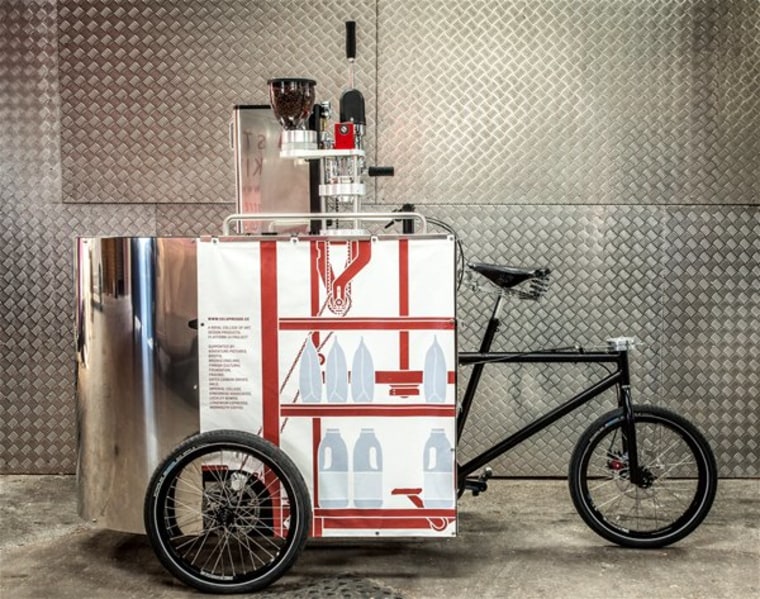 An award-winning pedal-powered espresso cart is generating buzz as a fine way for eco-conscious java junkies to get their daily fix.
Amos Reid Field and Lasse Oiva, graduates of the Royal College of Art in London, describe the Velopresso as a "celebratory fusion of human power, sensory pleasures and technology -- old tech with hi-tech, bicycles and coffee, their engineering and aesthetics."

Pedals on the modified tricycle push the cart down the road and grind beans, meaning no whirring motors to startle caffeine-deprived heads. 
Water is currently heated up with a tiny gas canister, though the team is exploring the use of turning old coffee grounds into ethanol to power operations, according to Inhabit. 
When this eco-friendly machine will be brewing your double-tall, extra-hot latte is unknown, but given winning recognition for design in the 2012 Deutsche Bank for Creative Expression and second place in the 2012 Pininfarina Design Contest, it seems as if this espresso cart has momentum.
John Roach is a contributing writer for NBC News Digital. To learn more about him, check out his website. For more of our Future of Technology series, watch the featured video below.