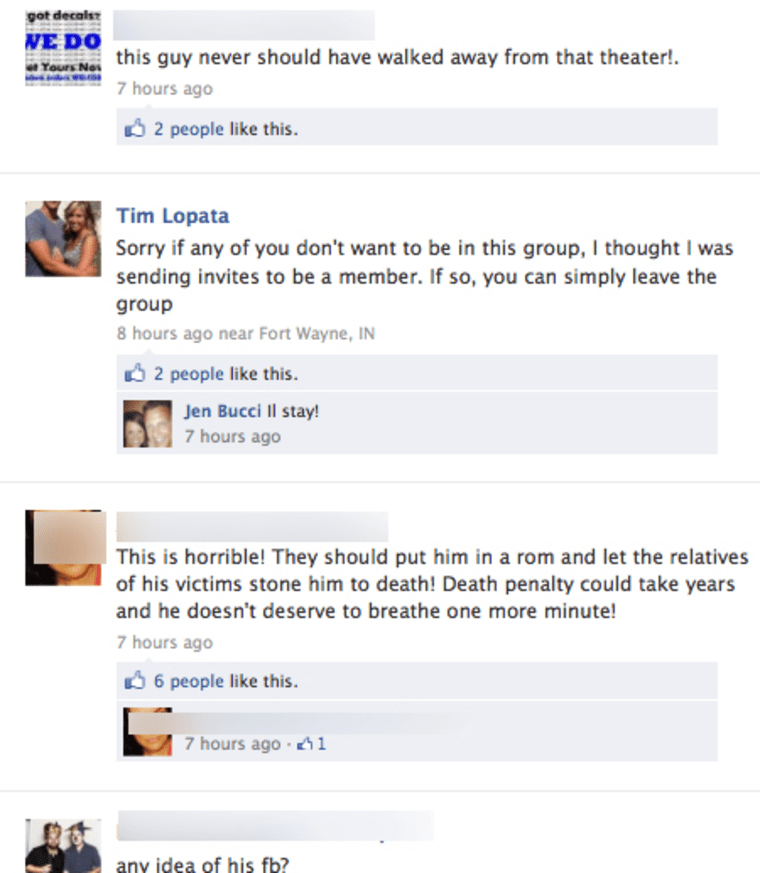 "Dearest random Facebook people who keep confusing me for a mass murderer and yet still send me Facebook requests.

"I appreciate the fact that you are trying to become better-informed about the occurrences last night in Aurora, but you have been somewhat mislead, in that I am not the man who did it."
Such were the opening lines of a post from a James Holmes of Colorado, in response to many on the social network who thought he just might be the suspected shooter.
One of the first places many turned to for information on Friday about the suspected movie-theater shooter James Holmes was Facebook, and a kind of lynch mob mentality took hold among some who wanted to track down the shooting suspect themselves. With many Facebook users sharing the same first and last name — nearly 200 appear in a simple Facebook search —  some became victims of nasty messages and friend requests.

"James Holmes," the Facebooker from Colorado wrote, "happens to be a pretty common name, surprisingly, so try not to jump the gun." 
He added, "I am not a 24-year-old gun-slinging killer from Aurora, I am a 22-year-old book-slinging mass eater from Littleton," signing the post, "A different guy named James Holmes." 
In jest or in self defense, or perhaps both, another James Holmes put this "It wasn't me" photo up as his Facebook profile picture: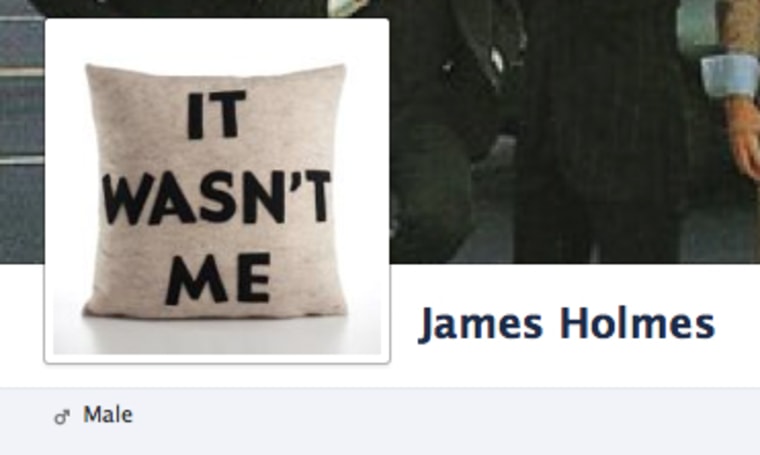 As for the one James Holmes in question, he was not found on Facebook, despite a relentless, crowd-powered hunt. When we asked the social network on Friday, Facebook would not confirm to NBC News whether the gunman even had a Facebook account before the shooting.

"We are currently not aware of any associated profile of the accused shooter," said a spokesman.
That didn't stop several groups on Facebook from jumping into the conversation, and in some cases volunteering services as judge and jury. One called "Death Penalty for James Holmes" featured some early heated comments.
"They should put him in a room and let the relatives of his victims stone him to death!" wrote one. "Death penalty could take years and he doesn't deserve to breathe one more minute!"

"This Holmes guy should get the same treatment as everyone In that theatre! Only worse," posted another.
"I know everyone is entitled to due process, but, this is a NO BRAINER ... why waste taxpayers money!" said another Facebook user.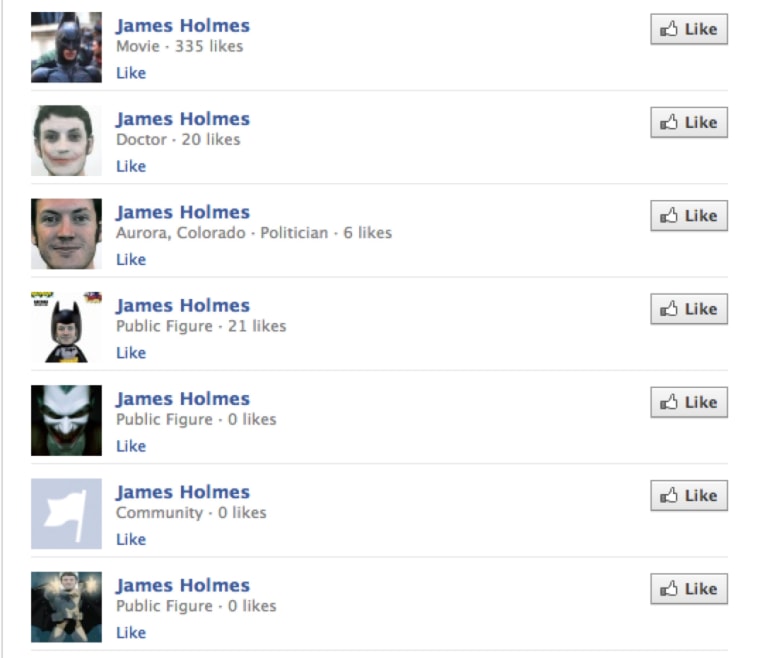 There were also some fake — and tasteless — Facebook pages that were launched using the name James Holmes.
The hunt-him-down mentality expressed Friday is similar to other social network "social justice" efforts that have backfired in the past.

Last spring, film director Spike Lee apologized to a Florida couple and agreed to pay their expenses for fleeing their home after they were harassed when Lee retweeted an address that was described as the home of George Zimmerman, the neighborhood watch captain accused of killing Trayvon Martin.

And last year, after a Florida jury acquitted Casey Anthony of murdering her 2-year-old daughter, another Casey Anthony — this one, a dad from Pennsylvania — received hundreds of Facebook friend requests, messages and postings, with people "making comments about the verdict; who am I to take a child's life," he said in an interview.
A Facebook spokesman told NBC News on Friday that users who have such problems can "control the visibility and availability of their profiles using our privacy settings, and can unfriend, block and/or report abusive content to Facebook." The spokesman declined to comment on how many complaints it was receiving in connection with the James Holmes same-name issue.
Check out Technolog, Gadgetbox, Digital Life and In-Game on Facebook, and on Twitter, follow Suzanne Choney.