Police interrupted a crew removing the Twitter sign at the social media company's San Francisco headquarters as it rebrands to "X," leaving "er" and the platform's iconic — now retired — bird logo on the building.
Video posted on social media Monday showed a crew using a crane and a cherry picker to take down part of the sign, just hours after owner Elon Musk announced the rebranding to X to "embody the imperfections in us all that make us unique."
"Just biked past Twitter HQ on way home, goodbye to the @Twitter sign?" a passerby tweeted Monday afternoon, along with a video that showed three letters of the sign removed.
But the crew did not finish the job, NBC Bay Area reported, saying local police checked to see whether it had a permit to close Market Street and block a lane of traffic.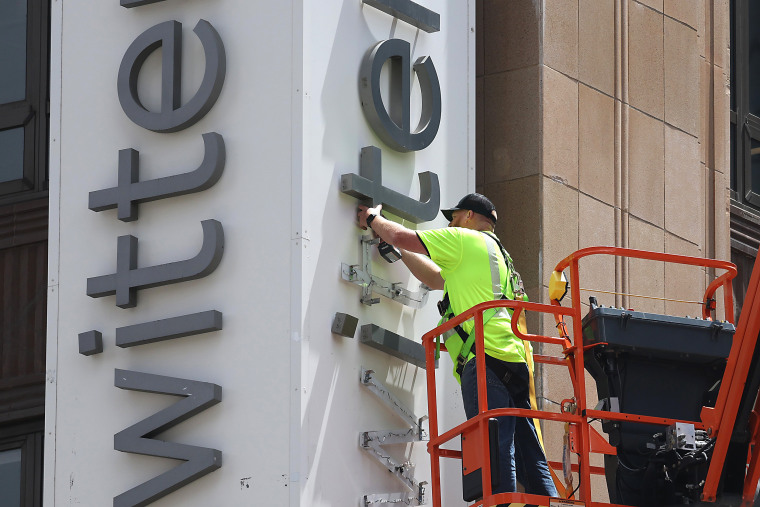 The "er" in one side of the sign and the bird logo remained hanging during the pause in work, the station reported. It is unclear whether or when the work will resume or whether the crews will need a permit to continue, according to NBC Bay Area.
Representatives for the San Francisco Police Department and X did not immediately respond to inquiries Tuesday morning.
An onlooker, Livaan Hussan, told NBC Bay Area that the crew asked people to stop recording the removal of the sign.
"Ever since Elon took over Twitter, it's just been hostile, and it looks like the down-taking of the Twitter sign is very hostile itself," Hussan said. "It's sad."
Musk had teased changes to the headquarters' exterior.
Early Monday, he tweeted a photo of the headquarters with an "X" projected on it in light.
And in a Twitter Spaces audio chat, Musk told an unknown speaker: "We're cutting the Twitter logo off the building with blowtorches."
Musk bought Twitter for $44 billion last year, and in April he changed the name of the company from Twitter Inc. to X Corp.
The origin of the new logo is unknown. Many online have pointed to its similarity to a Unicode character — a standard of digital letters maintained by the Unicode Consortium, a nonprofit group, which also oversees emojis.
Twitter CEO Linda Yaccarino said in a series of posts this week that the rebrand is the start of a move to push the app in new directions. She is the former head of ad sales for NBCUniversal, the parent company of NBC News.
"X is the future state of unlimited interactivity — centered in audio, video, messaging, payments/banking — creating a global marketplace for ideas, goods, services, and opportunities," she wrote. "Powered by AI, X will connect us all in ways we're just beginning to imagine."