As Amazon geared up for Prime Day, the annual shopping event during which consumers can snag Black Friday-like bargains on millions of items, some employees braced for a long two days — and then some.
In recent weeks, workers in Amazon's fulfillment centers — the company's massive warehouses where employees move and process packages — have taken to a private Facebook group with almost 18,000 members to let off steam and express frustration with the retail behemoth's policies surrounding the consumer holiday.
"Prime Day coming up," one member wrote above the image of a sinking ship.
Others pointed to the company's effort to cut down on shipping times as a harbinger of rough days ahead.
"It's gonna be like two months of hell for us no matter what, especially since they're doing the damn 1 day shipping and we can all hardly keep up with the regular orders with 1 day shipping," another member wrote. Another equated Prime Day to "when they try to hype you for a crappy day of high volume, and mandatory overtime."
The sentiments from the group provide a window into the lives of workers at Amazon's more than 140 fulfillment centers around the United States who make up the bulk of the company's workforce, which numbers more than half a million people.
In recent years, the conditions in which those workers operate has become the subject of growing criticism. Recent reports have found that Amazon employees face extreme pressure to meet company goals, sometimes sacrificing their health and well-being in the job, and for pay that requires some to turn to federal assistance.
Those concerns are heightened during Amazon's Prime Day promotions. During the company's 2018 Prime Day, consumers ordered more than 100 million products. This year's Prime Day has expanded to two days: July 15 and 16.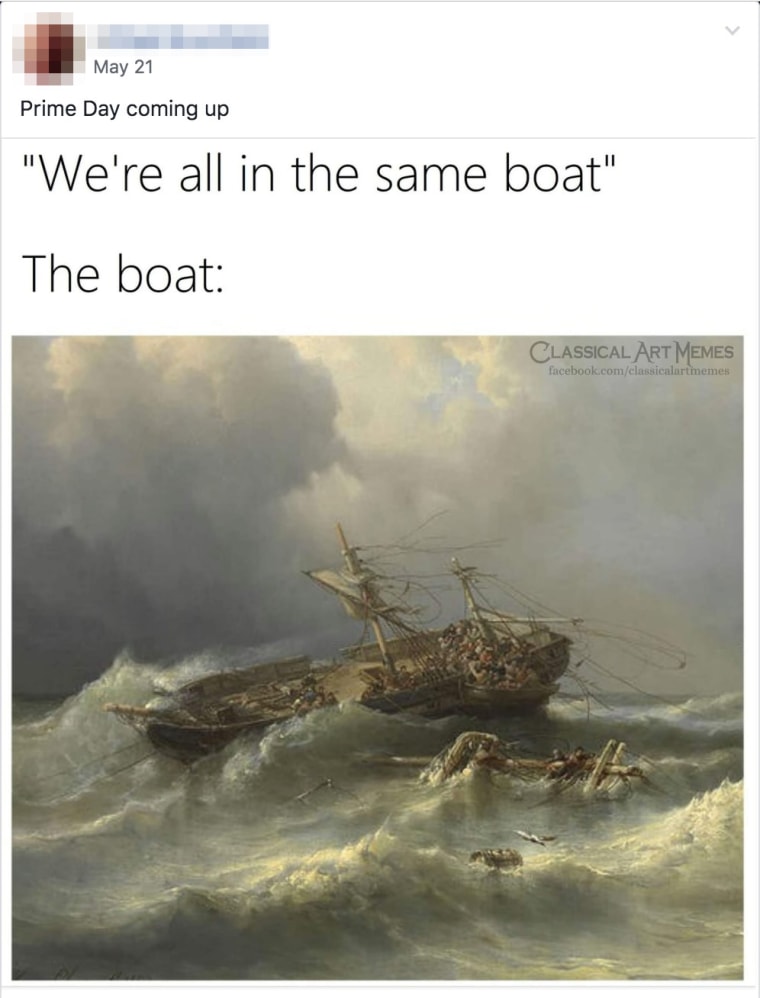 NBC News was given access to the group through a current member and separately verified the identities of some of its members. Membership in the group is predicated on successfully answering a question about Amazon fulfillment centers in order to keep out "bots, media, and non Amazon employees," the page says. Inside the group, members talk shop, post photos of themselves in their work vests, and trade memes in praise and critical of the company.
Group members showed a growing awareness among Amazon fulfillment center workers of their shared situations, as well as some efforts from employees to organize. Several members posted stories about a planned Prime Day worker strike at a Minnesota warehouse, voicing concerns including that management is slow to fix mechanical problems leading to slowdowns and accidents, and that some warehouses need air conditioning in the summer months, "so that people aren't passing out left and right for heat exhaustion," one poster said.
An Amazon spokesperson responded to the Minnesota strike, saying in a statement to NBC News that the company already offered what the strikers were demanding, including competitive pay and benefits.
To general concerns from the Facebook group members about working conditions, the Amazon statement noted that the fulfillment centers were "built with climate control" and that the company invested $52 million in 2012 to retrofit the centers with air conditioning.
"Safety is our top priority every day of the year, but especially during Prime Week with more people in the buildings," the statement said. "We have a focus on ensuring area organization and readiness to contribute to our success in being safe. This is leading up to one of Amazon's biggest days all year – from the fun and energy in our fulfillment centers – and you get to see firsthand how Amazon is delivering smiles."
Meg Brady posted one of the messages to the Facebook group and said she plans to attend the strike Monday.
Brady has worked at the Minnesota fulfillment center more than a year and a half, but is on disability from what she says is a work-related accident.
"I will be striking on Prime Day," Brady posted. "Amazon can improve working conditions and they should."
Her post received more than 600 comments, some supportive, others calling her "lazy" and suggesting she look for employment elsewhere.
An army veteran and former truck driver, Brady spoke to NBC News and described the work for Prime Day — picking, packing, sorting and loading — as "unbelievable."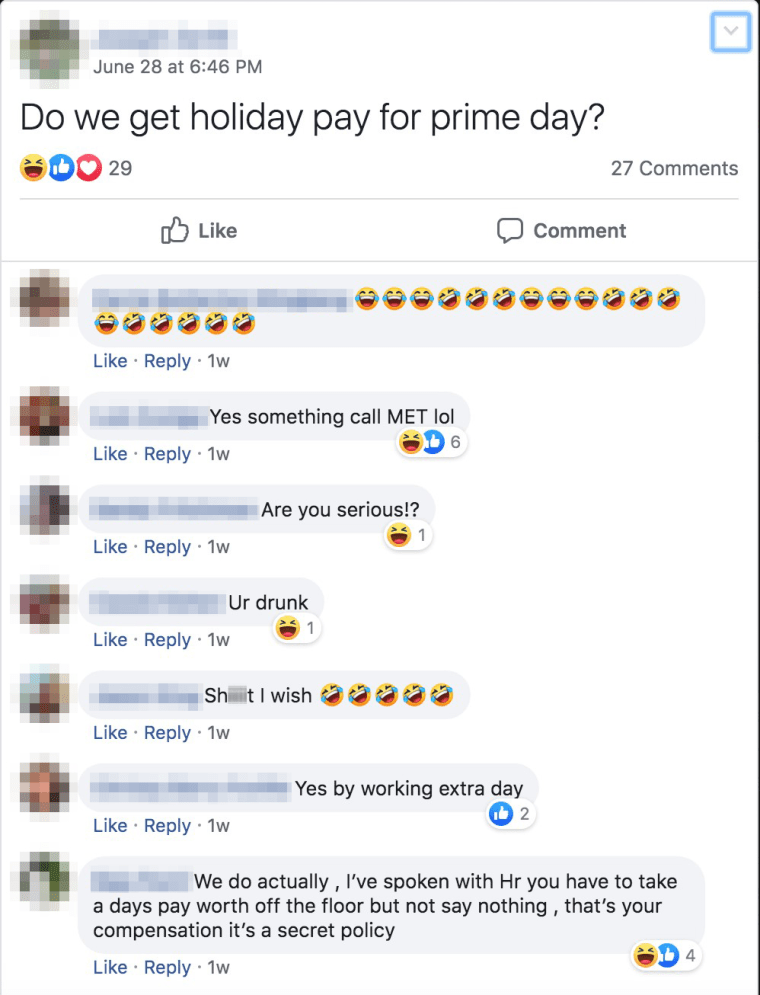 "The workflow is intense," she said. "Some workers are on six, 12-hour days for the week of Prime. You work, go home and sleep for six hours and come back out."
Brady said that Prime Day doesn't come with any specific bonus or special pay rate outside of regular overtime pay, but did say management gives workers a special Prime Day T-shirt and sometimes a special treat.
"During the week of Prime, you'll get a snack," she said. "Like a granola bar."
Amazon's growth in recent years has made it a target of labor activists who have pushed the company to improve conditions for fulfillment center workers. The company's market value has risen quickly, straddling the $1 trillion mark. In the first quarter of 2019, it reported $3.6 billion in net income, a company record and more than double the prior year.
Amazon has responded to calls to improve worker pay, raising its minimum wage to $15 per hour in October.
"We listened to our critics, thought hard about what we wanted to do, and decided we want to lead," Jeff Bezos, Amazon founder and CEO, said in a news release at the time.
But labor activists have noted that Amazon continues to push forward with expedited shipping as other retail competitors try to match the ecommerce giant's reach. Amazon has expanded its offerings this year, turning Prime Day into a two-day event, and unveiling a new one-day shipping policy.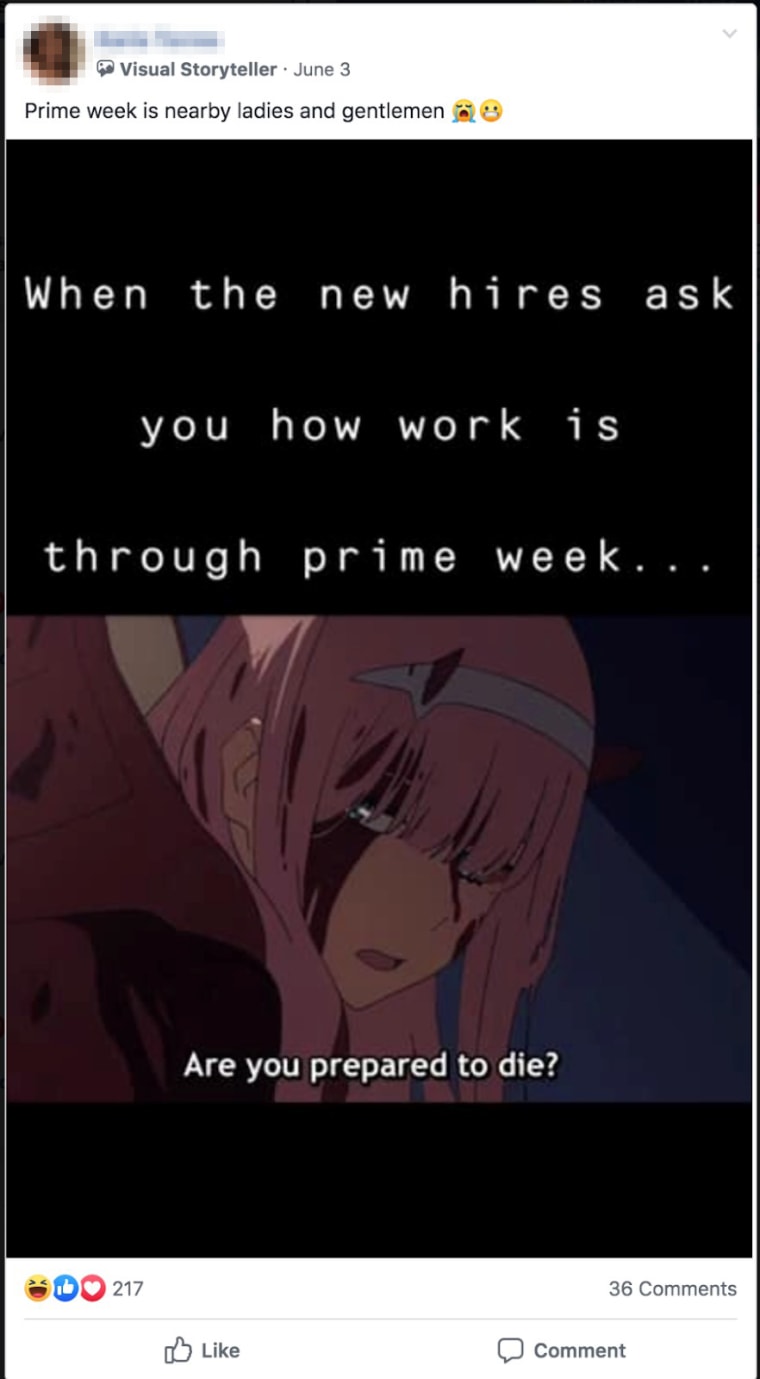 "Amazon has a well-documented history of mistreating and dehumanizing its workers in the U.S. and around the world," Stuart Appelbaum, president of the Retail, Wholesale and Department Store Union, said in a statement. "The stress can be particularly hard on any day, and especially during Prime Day events. But, this year, the toll on Amazon's workers will be considerably worse."
"Amazon needs to understand that human beings are not robots," Appelbaum said.
Amazon fulfillment center employees are not organized into unions.
Instead, they took to their Facebook group to joke about what some see as a lack of company perks.
This year's event kicked off with a Prime Day concert headlined by Taylor Swift and SZA. Several members expressed a desire to be able to attend.
"Why can't amazon give all the associates concert tickets since we are the ones that make prime day happen," one member wrote.
"Do we get holiday pay for prime day?" another member asked. Most replies were just crying laughing emojis. One member responded: "Ur drunk."