"Procrastinators, we've got your butt covered."
That's what the slogan says on the Naja website — a lingerie brand that has teamed up with Uber to help out Valentine's Day procrastinators in NYC who might be looking for a last-minute gift.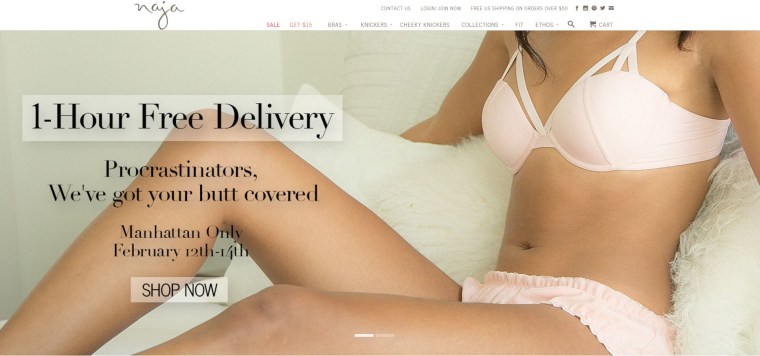 Starting Friday through the 14th, the lingerie company is offering five select styles delivered to your (or your Valentine's) door with free, 1-hour delivery provided by Uber drivers throughout Manhattan.
"Whether it's a gift for yourself or someone else we've got your last-minute lingerie covered," the company's website says.
All customers need to do is select "UberRUSH same-day-delivery" as their shipping method at checkout.
Related: Uber Rush Partners With Shopify for Deliveries in Three Cities
Founded by Golden Globe winning actress Gina Rodriguez, Naja is an online-only lingerie company with ambitions to help women and the environment.
While Naja's "cheeky" underwear delivery promotion with Uber can certainly be filed under "only in Manhattan" or "PR stunt," it's in line with the way the company wants to get the word out about its products.
"We want to disrupt the way lingerie is marketed toward women by creating a brand that seeks to empower women instead of objectifying them," the company's website says. "We did away with fake wind blowing into models' hair and poses singularly aimed at the male gaze in order to connect with the smart, courageous, and sexy women of today."
While the lingerie offer is only available in Manhattan, Valentine's Day procrastinators in San Francisco, Chicago and NYC can use UberRUSH, the company's on-demand delivery service, to send their loved ones flowers, chocolates or other gifts.