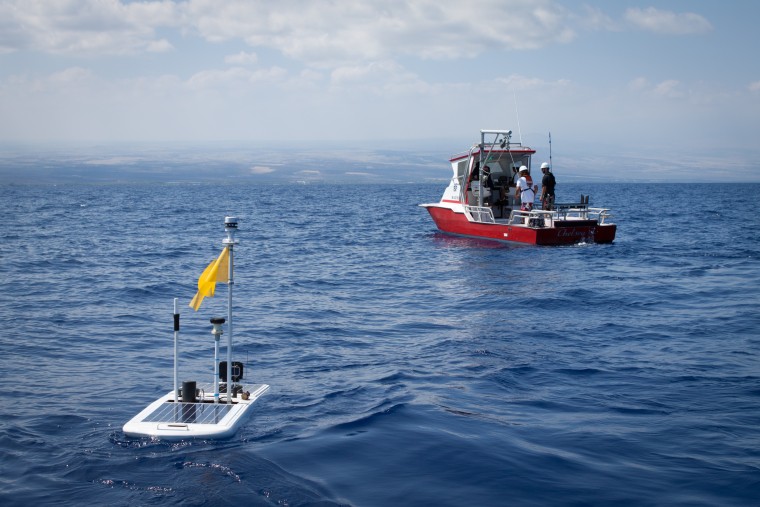 Four robotic ships have sailed from Hawaii on a trans-Pacific journey that aims to set a new world record for the longest voyage by an unmanned ocean-going vehicle.
The Wave Gliders pulled into port in Hawaii on March 13 for a little rest and relaxation after a record-breaking 3,200-nautical mile, four-month journey from San Francisco.  
The robots are now split into two groups: one pair headed for Australia, the other to Japan. If all goes according to plan, they should complete their remaining 5,000-or-so nautical miles by the end of 2012 or early 2013.
The vehicles consist of underwater and surface pieces connected by a 23-foot long cable. The underwater wing-like system, the glider, converts wave energy into thrust while the solar panels on the 7-foot long surface float harvest electricity to power sensors. 
The sensors measure things such as temperature, salinity and wave heights, and transmit the data to shore via satellites. Over the course of the year-long journey, the robots are expected to collect and transmit 2.25 million discrete data points, according Liquid Robotics, which built the machines.

The robots were designed to autonomously survey and monitor vast stretches of the open ocean, much of which remains unexplored.
Wave Gliders have been roaming the seas since 2008. The Pac-X Challenge, as their trans-Pacific journey is called, targets some unexplored regions of the oceans and includes an interactive component in partnership with Google Earth that encourages the public to follow along.
The Japan-bound gliders will travel to Guam and cross over the Mariana Trench, the deepest place on Earth recently visited by explorer/filmmaker James Cameron. The robots with Australia's shores in their sights will stop in Fiji.
John Roach is a contributing writer for msnbc.com. To learn more about him, check out his website and follow him on Twitter. For more of our Future of Technology series, watch the featured video below.