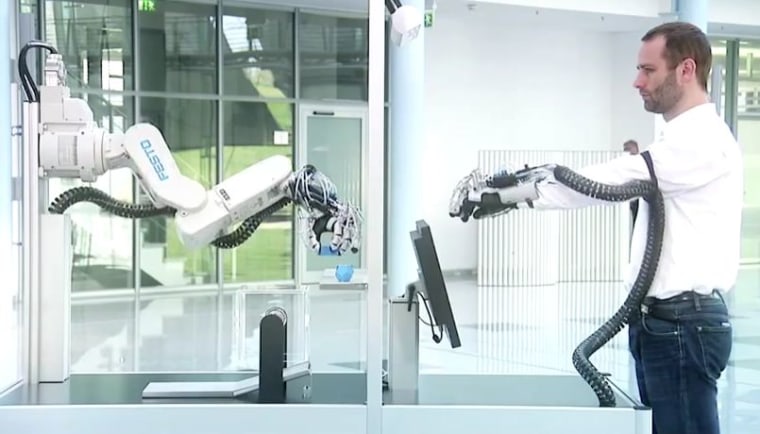 A robot hand that mimics the movements of a replica exoskeleton worn by its operator could soon find work in places that humans would rather avoid, yet give its human operator a true feel for whatever it grabs.
The device, called the Exo-hand, is under development at Festo, the same German engineering firm that brought us the flying thing that moves through the air by turning itself inside out. 
In many respects, the hand is similar to other exoskeletons we've seen in recent years, such as those designed to give soldiers superhuman strength and help paraplegics walk. In fact, it will likely find similar applications, such as helping ease the strain associated with repetitive tasks.
In addition, the Exo-hand can be paired with a replica robotic hand that allows a human operator to feel what the robot grasps, permitting the operator to grip and manipulate objects without having to actually touch them. Imagine, for example, a soldier defusing an IED.
Festo recently displayed the Exo-hand at Hannover Messe, a technology trade show. Check it out in the video above.

--Via Discovery News
John Roach is a contributing writer for msnbc.com. To learn more about him, check out his website and follow him on Twitter. For more of our Future of Technology series, watch the featured video below.