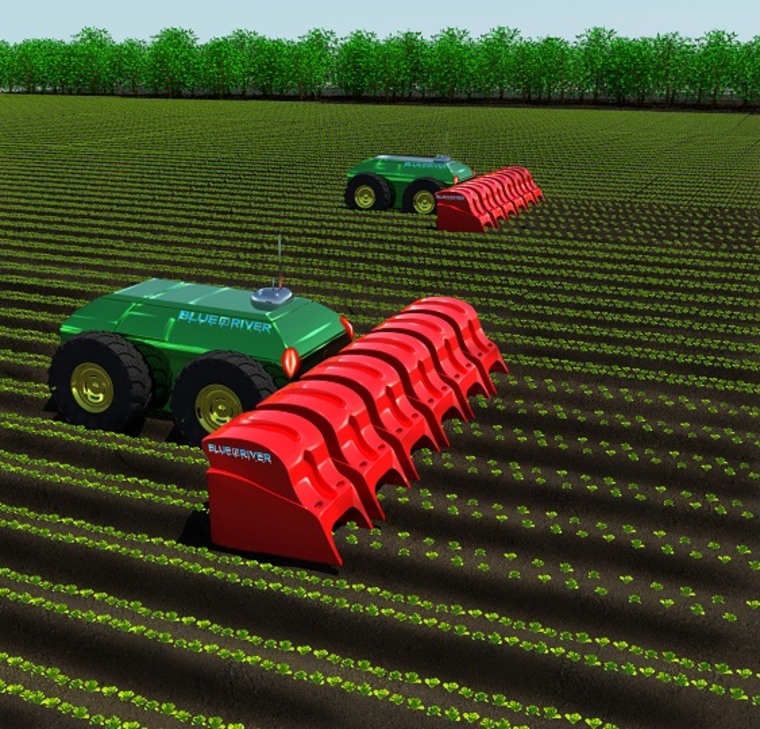 Robots built and programmed to perform tedious, back-breaking tasks such as thinning and weeding lettuce fields could make labor shortages on the farm a distant nightmare for industrial agricultural operations of tomorrow.
Such a machine, known as the Lettuce Bot, is under development at Blue River Technologies, a company headed by a pair of Stanford University-trained engineers and backed by marquee Silicon Valley investors including Kholsa Ventures and startup guru Steve Blank, the Economist reports.
At the heart of the robot is a computer-vision algorithm that compares snapshots of lettuce rows taken by a camera on the tractor to a database of more than a million images. The technology is able to distinguish individual heads of lettuce and weeds. 
When the machine identifies a weed or a head of lettuce growing too close to another one, it hits them with a dose of highly-concentrated fertilizer. In high concentrations, fertilizer can be as potent as pesticide, the Economist explains. The dose kills off the weed or unwanted head of lettuce, then gets diluted enough in the ground to nourish nearby plants.
The robot is expected to debut on the market in 2013. Other technologies in the works at Blue River include a robot that kills weeds with a rotating blade instead of the fertilizer, which should appeal to organic farmers who eschew industrial fertilizers.

– via Economist 
John Roach is a contributing writer for NBC News Digital. To learn more about him, check out his website. For more of our Future of Technology series, watch the featured video below.