Billionaire Peter Thiel said Monday he is not the only person in Silicon Valley who supports Donald Trump, claiming that his very public endorsement of the Republican presidential nominee has "surfaced a small number of those people who all feel that they can't say it in public."
"They've been conjured out of the ether," he said in prepared remarks at the National Press Club in Washington, D.C., adding that "No matter what happens in this election, what Trump represents isn't crazy and it's not going away."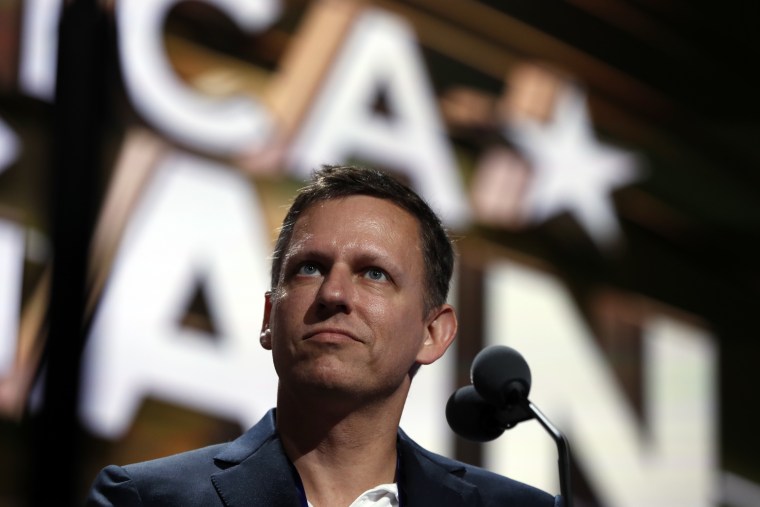 "When the distracting spectacles of this election season are forgotten and the history of our time is written, the only important question will be whether or not that new politics came too late," he said.
Related: Silicon Valley Is Having a Hissy Fit Over Donald Trump
While Silicon Valley is largely Clinton territory, PayPal co-founder Thiel has stood alone as Trump's most high-profile supporter.
His recent donation of $1.25 million to the Trump campaign and various pro-Trump Super PACs ignited a firestorm of discussion among other high profile techies. Some ostracized Thiel, while others noted not tolerating different political opinions could create a dangerous precedent.
"I really didn't think that there would be this sort of a visceral reaction," Thiel said Monday. "It's surprising to me that anybody would say that you're beyond the pale for taking a position that's held by half the country."
Sam Altman, president of Y Combinator, a start-up incubator where Thiel is a partner, said he wouldn't sever ties with the billionaire, as some had suggested he do.
"Peter is a part-time partner at YC, meaning he spends a small fraction of his time advising YC companies, does not have a vote in how YC is run, and in his case waives the equity part-time partners normally get," Altman wrote. "This has been a strain on my relationship," he wrote, noting that he believes Thiel is "completely wrong" in "supporting this man."
Ellen Pao, a former interim chief executive of Reddit who is now working to tackle diversity issues in tech at Project Include, announced the organization would no longer work with Y Combinator.
"Giving more power to someone whose ascension and behavior strike fear into so many people is unacceptable," she wrote in an essay on Medium. "His attacks on Black, Mexican, Asian, Muslim and Jewish people, on women and on others are more than just political speech; fueled by hate and encouraging violence, they make each of us feel unsafe."
For his part, Thiel acknowledged he doesn't "agree with everything Donald Trump has said and done — and I don't think the millions of other people voting for him do, either," he said. "It's not a lack of judgment that leads Americans to vote for Trump; we're voting for Trump because we judge the leadership of our country to have failed," he said.
Asked whether he had received personal assurances that Trump would not roll back LGBTQ rights in the White House, Thiel said he had not. However, he added that he believed Trump represented "a sea change from the Republican Party of Bush '43" on LGBTQ equality.
"He will be quite expansive on gay rights," Thiel said of Trump. Yet not everyone would agree.
After making historic overtures to LGBTQ voters for a Republican presidential nominee, Trump has little to show for the effort besides the support of Thiel — who has repeatedly distanced himself from the political agenda of most LGBTQ Americans. At the Republican National Convention, for example — where Thiel made history as the first speaker to proclaim he was "proud to be gay" -- he also angered many LGBTQ rights advocates for calling the pressing legal question of which bathroom transgender people should be able to use "a distraction."
Trump, too, has shown little regard for the LGBTQ community from a policy standpoint. Though he said publicly that sexual orientation should not be a reason for letting employees go and that transgender reality star Caitlyn Jenner should be allowed to use whichever bathroom she chooses, Trump also vowed to appoint justices to the Supreme Court who would reverse nationwide marriage equality and picked a running mate known for signing one of the most controversial anti-LGBT laws in recent memory.
Those positions have hurt Trump with LGBTQ voters.
Seventy-two percent of registered LGBTQ voters said they supported Hillary Clinton in a recent NBC News|SurveyMonkey Weekly Election Tracking Poll, while 20 percent said they supported Trump.
And earlier this month, the Log Cabin Republicans — the nation's largest organization representing gay conservatives — declined to endorse Trump due to his anti-LGBTQ advisers and support for a federal "religious freedom" bill.