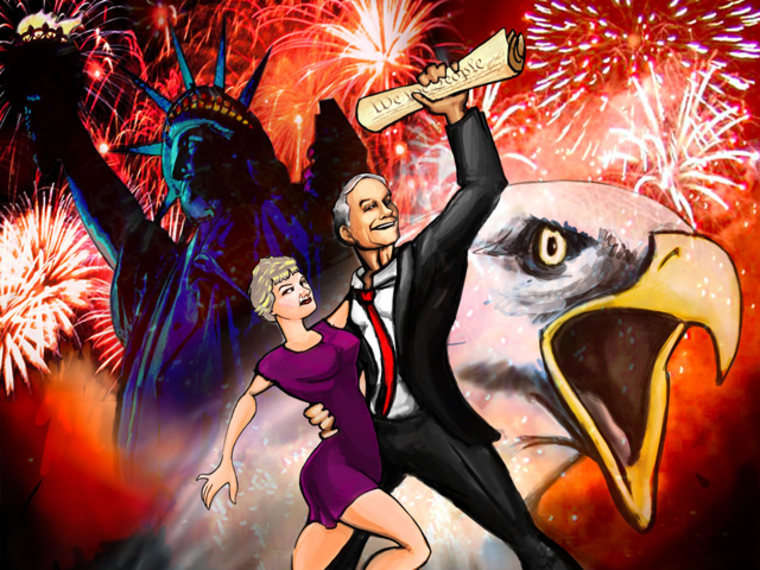 Supporters of Ron Paul are chronically frustrated over an apparent lack of attention given to the presidential hopeful. One supporter is trying to fight the tide by creating a Web video game. "Ron Paul: Road to REVOLution," due later this summer, will illustrate his quest to for the White House in an interactive format.

The game is the brainchild of 27-year-old Daniel Williams, who aside from being a devotee of Ron Paul, is a fan of indie games, and "making liberty sexy." The combination of the three led to the idea for the "Ron Paul: Road to REVOLution," now being pitched on  Kickstarter using the following video:

"Ron Paul: Road to REVOLution," is initially slated to launch on the Web later this summer, though it may be headed towards mobile platforms and the Xbox Live Indie Channel shortly thereafter.

The player guides Paul across all 50 states, as he collects delegates and gold (not cash, but real gold, which the game refers to as sound money). Boss battles will occur along the way, 13 in total, each representing a branch of the Federal Reserve.

The fund raiser to help fund the project was launched a few weeks ago, but only in the past few days has the initiative gotten serious attention. The goal was $5,000 and has already been met; it is currently at $7,222 and has 11 days left.

As he notes in the video, Williams is hoping that "Ron Paul: Road to REVOLution" is "something that Libertarians can be excited about." Libertarian through and through, Williams even views indie gaming through that lens:

Through this game, and others, my sincere hope is to perpetuate the spirit of Indie Games, which I feel is sort of the last bastion of 'Free' gaming. There is so much red tape that game developers face in the world of gaming today that destroys what may have been some of our favorite games.
Williams goes on to speculate that indie gaming will hopefully thrive in the "face of dull, spiritless, cloned, big-budget games" by producing that is fun, and how the indie environment, which allows for greater risk via autonomy, will perpetuate this.

For more video game news check out the In-Game channel below:

Matthew Hawkins is an NYC-based game journalist who has also written for EGM, GameSetWatch, Gamasutra, Giant Robot and numerous others. He also self-publishes his own game culture zine, is part of  Attract Mode , and co-hosts  The Fangamer Podcast . You can keep tabs on him via  Twitter , or his personal home-base,  FORT90.com .