A website claiming to be run by an infamous Russian disinformation group announced on Tuesday that it had executed another influence campaign before the 2018 U.S. midterm elections — only its reach appeared to be far smaller than similar efforts before the 2016 election.
The website, claiming to be a part of Russia's Internet Research Agency, or IRA, revealed dozens of Instagram accounts on a website called USAIRA.ru shortly before polls began to close on Tuesday. The website also claimed it knew the results of the election, despite having obvious errors such as predicting a win by Sen. Jeff Flake, R-Ariz., who did not run for re-election.
The website drew little attention despite efforts to tip journalists to its presence, and a survey by NBC News of social media accounts associated with the website showed that the campaign appeared to have had far less reach than the 2016 campaign that garnered millions of social media interactions and even tricked mainstream news outlets.
The campaign's relatively low impact left some experts wondering if Russia's ability to manipulate social media campaigns is diminishing — or if the country's multimillion-dollar influence campaign was bluffing after what appeared to be a failed disinformation operation.
Clint Watts, a former FBI agent who is an NBC News contributor, said the website along with the Twitter accounts and YouTube videos associated with it appeared to be the final part of a weekslong strategy aimed at baiting American media outlets into amplifying talking points about Russia's election hacking threat.
Watts said inflating the impact of operations is "as old as any Soviet disinformation strategy."
"When they're overt and sloppy, they're trying to convince you of something they didn't actually do," Watts said. "When they're covert and they're found out later, they're trying to convince you of something they're actually trying to do."
"They're also trying to show, 'A-ha, these social media companies can't stop us.'"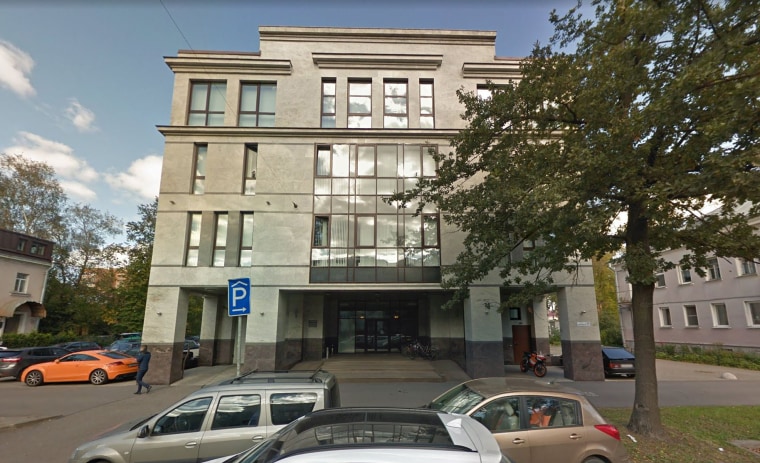 The IRA emerged in the aftermath of the 2016 election as the primary source of Russia's election meddling efforts. Thirteen IRA employees based in St. Petersburg were indicted by special counsel Robert Mueller in February for meddling in the 2016 election, and another employee of the Kremlin-funded group was indicted last month for meddling in the midterms.
On Monday, Facebook announced it had taken down dozens of accounts on Instagram after a tip from law enforcement. NBC News flagged the IRA website to Facebook when it posted the names of the accounts on Tuesday.
A Facebook spokesperson confirmed to NBC News that some of the accounts listed on USAIRA.ru were the same ones pulled from Instagram. Other accounts listed on the site, which had evaded detection, were pulled off of Instagram late Tuesday night by Facebook. Facebook cited U.S. government intelligence that had identified some of the accounts in its determination that the accounts were created by the IRA.
On Tuesday night, the Department of Homeland Security said foreign influence campaigns remained active around the election.
The troll accounts ran the political gamut from fake liberal fan pages that supported CBS late-night host Stephen Colbert to accounts purporting to be run by far-right Infowars fans. Apolitical accounts trying to cast a wide net — like one called Fit Black Queens, which mostly posted women in workout clothes and had more than 1 million interactions — and far-right conspiracy accounts appeared to gain the most traction. Many of the new IRA accounts trafficked in the same tropes from the 2016 election, but have had less reach.
On Election Day, the website flaunted a massive influence campaign it claims went undetected, but did not provide much evidence as to its effectiveness.
"Whether you vote or not, there is no difference as we control the voting and counting systems. Remember, your vote has zero value," read text on the website. "Facebook and intelligence agencies tried to stop us but they only managed to uncover 1/25 of the whole picture."
Alex Stamos, a former Facebook chief security officer and now an MSNBC contributor, said that the midterms influence operation "looks like an effort by the Russian troll factory to try to turn lemons into lemonade," and drum up fear in the American electorate.
"Most of the posts we observed looked to be aimed at building audiences to be manipulated later, which would be consistent with past Russian Internet Research Agency operations," Stamos said.
Before polls closed, the IRA site also posted a spreadsheet claiming to know the results of every Senate contest in advance.
"The list of projected winners was laughably incorrect," Stamos said.
The people behind the website also appeared to try to stir up media coverage for the influence campaign. An NBC News reporter was sent a link to the USAIRA.ru website in a Twitter direct message on Sunday night. ThinkProgress disinformation reporter Casey Michel also received a message.
"Do you still worry about Russians controlling your selection? That is true. We're still doing it and no one, including Mueller, can stop us," the direct message read. The Twitter account associated with the direct message was suspended on Monday.
Last week, a Russian troll, who had appeared in several anti-Hillary Clinton videos before the 2016 election, resurfaced in a new YouTube video that was quickly pulled down by the company. In the video, the man said that his name was "Williams" and that he was trying to flee Russia but wasn't allowed to defect and feared for his future in the country. A Twitter account claiming to be from "Williams" sent the video to several disinformation reporters last week before it was suspended by Twitter.
Independent disinformation researcher Josh Russell, who first identified hundreds of IRA accounts on Twitter and Reddit and who also received a message from "Williams" last week, said he was grateful that mainstream media didn't bite on what he considered to be an obvious disinformation trap.
He also said the fact that foreign agents were able to create dozens of fake Instagram accounts without detection from the company shows that social media platforms are still far too susceptible to foreign disinformation campaigns.
"When you take a step back and look at what they were trying to accomplish in the midterms, it wasn't to really directly sway anyone within these groups," Russell said. "It was to build a set of accounts they could throw out to the public after the election and say, 'Hey, we've been here the whole time.'"