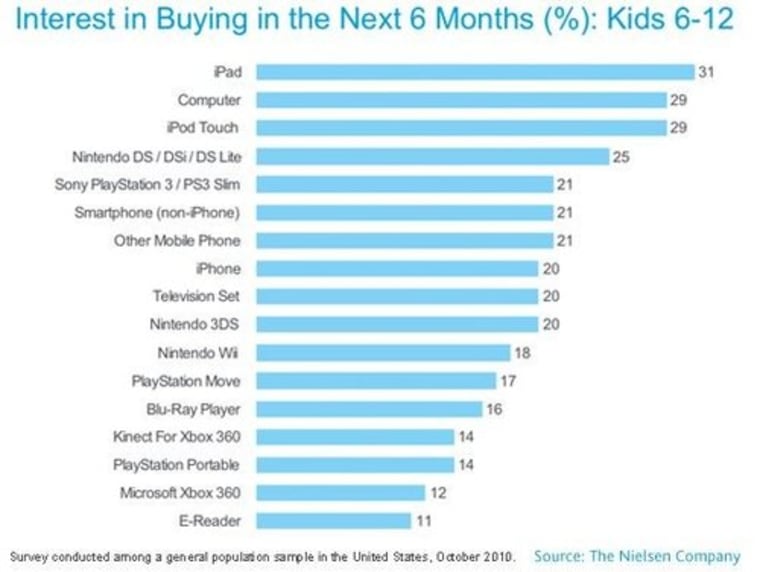 On Black Friday, in the mad rush for securing holiday presents, parents may want to make a beeline straight for the electronics department.
Nowadays, children's tastes are running on the expensive side, so unless you've got an entrepreneurial whiz kid in your family, the adults are the ones who are going to have to fork over some serious cash (or credit) to appease their tiny humans. (And if your spouse or significant other is of the I-don't-want-to-grow-up-I'm-a-Toys-r-Us-kid big kid school who also expects some high-priced electronic "toys," then you will also be coughing up some bucks.)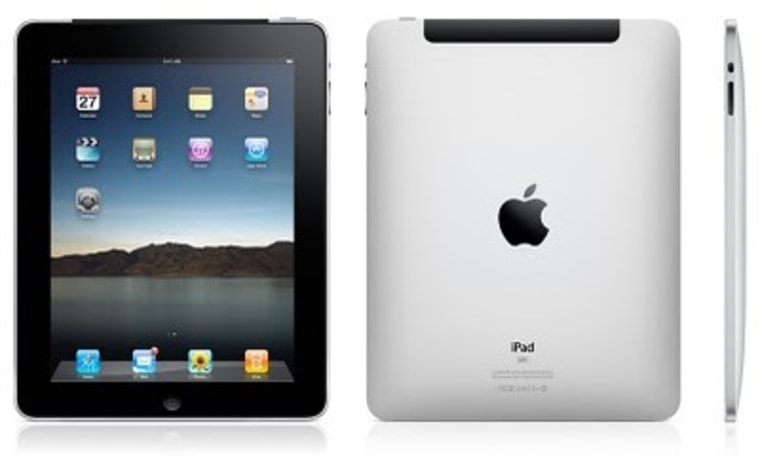 For kids ages 6 - 12, the iPad would be at the top of a 17-item wishlist to Santa, according to a survey conducted by Nielsen in October. It may be bigger than they are, but 31 percent of those kids want it. Another Apple product, the iPod Touch, tied for second place, along with any computer, at 29 percent. In third place: the Nintendo DS portable gaming system, with 25 percent.
(Hat tip to CNET for giving us a heads-up about the survey.)
Rounding out the top 10 products that kids in this age range covet:
A three-way tie for fourth place: Sony's PlayStation 3, any (non-iPhone) smart phone, and a mobile phone, with 21 percent
Another three-way tie for fifth place: the Apple iPhone, a television, and the Nintendo 3DS (due out in spring 2011), with 20 percent.
And parents: you might want to save the Nook, Kindle and other e-readers for yourself, since e-readers were the least sought after electronic acquisition by kids, with 11 percent.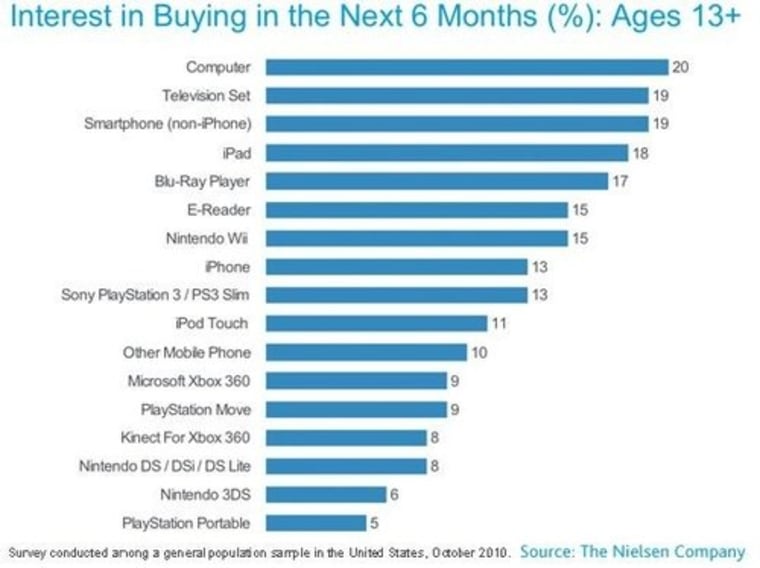 Nielsen also surveyed consumers ages 13 and up. Of the top 10 electronics on their wishlists, most overlapped with the kids' top 10 grouping. Only the Blu-Ray player, e-reader and Nintendo Wii broke the barrier into the top 10 from the other list. The most popular interest among the older crowd is a new computer, followed by tie between a TV and a non-iPhone smart phone for second place, and the iPad in third.