The residents of Silicon Valley have largely kept their pocketbooks shut when it comes to Donald Trump's presidential campaign, going so far as to call him a "threat to America."
But when one of their own, PayPal billionaire Peter Thiel, was on the receiving end of backlash over the weekend for a reported $1.25 million to the Trump campaign and various pro-Trump Super PACs, many took to Twitter to fight back.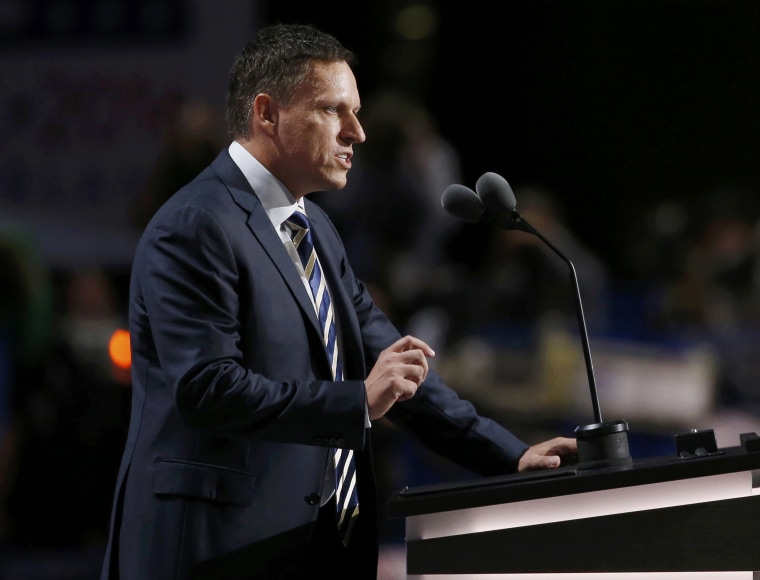 The donation, which was first reported by The New York Times, was met with outrage by some, who called for Thiel to be fired from Y Combinator, the startup incubator where he's a partner.
Ellen Pao, a former interim chief executive of Reddit who is now working to tackle diversity issues in tech at Project Include, announced Monday that the organization would no longer work with Y Combinator.
"Giving more power to someone whose ascension and behavior strike fear into so many people is unacceptable," she wrote in an essay on Medium. "His attacks on Black, Mexican, Asian, Muslim and Jewish people, on women and on others are more than just political speech; fueled by hate and encouraging violence, they make each of us feel unsafe."
Related: Where Hillary Clinton, Donald Trump Stand on Tech Issues
David Heinemeier Hanson, a Chicago resident and creator of the Ruby on Rails development platform, said he thinks disassociating from Thiel is different from firing an employee for supporting Trump.
"Billionaire-investor business partners who surrogate for Trump and donate millions are not an apt comparison for 'employee voting Trump,'" he wrote.
Despite the outcry, some of Thiel's partners came forward to decry Trump but also to support his right to donate to his campaign.
Related: Thiel's Trump Speech Gets Thumbs Up From Silicon Valley Republicans
Sam Altman, president of Y Combinator, addressed the Thiel controversy in a string of tweets Sunday, writing that while he's "voting against Trump," it would be a "dangerous path to start down" if he were to sever ties with Thiel, as some had suggested.
On Monday, he released a blog post endorsing Hillary Clinton, writing that the only two "vocal Trump supporters I am close to are Peter Thiel and my grandma."
"Peter is a part-time partner at YC, meaning he spends a small fraction of his time advising YC companies, does not have a vote in how YC is run, and in his case waives the equity part-time partners normally get," Altman wrote. "This has been a strain on my relationship with both of them — I think they are completely wrong in their support of this man."
Paul Graham, co-founder of Y Combinator, flipped the script, asking how people would feel if someone was fired for being a Clinton donor.
And Cyan Banister, a partner at Founders Fund, where Thiel is also a partner, tweeted, "Some people think he just lit money on fire, and maybe he did. It's his money to burn."
Even Pao said, "YC has cited many reasons for leaving Thiel in his current role, some of which we can understand."
Altman, its president, made it clear where he plans to focus his attention, signing off with this tweet Sunday night.