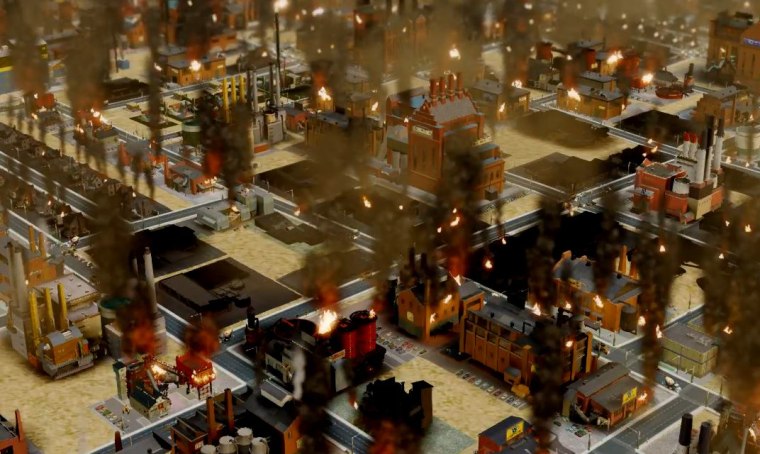 Imagine if a hurricane, tornado and tsunami crashed into a city, one right after another. This week has been sort of like that for the new city-building PC game "SimCity." And things only seem to be getting worse.
When "SimCity" launched on Tuesday it was supposed to be the triumphant return of the much-loved franchise — a series of games that have inspired the urban planner in all of us since 1989. But as we reported earlier this week, the new "SimCity" game (a reboot of the series) has been plagued with problems since it arrived — problems that continue three days later.
And now frustrated players have started circulating petitions aimed at both the game's creators ... and the White House.
The problems stem from the fact that "SimCity" requires all players — even those who only want to play the single-player portion of the game — to be connected to the Internet at all times. And so thousands of players have reported either long wait times to get into the online game or problems accessing the game at all, while others who have played it say they've lost their digital cities after putting significant work into them.
"SimCity's" creators at Electronic Arts and Maxis have acknowledged the problems, blaming the issues on the game's popularity overloading the servers that support it. (After all, those who have been able to play "SimCity" say that it really is quite good.)
"Server capacity is our biggest obstacle," explained Kip Katsarelis, "SimCity" senior producer, in a post to EA's forums Thursday. "We launched in North America on Tuesday and our servers filled up within a matter of hours. What we saw was that players were having such a good time they didn't want to leave the game, which kept our servers packed and made it difficult for new players to join."
But while he said additional servers have been added and will continue to be added "until we have enough to meet the demand," he also said that EA had to temporarily remove some of the game's features so more people could begin playing.
Despite the additional servers, it seems the problems persist — this as the game has rolled out internationally. Things got so bad on Thursday that Amazon.com temporarily halted sales of the digital version of the game. As of Friday, the online retailer was again selling "SimCity" — which now has more than 1,000 one-star reviews — but with a warning about the online issues attached.
Meanwhile, as of Friday morning, the official SimCity Twitter account tweeted, "We are currently aware that some servers are not performing optimally and are actively working on them." And Polygon reports that EA, apparently in light of the continued problems, has halted some of the online marketing of the game. "We are requesting that you please stop actively promoting the game," reads an email obtained by the game site.
While some gamers have argued that launch-week issues should not be surprising, the response from many players has been loud and, at times, vicious with people filing comments and complaints anywhere they can — the EA forums, Reddit and Facebook.
Many players had taken issue with the game's always-online requirement even before the "SimCity" launched — especially since a similar requirement had proven highly problematic for "Diablo III" during its launch. But this week's ongoing "SimCity" issues have prompted angry gamers to start a petition calling for EA to remove the always-online requirement from "SimCity" and its future games.
The petition to EA already has more than 39,000 signatures.
Meanwhile, it seems EA has only added fuel to the growing fire by failing to alter its digital game returns policy. While those who bought physical copies of the game can return them within 14 days, it appears those who purchased a downloadable copy will have no such luck.
"Regarding recent confusion: In general we do not offer refunds on digital download games. Please review our policy," explained EA's digital distribution service Origin via Twitter.
And so on Friday, a second petition was filed, this one with the White House, asking the Obama administration to get involved. Forbes contributor Jason Evangelho started the petition asking for "an industry-wide return policy for video games that rely on remote servers and DRM to function properly."
"Video and computer games are growing increasingly reliant on remote servers and the implementation of Digital Rights Management (DRM) to function properly," it reads. "When these measures fail, consumers are left with an unplayable experience. In these cases, the consumer should have the right to expect a full refund, whether the game was purchased in physical or digital form."
Winda Benedetti writes about video games for NBC News. You can follow her tweets about games and other things on Twitter here @WindaBenedetti and you can follow her on Google+. Meanwhile, be sure to check out the IN-GAME FACEBOOK PAGE to discuss the day's gaming news and reviews.