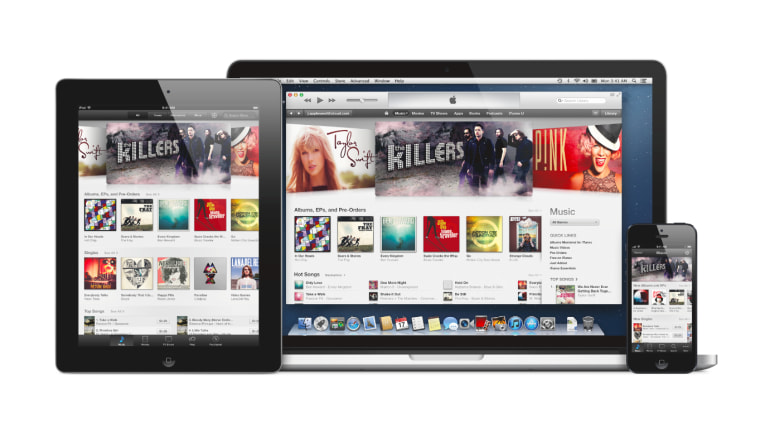 As Apple's annual Worldwide Developers Conference (WWDC) edges closer, rumors revolving around a new music streaming service — dubbed "iRadio" by some — are intensifying. Are Pandora, Google Play Music All Access, Spotify, Rdio and other music streaming services about to be smacked around by the Cupertino-based company which fueled the digital music revolution in the first place?
"No one at the company has formally introduced it ... but you hear about Apple's interest in providing a radio format," Rome Thomas, senior vice president of sales and artist development at A&M/Octone Records, told NBC News as iTunes celebrated its 10th anniversary in late April. He, too, speculated — perhaps jokingly — that the service could be called "iRadio."
According to the Wall Street Journal's Hannah Karp, the pieces for such a service are falling into place. She writes that "people familiar with the matter" claim that Apple secured "a licensing deal with Warner Music Group for the rights to its recorded music and music publishing." Under this deal, Karp explains, Apple agrees "give Warner Music Group's publishing arm 10 percent of ad revenue — more than twice what Internet radio giant Pandora pays major music publishers." Apple is reportedly still in negotiations with other labels.
Bloomberg's Adam Satariano has sources suggesting that Apple's new music streaming service will be ad-supported, relying on Apple's own iAd network.
"Apple intends to make its new radio service free to users and supported by advertising, similar to how Pandora's mobile app works, people familiar with the plans said," Satariano writes. "The new service will be different from Apple's iTunes in that the songs played won't be limited to what a user has purchased, and listeners won't own the songs they stream for free."
Similarly to Pandora and Google Play Music All Access, the new service will reportedly generate radio stations based selected songs, artists, and user taste. AdAge's John McDermott's sources support these claims.
In 2012, subscription and streaming services accounted for 8.1 percent of U.S. music industry revenues, according to the Recording Industry Association of America (RIAA), and the format isn't exactly unusual to users. But it does clash with the thinking of late Apple co-founder Steve Jobs. "He believed that people had an emotional connection to the songs they loved," Walter Isaacson wrote in Jobs' biography. "They wanted to own 'Sympathy for the Devil' and 'Shelter from the Storm,' not just rent them."
"I think you could make available the Second Coming in a subscription model and it might not be successful," Isaacson quotes Jobs as saying.
Still, it's probably time for Apple to change its tune on this topic. The Cupertino-based company's grip on the music business — based on "owning" digital copies of songs — began to relax after 2010, as subscription and streaming alternatives such as Spotify, Rdio, and the like began to make better use of the very smartphones Apple made popular. "iTunes' share of U.S. digital music sales has fallen from 69 percent to 63 percent as avid music listeners turn to streaming services," Bloomberg's Andy Fixmer explains.
While the general consensus among Apple watchdogs seems to be that iRadio — or whatever it's called — is indeed on the way, not everyone believes that we'll hear about it next week at the company's Worldwide Developers Conference, where updates to Apple's software platforms, the iPhone's iOS and the Mac's OS X, are discussed.
Gene Munster, a senior research analyst at Piper Jaffray, told NBC News that he believes we will hear about a music service, but perhaps not until the fall. "The music service ... that seems more likely for September, for an iPod event."
Want more tech news or interesting links? You'll get plenty of both if you keep up with Rosa Golijan, the writer of this post, by following her on Twitter, subscribing to her Facebook posts, or circling her on Google+.