While millennials have clearly been won over by Snapchat, the company now faces its biggest test yet: trying not to be crushed by Facebook.
Snap Inc., the parent company of Snapchat, announced its earnings on Wednesday for the first quarter since the company's multibillion-dollar initial public offering in March, which was the largest tech offering since Facebook's. Wall Street wasn't impressed, prompting shares to fall as much as 25 percent during after-hours trading.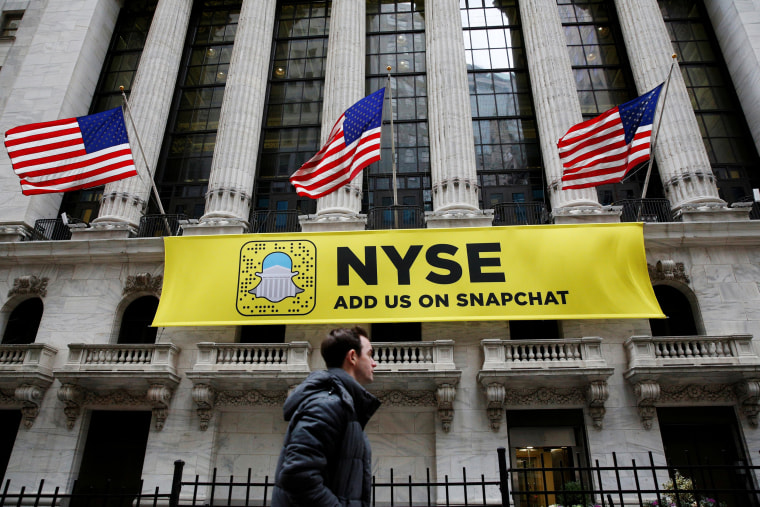 Revenue was $150 million, falling short of a $158 million Thomson Reuters consensus estimate. The company reported 166 million daily active users, a 5 percent increase from the 158 million it disclosed during its IPO filing this year.
Related: Snap IPO Set to Make Snapchat Co-Founders Into Overnight Billionaires
Snap also reported net losses of $2.2 billion for the quarter, with $2 billion of that coming from stock-based compensation after the company's IPO.
However, Facebook has been hot on Snap's heels for the past few months, taking the company's hallmark features and adapting them to its own platforms.
Chief Executive Evan Spiegel said that "if you want to be a creative company" you're going to have to "enjoy the fact people are going to copy if you make great stuff."
When Google came along, he said, everyone felt they needed search strategies. With Facebook, he said, that became a social strategy. We're now at a moment, he said, when companies are searching for a camera strategy.
Facebook is already winning on that front. Instagram Stories — which debuted in August and followed the same format as Snapchat, allowing friends to view your "story" for 24 hours — crossed the 200 million daily active user mark last month, making it more popular than Snapchat.
Even the team at the Facebook-owned Instagram has acknowledged the inspiration it got from Snapchat, and using it to build on their own platform.
In March, weeks after Snap went public, Facebook also integrated some similar features into the social network, including stories and the ability to send direct, ephemeral photo messages, complete with fun doodles and masks, to friends.
"There is definitely an assault" on Snapchat, Gene Munster, managing partner at Loup Ventures, told NBC News. "Can they survive? A lot of it is going to be about how they build a business around the camera."
He pointed to the suite of updates released Tuesday, including a new "infinity timer," allowing users to let friends view a Snap as long as they want until they close it, and a Magic Eraser that allows you to quickly remove something you don't want from your photo.
Related: How to Use Facebook's New Snapchat-Like Features
"There is going to be an arms race around these features," Munster said. "Their ability to survive and succeed will be dependent on how well they innovate."
There's also a question of when Snap will become profitable.
Snapchat has monetized that user base by running advertisements between some Snapchat stories. For the uninitiated, the stories feature allows any of a person's friends or followers to view a video and photo diary of their day.
Spiegel has also made it clear that he wants to take the company beyond being just Snapchat — and last year he renamed the business Snap and repositioned it as a camera company.
Part of that strategy included selling Snap's first product, a pair of cool camera glasses called Spectacles, allowing a user to send Snapchats literally from their own point of view.
However, it will be up to the company to prove its staying power in the coming quarters. A survey by Fluent, a data-driven marketing company, found that Snap users aren't sure whether they'll be using the platform in five years.
Fluent found that 65 percent said they think they'll still be on Snapchat. While decent, that's still short of the vote of confidence given to Facebook, 87 percent, and Instagram, 74 percent.
Imran Khan, Snap's chief strategist, touted the company's ability to help connect advertisers with hard-to-reach users. He said the company is seeing increased engagement, particularly from users who might not be reached by advertisers through traditional media channels.
Khan said 3 billion Snaps were made during the first quarter and that users spent an average of 30 minutes per day on Snapchat.