SAN FRANCISCO — The campaign tool getting the most buzz in this year's midterm elections isn't a Facebook ad or a viral YouTube video. Instead, it's a technology nearly three decades old: the text message.
Political campaigns and parties say they're sending many more texts this year than in past elections as they search for alternatives to social media. Those efforts have been boosted by newly popular software that allows volunteers to send thousands of texts an hour without violating federal rules about bulk texting.
With an assist from Silicon Valley, texting is beginning to supplant phone-banking and door-knocking as the most efficient way to talk to some voters, especially younger people addicted to their phones or those in rural areas who could be hard to reach in person.
"Many people much prefer texting to calls, and it makes sense," said Roddy Lindsay, a former Facebook engineer who's now co-founder and CEO of Hustle, a texting-software startup in San Francisco. The firm's clients include the Democratic National Committee as well as nonpolitical clients, although only political clients have the freedom to send unsolicited texts under federal rules.
"When you get a call, it's interruptive. You have to stop what you're doing and take the call. But a text message, you can reply back at a moment of your convenience," he said.
Several campaigns, including Democrat Andrew Gillum's run for Florida governor, have credited texts with helping them pull off surprising victories this year. The Gillum campaign sent more than 1.5 million text messages to more than 750,000 voters, according to Hustle.
In Alabama, Democrats say they texted nearly every black voter in the state before a special election for U.S. Senate last December, which was won by the Democrat, Doug Jones.
But the proliferation of texting has also prompted a debate about whether regulation has kept pace with potential spam. Critics worry that the technology could be used for nefarious purposes, such as voter suppression or disinformation. In one example of the potential dark use of texting, some voters in Tennessee in July received anonymous text messages attacking two candidates in the Republican primary for governor.
Click banks
Federal rules prohibit unsolicited robo-texting, so Hustle and competitors such as Relay and RumbleUp have created software that makes sending huge numbers of texts relatively easy while still requiring a human to press the "send" button for each one.
The software allows political campaigns to upload lists with names, phone numbers and other personal information. Campaign workers create generic messages or personalized ones, sending them to friends or to strangers across the country — generally screened based on their political leanings.
Linda Hill, a volunteer for Build the Wave, a political group trying to turn out Democratic voters, said she sends texts on her iPad Mini from her sofa at home in Red Bank, New Jersey, and can easily contact 200 people in an afternoon. Some don't respond or are unkind, she said, but others are pleasantly surprised to find out a human, not a robot, is behind the texts.
"It breaks down a lot of barriers," Hill said. "People think, 'Oh, this is a real-life person who's donating their time.'"
Person-to-person texting software is a twist on an old technology. The first modern SMS text was sent in 1992. In 2008, Barack Obama's first presidential campaign used mass text messages to announce the selection of Joe Biden as his Democratic running mate.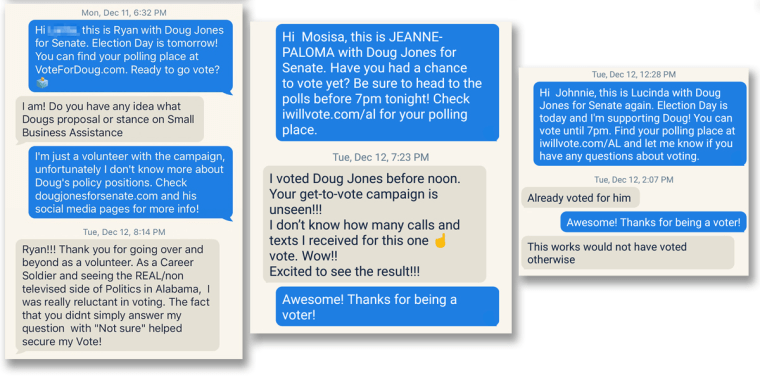 Ben Wessel, the youth vote director at NextGen America, a liberal organizing group backed by California billionaire Tom Steyer, said that campaign tactics are just following people's changing habits: "Young people live their lives much more on text over email."
Depending on the service, campaigns can send emojis, photos, videos or meme-filled GIFs, and they're using the texts to help register people to vote, organize events, raise money, recruit volunteers and spread advertising.
While campaigns say texts have a higher return on investment than other types of messages, political texts have bugged plenty of people this year, according to complaints they have posted on social media.
Ken Webster Jr., a radio producer in Houston, last week tweeted a screenshot of a text he got from the campaign of Sen. Ted Cruz, R-Texas. When Webster responded with criticism of mass texting, the unidentified person responded, "Awesome."
"If annoying text messages from strangers is the future of politics, I'm not optimistic," Webster tweeted.
Texting firms counter that despite the grousing, their services work. Hustle says that its texts get twice the response of phone-banking calls to mobile numbers, and 36 times the response that emails do. It also says its service has been used to counter voter-suppression campaigns by spreading accurate information about voting.
Gillum, the Tallahassee mayor who won his party's primary in a crowded field in August, turned to texting in part because of its lower cost, while other candidates spent heavily on television.
"We had to run a leaner, meaner campaign," said Kevin Cate, an adviser to the Gillum campaign. Though the campaign is now better funded, it is still using person-to-person texting and said it would use it through the Nov. 6 election.
A personal touch
Democratic campaigns, including those of presidential candidates Hillary Clinton and Bernie Sanders in 2016, appear to have seen the potential in peer-to-peer texting software sooner than some Republicans, but any advantage has likely disappeared, people in the industry said.
"Most Republicans got into their head, truthfully, that if you robo-text someone without their permission, there could be hefty fines," said Thomas Peters, founder and CEO of RumbleUp, a firm that works with Republican and conservative clients.
"No one really wanted to be the first," but 100 clients have since used RumbleUp's service, he said.
Gary Coby, who helped run digital advertising for President Donald Trump's 2016 Republican campaign, this year called texting the most efficient way to contact voters in part because texts are well read.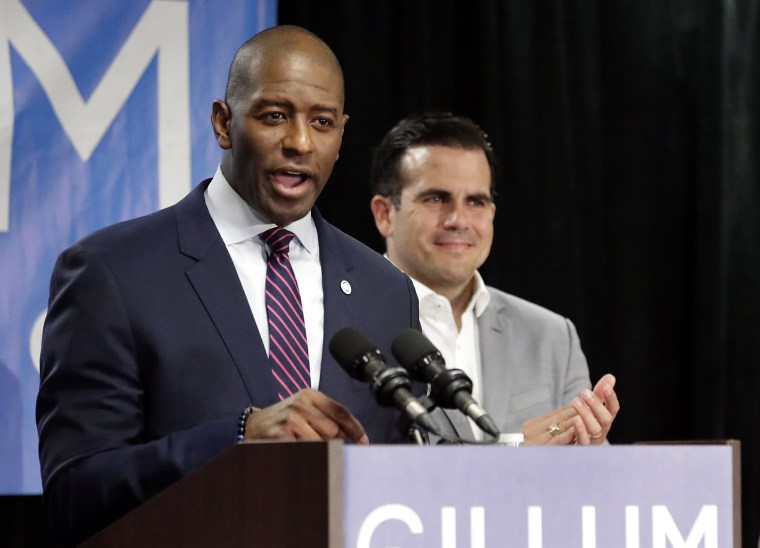 "How many unread emails do you have? How many unread texts do you have? Text is king," he tweeted in August. He has helped found a texting firm of his own.
Texting is also different from the shouting matches that can take place on social networks such as Twitter or Facebook.
On social media, "a lot of the discussion is unfortunately taken over by the loudest voices in the room," said Hustle's Lindsay. "Because text messaging is one-to-one and private, people feel more comfortable having those conversations."
Read receipts
For the midterms, the technology is being deployed by everyone from big national committees to pop-up volunteer organizations.
Brooklyn-based Build the Wave is trying to harness Democratic anger at the Trump administration to boost voter turnout this fall, largely through texting. It has 2,000 volunteer texters and has sent more than 800,000 texts this year, including 30,000 texts to Pennsylvania voters on the day of a special House election there, said Nate Lerner, the executive director.
"It's probably the least expensive way to contact a voter, and probably the easiest," Lerner said, in part because volunteers can text when it's convenient for them. "They can do it while they're watching TV."
Commercial businesses aren't allowed to text someone they don't have an existing relationship with, but that limitation doesn't apply in a political context, so campaigns can buy lists of potential supporters and text them as long as the texts are person-to-person.
In May, the P2P Alliance, an industry trade group, wrote to the Federal Communications Commission arguing that person-to-person texting was lawful and asking that the commission explicitly say so. The FCC hasn't ruled on the request but has sought additional comment.
Barring a regulatory crackdown, though, or a change in how people keep in touch with friends and family, consultants said they expect the use of texting platforms to keep rising.
"That's the honeymoon period we're in," said Marie Danzig, deputy digital director for Obama's 2012 campaign, now at the political strategy firm Blue State Digital. "People are reading these texts and they are welcoming them, generally, so I think we need to be careful and respectful of people's tolerance for the volume of texts to keep it an effective means of communication."