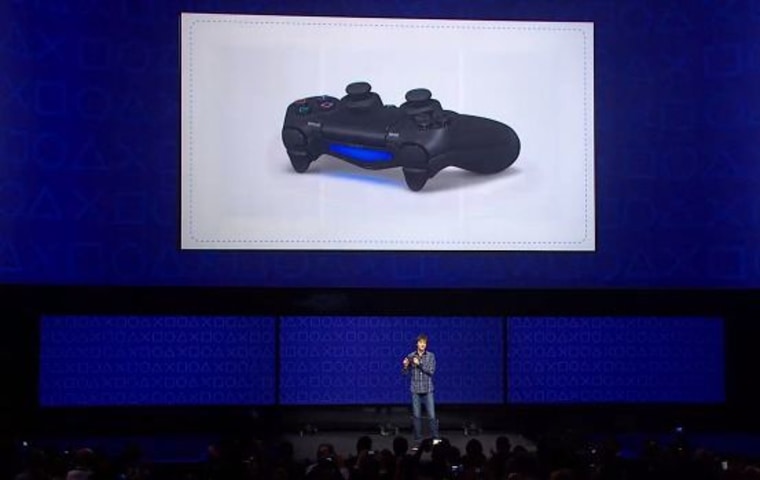 After months of rumor and speculation, Sony has revealed its new game machine — the PlayStation 4 — as well as a new controller with a touchpad, a "share" button and light bar.
"Today marks a moment of truth and a bold step forward for PlayStation as a company," said Andrew House, president and Group CEO of Sony Computer Entertainment, as he took the stage at the Hammerstein Ballroom in New York City on Wednesday. "Today we will give you a glimpse into the future of play."
House told a room packed full of journalists that the new machine — the successor to the PlayStation 3 — would take the moniker PlayStation 4. Sony then revealed the new touch-sensing DualShock controller as well as a new "stereo camera" that works in conjunction with the controller (see video below.)
Sony said the PlayStation 4 will launch "holiday 2013" but did not reveal a specific date or a price. Sony also did not show off what its new gaming hardware will look like, revealing only the controller and pictures of the new camera.
Mark Cerny, the PS4's lead system architect, did outline some of the innards that will be powering the machine explaining, "The architecture we chose is like a PC in many ways."
The PlayStation 4 will feature an X86-64 AMD Jaguar CPU with 8 cores, an AMD Radeon GPU and 8 gigabytes of unified system memory. Like the PS3, it will also feature a Blu-ray drive. (For more on the specs, check out our story here.)
David Perry — CEO and founder of Gaikai — also took the stage Wednesday. Sony bought his game streaming company last year. He explained that integration of the streaming service with the PlayStation Store will allow gamers to instantly try games before they buy them.
Meanwhile, Perry said that with the "share" button on the new PS4 controller players will be able to live broadcast their gameplay to their PlayStation Network friends.

He said friends will not only be able to watch your game in action, but can post comments to your screen as you play (if you let them). You'll also be able to allow friends to take over your game so they can, say, assist you in a difficult area or interact with your game in other helpful ways.

"What we're creating is the fastest, most powerful network for gaming in the world," Perry said. "Our vision is to create the first social gaming network with meaning."
Perry also revealed Remote Play — a feature that will allow gamers to take their PS4 action to Sony's smaller game screen. That is, if you're in the middle of playing a game on your PS4, you can use Remote Play to instantly transfer your game to Sony's handheld PS Vita.
Perry said the ultimate goal is to make it so all PS4 games will be playable on the Vita.
PlayStation 4 games unveiled
So what games will be coming to the PlayStation 4? Bungie — the creator of the Xbox-exclusive Halo game franchise — revealed it will be bringing its newly revealed project "Destiny" to the PlayStation 4 (with an edition also for the PlayStation 3).

(For an in-depth look at the PlayStation 4 games, read our story here.)
Hermen Hulst, co-founder of Guerrilla Games, introduced "Killzone: Shadow Fall" a stunning looking futuristic shooter. And Matt Southern from Evolution Studios showed off the ultra-realistic "Driveclub" racing game.

"We've gone borderline insane with the real-world details," Southern said, pointing out the ultra-fine detail that can be seen on the cars in the game.
Meanwhile, Sucker Punch's Nate Fox revealed the new game from the studio that brought us the "InFamous" series. He said "InFamous: Second Son" — a game about what happens when super powers and the power of surveillance collide — will be a PlayStation 4 exclusive.
Respected indie developer Jonathan Blow — the creator of the critically acclaimed game "Braid" — showed off his next game "The Witness." He said the puzzle-filled title will be a PlayStation 4 "launch window" game.
Ubisoft's Yves Guillemot revealed what everyone expected — that the developer's highly anticipated game of surveillance and hacking called "Watch Dogs" is planned for the next-gen PlayStation 4.
In something of a surprise, PC gaming stalwart Blizzard revealed that it'll be bringing "Diablo 3" to both the PlayStation 4 and the PlayStation 3.
And it appears that Sony won't be saying goodbye to its oft-ignored PlayStation Move motion controller. Media Molecule — the developers behind the "LittleBigPlanet" games — showed off a tool that enables players to use the Move controller and the PS4 to craft digital sculptures and bring them to life.
The battle ahead
Sony, Microsoft and Nintendo have been duking it out for years, vying to be the prime purveyor of home video games and, in recent years, other home entertainment as well. But Sony's news today is the opening shot in an all new console war.

It's been six years since Sony launched the PlayStation 3 and seven years since Microsoft launched its competing Xbox 360. Late last year, Nintendo revealed the Wii U — its new home game machine and the successor to the Wii. But so far, the Wii U's lackluster sales and technical specs that make it seem more on par with the current generation Xbox 360 and PlayStation 3, suggest this machine is more of an interim step in the three-way gaming battle.
With Microsoft rumored to be working on its own new home game console (which it will reportedly unveil in the coming weeks), it is Sony and Microsoft that are widely expected to go head-to-head in the coming years, vying for the same demographic and to become the all-important entertainment hub in your household.
For a further look at Sony's event Wednesday, check out the videos belowand InGame editor Todd Kenreck's first lookat the PlayStation 4:
Winda Benedetti writes about video games for NBC News. You can follow her tweets about games and other things on Twitter here @WindaBenedetti and you can follow her on Google+. Meanwhile, be sure to check out the IN-GAME FACEBOOK PAGE to discuss the day's gaming news and reviews.