AUSTIN, Texas — The annual South by Southwest conference (SXSW) is usually a week for the tech world to pat itself on the back and talk about how great it is.
Not so much in 2018.
The tech industry's laundry list of problems — election meddling, online harassment and a lack of diversity, among others — dominated the conversation at a festival that in previous years made headlines for its quirkiness and innovation.
If this was any other year, a surprise appearance by Elon Musk, who happily talked to a packed theater about his plan to go to Mars — and even sang and danced a little — would have stolen the show.
Instead, it was voices like Bozoma Saint John, Uber's chief brand officer, that echoed a common message of breaking up the boys' club in tech.
"Listen, I'm the kind of woman who wears, like, freakin' sequins in the middle of the daytime," Saint John said during a an on-stage interview. "This is a critical moment. We are cracking it open, and I intend to step right in there with my sequins and bust it right open."
Whitney Wolfe Herd, founder and CEO of the dating app Bumble, which is headquartered in Austin, said her staff is 85 percent women, a rarity in the tech world. She said she wants to lead by example in the workplace.
"Misogyny is not sexy. Misogyny is not something that you want to be a part of," Herd said. "I think that the message we're trying to send is, let's all just respect one another and you can be a successful tech company with big revenue."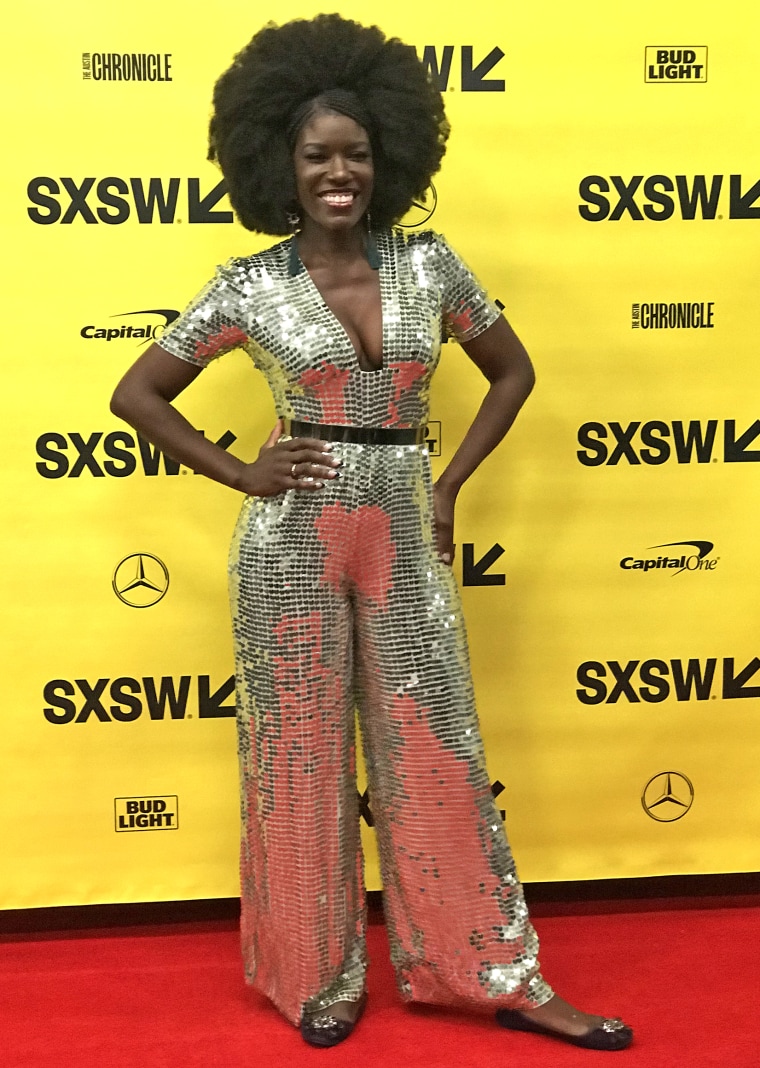 On Twitter, there has been a 50 percent spike in the volume of conversation around women's issues over the past six months, according to Nola Weinstein, global head of culture and experiential at Twitter.
Twitter has been among the companies most widely criticized for allowing harassment to flourish on its platform.
"I think we're all a work in progress. People are being held accountable. There are those who have had enough," Weinstein said. "Time's up for many and I think the importance for change is being felt in a very real way at every rank of every industry around the world."
At a brunch that brought together female leaders visiting for the conference, Weinstein said she knows that what may seem like just a fun social gathering can lead to real change.
"I think one of the coolest things about those conversations is that they don't stay here," she said. "People meet here and those connections enable them to better their careers, to better their companies and in turn make an impact in the world."
Even buzzy new technologies like artificial intelligence were being looked at with skepticism.
Sarah Kunst, founder of Proday, a training fitness app, highlighted the need for venture capitalists to pay more attention to black female founders.
"Black women have only raised, like, .02 percent of all venture capital. So the average black woman who raises money for her startup raises $36,000. The average amount raised for a failed startup by a white man is something like $1.3 million," Kunst said. "[Black women] are graduating college at an incredibly high rate. They're starting companies at incredibly high rates. The lack of funding is astounding."
London Mayor Sadiq Khan, who gave one of the conference's keynote speeches, preached gender equality and premiered a film promoting diversity in London's tech sector.
"My message to men here: we've got to be allies in this fight for gender equality," Khan said. "If we get gender equality we'll all benefit. There is no downside. It's not a zero-sum game."
Khan, who is Muslim and the first British politician to give a keynote at SXSW, also read aloud hateful and abusive tweets he has received on social media.
"I say kill the mayor of London and you'll be rid of one Muslim terrorist," said one tweet that Kahn read.
Khan used his keynote to call on big tech companies to do more to combat harassment and suggested that if they don't act, perhaps more countries will follow in Germany's footsteps and start issuing major fines on tech platforms that do not remove abusive content in a timely manner.
If tech companies do not take action, he told NBC News, there most likely will be "regulation that is quite draconian from politicians and policymakers, or you'll have consumers walking away from these platforms."
"I don't want either," he said. "That's why it's important that giant tech companies act responsibly and work with us to try and find solutions."
Technology platforms, including Facebook, Twitter and Google, have been under fire for the roles they played in helping amplify the voices of bots and trolls.
But those technology companies appear to have been late to wake up to the problems. Only in recent months have they begun rolling out new features and ideas to address the issues of bots, trolls and harassment. These are problems that Twitter CEO Jack Dorsey has admitted he's not entirely sure how to fix.
Sen. Mark Warner, D-Va., who built a career in tech before going into politics, had been one of the industry's biggest supporters. He's now one of its most vocal critics.
Speaking at a South by Southwest panel on Saturday, Warner said the examples of meddling in the last election have shown "the dark underbelly of social media."
Warner is the sponsor of the Honest Ads Act, which would hold online political advertisements to the higher standards of broadcast media. It's the first step Congress has taken toward any kind of social media regulation.
Even though it's his bill, Warner said he doesn't expect the legislation, if it passes, to contribute much to solving big tech's problems.
"It is a small component of the problem," he said.
Warner said the United States needs to re-evaluate its defense systems. While war may have been waged with tanks and guns in the 20th century, the U.S. needs to invest more in the tools to defend against what he called "21st century warfare."
The new battlefield will be a war "fought with misinformation, disinformation, cyber," he said. Right now, Warner said he believes the United States is playing catch-up.
"This is a tactic of 21st century conflict," he said. "And if you can raise that in a bipartisan way, hopefully more Americans will realize we need to get our act together, starting in 2018."