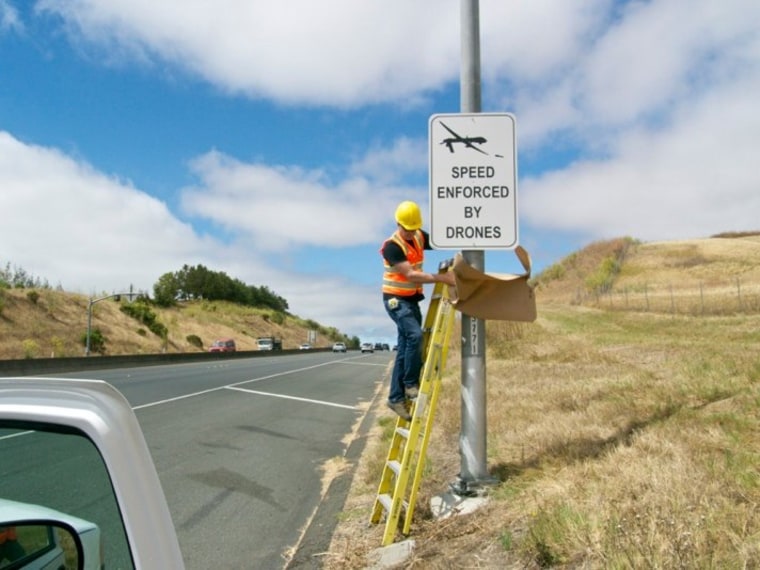 California commuters may have been alarmed last week by highway signs that warned them that they were being watched by missile-equipped drones. But the signs were fake, installed by an artist from Napa, and have quickly been taken down by the California Highway Patrol.
The art project was inspired by real road signs. "I thought to myself, speed [monitored] by aircraft is kind of ridiculous, how are you going to enforce it?" the artist Stephen Whisler, who is 59 and lives in Napa, Calif., told NBC news, explaining why the "Speed enforced by drones" signs he put up last Monday show a Predator firing a missile.
"The motivation is partially political and partially a prank," Whisler told NBC News. He isn't part of any activist organization, but his message is: "Watch out, this is coming."

Activists inside and outside the U.S. have been protesting the use of U.S. military Predators in air strikes in Pakistan and Afghanistan. Separately, U.S. privacy activists have raised concerns about allowing cops and the federal government to use smaller machines for police runs or in search and rescue. Whisler claims his signs "sort of of tie together" both those threads.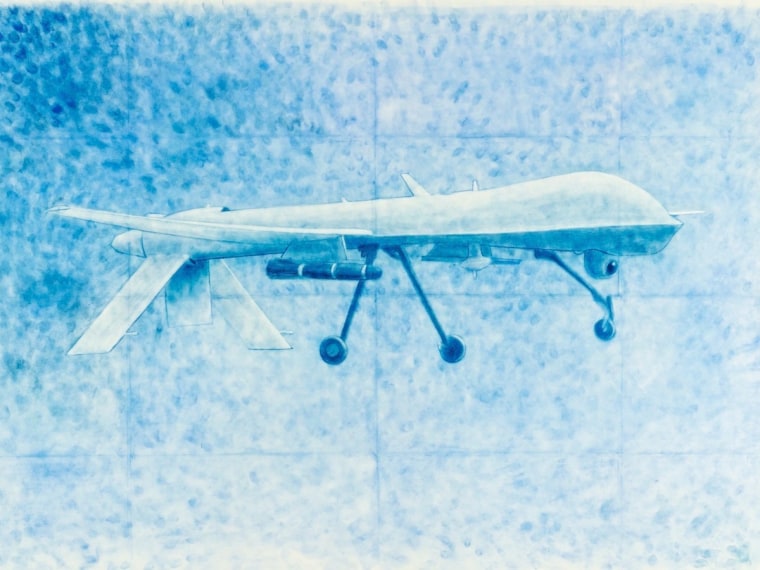 About a year and a half ago, Whisler began creating large pastel paintings that depict big drones like the Predator and Reaper. Those are likely what he'll make more of; the traffic signs are a "one off" project, he said.

In the U.S., the Federal Aviation Authority prohibits the use of the small drones for commercial activities, and has regulations against the use of weaponized systems. FAA-approved cop squads who use drones, like the Mesa County sheriff's office in Colorado, have permits for crafts that are more suited for an hour-long aerial survey of a restricted area, and can't yet stay airborne for the long hours it would take to monitor traffic.
"It's definitely humorous but it's still illegal and our job is to enforce the laws," Officer Patrick Roth, of the Public Information Office at the California Highway Patrol, told NBC News. The signs are a violation of a California vehicle code that makes it illegal for someone to post a sign that resembles an official sign.
Roth said the CHP was still investigating the issue, and has yet to decide if they're filing charges. Meanwhile, Whisler has been waiting. "I'm sort of surprised, I'm expecting them to show up any moment," he said.
Whisler is hardly the first artist or activist to use art to make a point about the use of drones by the U.S. government. New York artist Essam Attia was arrested in November 2012 after he posted ads around the city addressing the drone debate more directly than Whisler does.
One of Attia's posters had an image of a drone sending a missile towards a family alongside a message that said: "Drones: Protection when you least expect it." The posters carried the NYPD's logo. It was about "creating a conversation," Attia said in an interview with Animal New York.
In 2011, video artist Omar Fast made a moving film about a family that tried to flee their home, called "5000 Feet is the Best."
Meanwhile, artist Mahwish Chishty created prints of drones painted with traditional motifs, the kind that truckers in her native Pakistan decorate the vehicles they drive and live in. "I just want people to talk about it," she told Mother Jones. "I am also looking at them as objects, and not as much as war machines," she said of the drones.
Drones have also become artists' tools. Small drones like quadracopters have been put to work by photographers to help shoot proposals and weddings, help record car drive sequences for ads, even take you on a virtual joyride above the Niagara Falls.
Nidhi Subbaraman writes about technology and science and drones, drones, drones. Follow her on Facebook, Twitter and Google+.