When you go to the eye doctor, you look at a chart and tell them what you can see. It's the same way for the cameras on spy planes — but their charts have to be big enough to see from 20,000 feet.
There are an unknown number of these striking focus charts scattered around the U.S., reports the Center for Land Use Interpretation (CLUI). They have been in use since they were first put together in the 1950s and '60s — when the development of spy planes like the SR-71 Blackbird and U-2 necessitated careful calibration of their onboard cameras.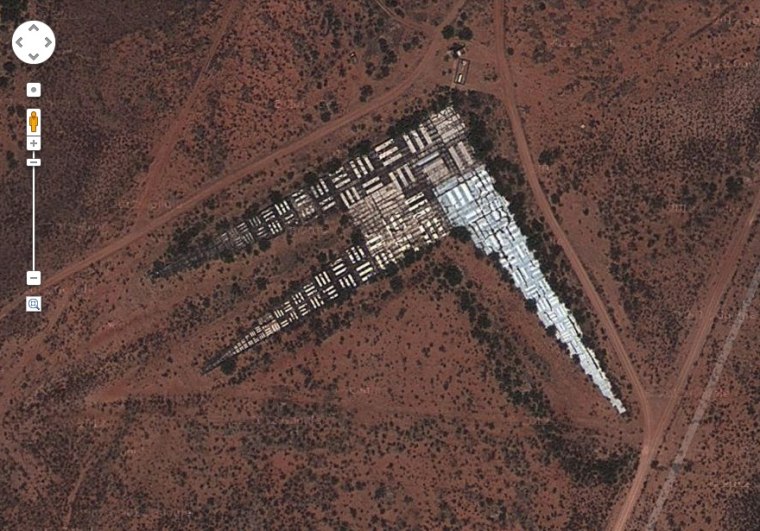 The charts differ from one another, but all share some characteristics: large white bars painted at known sizes and distances, sometimes parallel, sometimes perpendicular to each other.
The result is an easy way to tell whether a camera can make out the details it's supposed to from high in the air, or whether adjustment is necessary. Other countries have them as well — something which attracted the notice of satellite imagery buffs several months ago.
However, the digital cameras in today's drones and planes can be easily adjusted on the fly, making these charts somewhat unnecessary — but a few are still maintained, possibly for adjusting legacy equipment.
One notable exception is the Curiosity Mars rover, which has one of these bar charts on its body (as well as a penny) for checking the focus of its MAHLI camera.
There are several more examples of these interesting patterns at the CLUI post, as well as a bit more history on the military project and technical details of the charts.
Devin Coldewey is a contributing writer for NBC News Digital. His personal website is coldewey.cc.