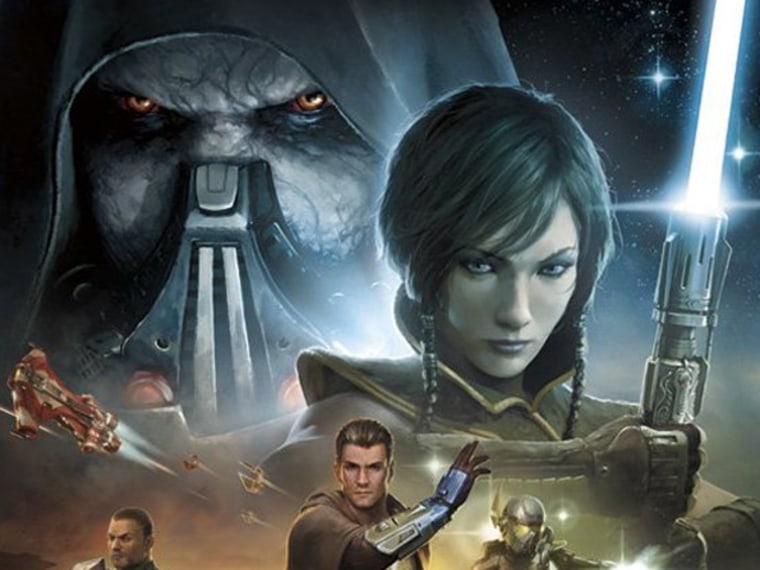 "Star Wars: The Old Republic" -- a massively multiplayer online game full of Jedi Knights and Sith Lords (including myself) -- is officially going free-to-play this fall.
Players will be able to choose from both a free-to-play and a subscription payment model, developer BioWare and publisher Electronic Arts announced Tuesday. Players who go without a subscription will be able to reach up level 50 (the game's current level cap) with a few restrictions, but after that higher-level game content and additional features will have to be purchased.
I spoke to the general manager Mathew Bromberg at BioWare Austin about why they made the change.

"We really heard from our players that the subscription was a barrier and it was barrier in a couple of important ways," Mathew Bromberg said. "First it was a barrier to the millions of Star Wars fans who really wanted to experience the game but were scared off by the subscription. And we've had lots of folks who have had subscriptions and have let them lapse who have said, 'Look, if we can continue to explore the game and be a part of it in a way that didn't require this monthly commitment we'd love to do it.' So we've really been listening to those players who want flexibility and they want to be able to pay for what they want to do. We're excited to be able to give it to them."
Those who do choose to pay the monthly subscription will have full access to all content and will also be given a monthly allowance of the new Star Wars currency called Cartel Coins which can be used to buy in-game items such as "convenience" features and customizable gear.  
BioWare and publisher Electronic Arts hope the free-to-play model will help bring the game to a much wider audience. They will also slash the game's price to $14.99 this August (down from the current $39.99) -- with that price including a one month subscription. Those who reactivate their old account will also see some special benefits, though what those will be remains to be seen.
The benefit to the overall game and players in general is that these changes should mean servers with higher populations (which means more people to play with). But the biggest improvement should be that gamers will get more  "Star Wars: The Old Republic" content updates more frequently. And that makes everyone happy.
Meanwhile, Executive Producer Jeff Hickman spoke to how important the story has been and will continue to be for the future of the game.
"Story really is a pillar we not only take pride in, but I think that is arguably something we do that no one else really does in an MMO," he said. "People were naysayers about it. We achieved it. It's awesome, people remember it, it's core to the success of our game."
Want more awesome video game news, see awesome video game videos, or just want to talk about games with your fellow gamers? Follow Todd Kenreck on Facebook and Twitter.

More about "Star Wars: The Old Republic"