Gripe about AT&T on Twitter and there's a good chance the service provider will find out. You might even hear from a customer service representative. Just last year AT&T picked up on my colleague Wilson Rothman's Twitter feed, after he complained about dropped iPhone calls, which led to what he describes as "a strange, but positive, experience."
This is nothing new. Companies began monitoring individual customer complaints on the Internet before Twitter hit the scene — but the microblogging service does make it easier. AT&T is now taking Twitter monitoring a step forward by taking a big step back — macro-tracking complaints about service outages in real time with experimental software developed within the company.
True story.  AT&T isn't just saying that to get you to shut your pie hole about your crummy iPhone reception.
"At AT&T's GNOC (Global Network Operations Center), screens track the volume of specific keywords on Twitter against real-time network data," writes ReadWriteWeb's Sarah Perez. "For example, an increased number of complaints in a particular area is a red flag for their engineers that something could be impacting the local network."
The "Social Media Data Analysis" on the right compares real-time number of AT&T-referencing tweets per hour (blue) compared to those of the week before (yellow). Big spikes mean possible trouble, and that's when the humans hit the Twittersphere to see what all the AT&T tweeting is about.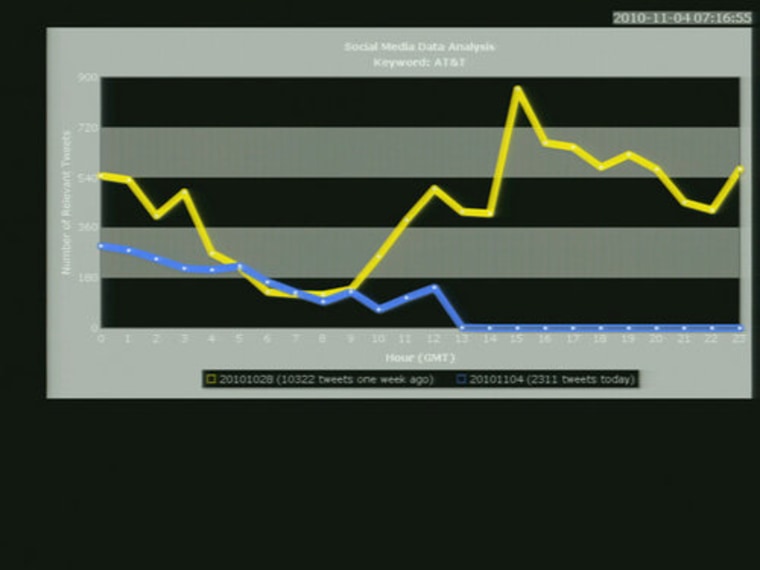 Those monitoring the system then uses the time-stamped tweets and locations and compares the data to customer service calls. Twitter trends can even indicate service problems faster and more efficiently than customer complaint logs, which take longer to log and analyze.
And you thought Twitter was useless!
Friend Helen A.S. Popkin on Facebook  or follow her on Twitter ... all the kids (and major utility companies) are doin' it!