"I started corresponding with him in 2003," David Skrbina said of his prison pen pal, the author he helped get published five years ago. "In 2005, we had enough material in the essays and the letters he had written during incarceration that I suggested that we publish them in a book."
The content was there — cogent, academic pieces on how technology is alienating us from the natural world, psychically, psychologically and physiologically, damaging us, separating us from our evolutionary nature. Alas, the publishers were not.
"We spent two years trying to find an American publisher and nobody would take it. The original contact person was always very interested in the new book. They would go away and they would come back a few weeks later and say, 'Our management has decided we cannot pursue this project.'"
Having a friend behind bars is never easy. Being a self-appointed literary agent is always a challenge. But it's even tougher when your penitentiary-bound writer is a notorious domestic terrorist and enemy of the state who calls for the destruction of civilization.
Skrbina's pen pal is Ted "Unabomber" Kaczynski, the radical environmentalist and anti-civ guru who is serving life in a federal supermax prison for killing three people and injuring 23 in a campaign that ran nearly two decades. His method? He sent 16 mail bombs to universities and airlines (hence "una") between 1978 and 1995.
Although best known for coercing the New York Times and the Washington Post into publishing his 3,500-word manifesto, "Industrial Society and its Future" in 1995, Kaczynski continues to write from prison and remains an influential thinker in anarchist Deep Green Resistance circles, activists who believe global warming is real, and are willing to protect the planet by any means necessary.
After a brief run from a French publisher under a different title in 2008, "Technological Slavery: The Collected Writings of Theodore J. Kaczynski, a.k.a. 'The Unabomber'" eventually found a publisher in the United States — the alternative, independent Feral House — and the book hit American shelves in 2010. Skrbina penned the intro.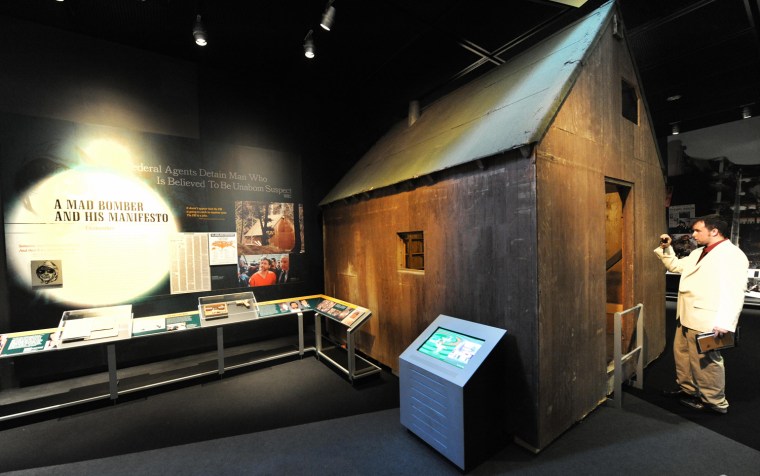 Kaczynski's ideas about the dehumanizing and devastating effects of industrialization and technology on humanity and the planet are often overshadowed by the murders he committed while single-handedly trying to jumpstart a revolution from his remote cabin in Montana. That split was manifest during "What Can We Learn From the Unabomber?", a packed panel discussion Friday at South by Southwest in Austin, between Skrbina, a philosophy professor at the University of Michigan and Peter Ludlow, a philosophy professor at Northwestern.
Both thinkers identify themselves as tech skeptics, though Ludlow argues that we have nothing to learn from the Unabomber or his manifesto.
It was a surreal debate — 400 or 500 technorati packed into a room, eager to discuss the works of a man who thinks they're causing the world's demise. Indeed, it was hard to argue when Ludlow said the only reason there were more than five people in attendance was because Kaczynski "had killed a bunch of people." Ludlow went on to deploy a machine-gun volley of assaults on Kaczynski's logic and personal credibility, ranging from the manifesto's bizarre slags (leftists are effeminate?) to a comparison of Kaczynski to cannibalistic serial killer Jeffrey Dahmer.
Though both men could be called crazy, Kaczynski believed he was engaged in political action. Dahmer was just hungry.

Talking with NBC News, Skrbina allowed that people are interested in Kaczynski because he's a killer — a very intelligent killer who went to Harvard at 16 and got a Ph.D. in mathematics at 25. Killer or not, Kaczynski's ideas have a rich and textured historical heritage, he added.
Skrbina points to Jacques Ellul, the 20th Century French philosopher concerned with the tyranny of tech over humanity, credited with coining the phrase, "Think globally, act locally." Technological skepticism goes back to Plato and Aristotle, continues through Samuel Butler and Martin Heidegger and goes today with essayists and artists such as Derrick Jensen and Stephanie McMillan.
Skrbina minimizes his own exposure to technology. "I don't do Facebook. I do email. I do minimal Web surfing, word processing." He has a TV, but with rabbit ears.
While partly sympathetic to Kaczynski's beliefs, Skrbina's not in this for the friendship, describing the forcibly retired Unabomber as a prickly, difficult person. Skrbina's a philosopher. This is about ideas.
"We have very serious problems that need to be discussed and if he can be one more cause to discuss those problems then we should take advantage and do it."
So — and this is beyond uncomfortable to admit — it may be that our tech-addled American brains need acts of violence and mayhem to draw our attention from our smartphone screens. These unforgivable acts are getting people to talk about big-picture issues such as the role of tech in society and the real threats to our planet. The killer is in prison and his killings have ceased. Now that he has spurred a debate about our future, what are we as a species going to do?
Helen A.S. Popkin goes blah blah blah about the Internet. Tell her to get a real job on Twitterand/or Facebook.