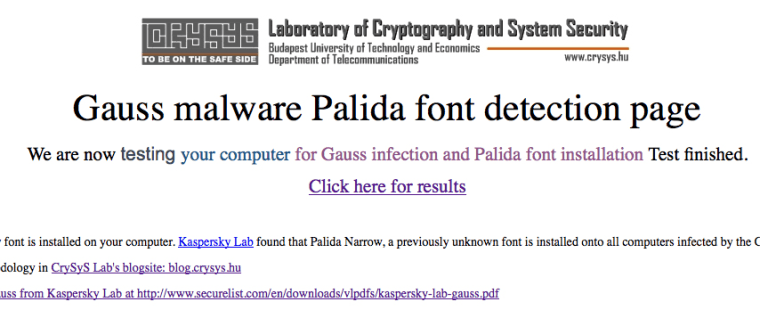 You can test your computer to see if it's afflicted by a new cyber surveillance virus, known as "Gauss" that can spy on banking transactions and steal login information.
Budapest University of Technology and Economics's Laboratory of Cryptography and System Security developed the quick, free test. It looks for whether the Palida Narrow font is installed on your computer. As the university notes, Kaspersky Lab found that Palida Narrow, "a previously unknown font, is installed onto all computers infected by the Gauss malware."
So far, it seems, Gauss has mainly hit those in the Middle East. Kaspersky Lab says the virus was likely built in the same laboratories as Stuxnet, the computer worm that attacked Iran's nuclear program.
Reuters reported Thursday that Kaspersky Lab is not speculating on who is behind Gauss and that the U.S. Department of Defense is declining to comment.
Meanwhile, computer users should also pay extra heed when Web surfing. The FBI is warning of a malware scheme that pops up on a user's screen after clicking on a compromised website, purports to be from the FBI and tries to extort users into paying a fine online. Known as "Reveton," there is no test for this malware — and it can wind up locking your computer, necessitating the help of an expert to undo the damage.
Check out Technolog, Gadgetbox, Digital Life and In-Game on Facebook, and on Twitter, follow Suzanne Choney.