Billionaire Salesforce founder Marc Benioff and his wife, Lynne Benioff, have purchased Time magazine for $190 million, the couple and magazine announced Sunday night.
"As almost everyone knows, Time is a treasure trove of our history and culture," Benioff said in a statement to NBC News. "We have deep respect for their entire organization, and are honored to now have Time as part of our family impact investment portfolio."
Time Inc., the former parent company of Time magazine, was purchased last year by U.S. media company Meredith Corporation for nearly $2 billion.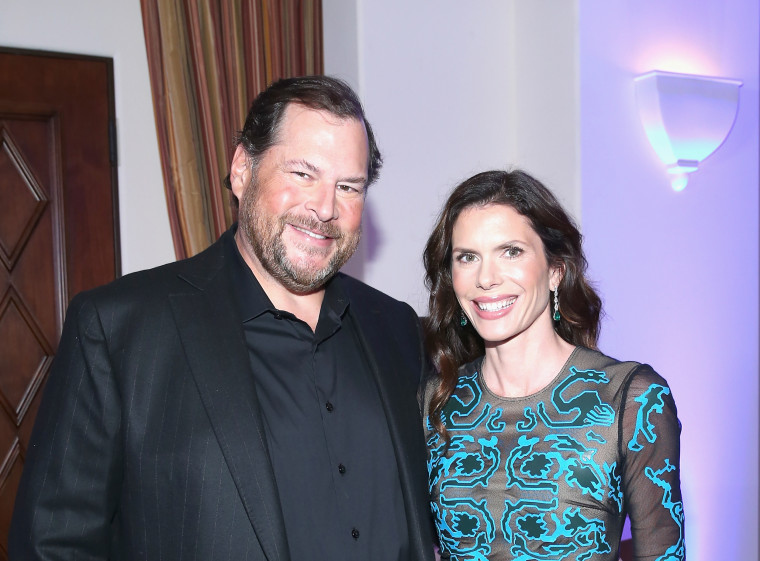 The Benioffs said they will "take on no operational responsibility for Time, and look only to be the stewards of this historic and iconic brand."
"The power of Time has always been in its unique story telling of the people and issues that affect us all and connect us all," Marc Benioff said.
Benioff joins the ranks of tech titans who have purchased some of America's most iconic news outlets, including Jeff Bezos, owner of The Washington Post, and Patrick Soon-Shiong, owner of The Los Angeles Times.
In a message addressed to Time and posted on the outlet's website, Time's editor-in-chief, Edward Felsenthal, noted the magazine's profitability, saying the company has its "largest audience by far in our history, 100 million people around the world" and "a fast-growing video operation that will see nearly 2 billion streams this year" and 2 million subscribers.
"Everyone involved in this process, including Meredith's leadership team, has been committed to finding an investor who shares those values, and who also shares our confidence about where TIME can go next and the impact it can have in the world," Felsenthal said. "So I could not be more thrilled that Marc and Lynne Benioff will be the new owners of TIME."
Marc Benioff is the founder and co-CEO of Salesforce, a business-to-business focused cloud computing company founded in 1999. Forbes lists his net worth at $6.7 billion.
The Benioffs are also noted philanthropists and were listed among Forbes' "Top 50 Givers" in 2015, citing a $50 million donation to the University of California, San Francisco, where the funds were directed to Benioff Children's Hospitals and other health-related causes.