After years of objections to revealing its workplace diversity data, Google has done a 180, releasing its race and gender numbers publicly for the first time on Wednesday. The company admitted it is "miles away" from a representative makeup.
"We were wrong," reads the blog post, by Laszlo Bock, senior vice president of people operations. "It's time to be candid about the issues. Put simply, Google is not where we want to be when it comes to diversity."
The numbers show ample reason for admitting a problem. The company's workforce of 46,170 employees is 70 percent men overall, and 83 percent men in technical jobs. And it's 61 percent white — 72 percent among leadership roles. Blacks and African Americans, who make up 12 percent of the work force at large, represent only 2 percent at Google. Asians, on the other hand, are overrepresented — at 5 percent of the overall workforce but making up 30 percent of Google.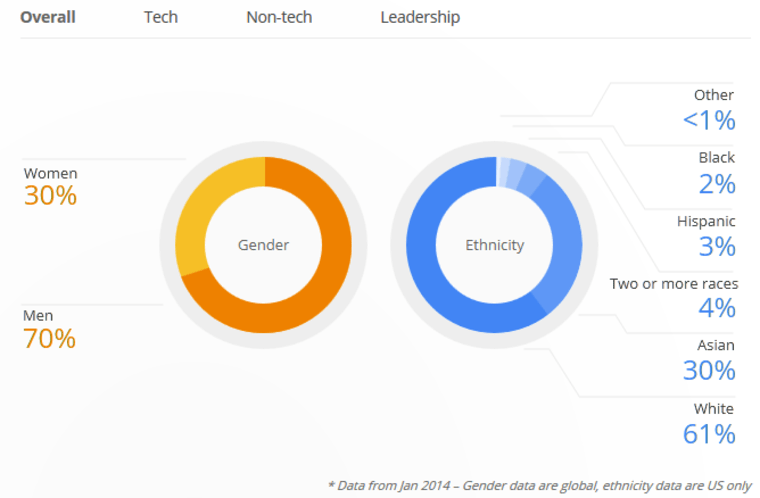 In the U.S., 47 percent of workers are women, and whites make up about 80 percent of the labor force, according to the Bureau of Labor Statistics.
The Google numbers may not be surprising to to some, nor should it be surprising that tech companies have declined to publicize their general lack of women and minorities.
Businesses are required to file reports to the Equal Employment Opportunity Commission, which makes sure hiring practices are non-discriminatory — but there is no obligation to share such numbers with the public. Unless a company chooses to make the data available, the numbers remain confidential.
Google has made the EEOC filing public (PDF), and relevant parts are summarized on its diversity page. "Being totally clear about the extent of the problem is a really important part of the solution," Bock continued.
But the post isn't all contrition: it also points out the low numbers of computer science degrees among women and many minority groups, and notes the "time and energy" the company has put into advancing computer science education to the under-served.
And at a huge company like Google, even a single percentage point is a lot of people — enough to create numerous official clubs and networks, for black or Hispanic Googlers to gay Googlers and older "Greyglers."
Lack of diversity affects more than Google, but few companies have been willing to step forward, a fact Jesse Jackson lamented last week at Facebook's shareholder meeting.