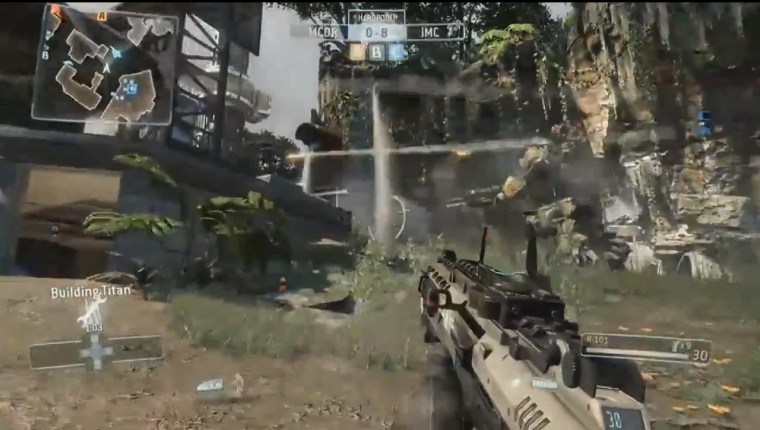 "Titanfall," the highly anticipated shooter by some of the formative developers behind "Call of Duty," will be released in Spring 2014 for the next-generation Xbox One console, as well as the current-generation Xbox 360 and PC, Microsoft announced Monday at the Electronic Entertainment Expo (E3) in Los Angeles.
When Microsoft Studios head Phil Spencer took the stage Monday morning to announce "Titanfall's" release, he said that the game would be an Xbox One exclusive. Shortly after the announcement however, a post on Microsoft's Xbox Wire added that the first-person shooter will also appear on the Xbox 360 and PC. It's unclear what, exactly, Spencer meant by "exclusive" — except to possibly suggest that the game will definitely not appear on rival consoles such as Nintendo's Wii U or Sony's PlayStation 3 and 4.
"Titanfall's" new trailer and gameplay footage revealed during Microsoft's press conference shows a futuristic sci-fi shooter that gives players (in addition to lots of guns and explosives, no doubt) fancy new toys like jetpacks and giant mech suits. The game first attracted attention given the high-profile pedigree of its development team at Respawn Entertainment, a company that was formed by Vince Zamepanella and Jason West—two disenchanted Infinity Ward employees who left Activision in 2010 after helping create the commercial and cultural juggernaut that is "Call of Duty." While Jason West left the company he co-founded last March, that hasn't stopped many gamers and critics from seeing "Titanfall" as something of publisher Electronic Arts' latest and greatest attempt to finally create a viable rival to the "Call of Duty" franchise.
Watch the new gameplay trailer for "Titanfall" below.
Yannick LeJacq is a contributing writer for NBC News who has also covered technology and games for Kill Screen, The Wall Street Journal and The Atlantic. You can follow him on Twitter at @YannickLeJacq and reach him by email at: ylejacq@gmail.com.