Microsoft released a preview of the upcoming Windows 8.1 Wednesday, loaded with features and fixes that improve and build on the foundation laid by Windows 8. While it's free for anyone to go and download, the preview is essentially a beta, so only install it if you know what you're doing (or profoundly dislike your current Windows 8 experience).

Microsoft shared details of Windows 8.1 at the end of May. While many were looking for a Start button that resembled the one in Windows 7, bringing up a menu of apps, folders and files, what showed up instead was a Start button that takes users from the classic Desktop to the Start screen. Still, there were some concessions made to those who are devoted to the older Windows: You can boot right into the Desktop or even a specific app, and you can use the Desktop wallpaper on your Start screen as well, enhancing the continuity of the experience.
By and large, however, Windows 8.1 pushes its "Modern" touch interface, what we lovingly call the "fat finger" approach. Not only does 8.1 appear to improve the Surface tablet experience, it will pave the way for even smaller tablets in the 7-inch range (though none, as of now, from Microsoft itself).

Microsoft's Tami Reller, who is both chief marketing officer and chief financial officer for the Windows business, told NBC News that Windows 8.1 will help continue the company's push for touch technologies and enable more shapes and sizes of Windows 8 systems, while addressing many of the usability concerns revealed in the first six months.
Getting the touch message across is "something that needs to be worked on," especially since Windows 8 also runs on non-touch screens. "That's been a confusion point at retail," she said.
Reller is optimistic that 8.1 will allow retail partners such as Best Buy to increase sales of Windows touch devices, and give hardware makers more incentive to build Windows tablets.
"We believe in the power of Windows but we know we have a competitor and we have to get out and sell," she said, referring to the multitude of Android devices now made by companies who have long partnered with Microsoft.
"I'm certainly not convinced that our partners are making money in Android, at the low end. It's not a slam dunk business win." Reller wants partners to build smaller, cheaper tablets in order to compete with Android, but she also thinks partners will profit from a better experience for enterprise customers who want a more integrated array of technology and already trust Windows for both PCs and servers.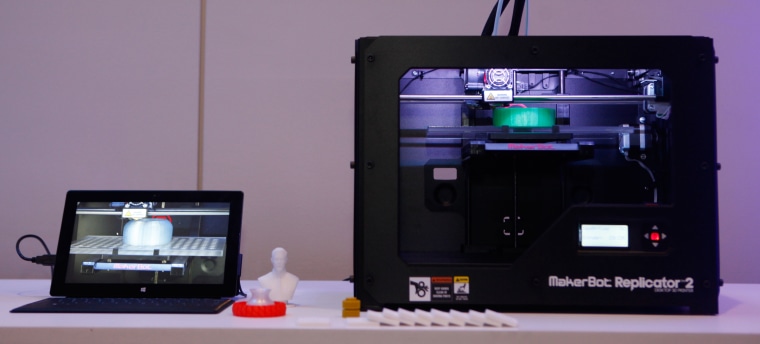 Developers! Developers! Developers!
For Antoine Leblond, Microsoft's corporate vice president for Windows, 8.1 means more opportunities for developers to bring hot software to the new platform.

Under the hood, engineers have tweaked graphics memory management to boost the performance of games on systems with really high-end hardware. Meanwhile, they've increased the size of files that can be downloaded from the Windows app store, because games can be greater than the 2 gigabytes currently allowed.
Since gaming was traditionally a PC stronghold, and Windows 8 wasn't warmly received by PC gamers, these kinds of upgrades matter.
Windows 8.1 also embraces new types of devices. For instance, installing 3-D printers has, up until now, been a hackery pursuit full of troubleshooting and trial and error. Microsoft developed a driver and protocol for 3-D printers, so that you can just plug them in. Sure, they still cost upwards of $1,000, but a year ago they were all over $8,000, so it probably won't be long until we're all eyeing them — if not buying them.

Search, too, is extended for developers. Type something into the search "charm," found anywhere in the OS, and eventually you won't just see local files and apps and Web results from Bing, but also movies and music you can stream straight from the Internet via a participating app. Though we haven't heard if Netflix or Hulu are taking advantage of this yet, Microsoft already integrated its own Xbox Music service, and the Wikipedia app will take advantage of this at launch.
Leblond hopes that Windows 8.1, with over 4,000 new APIs, will steer developers towards launching software in the Modern UI, sold through the Windows app store (where the company gets a percentage of the sales), rather than relying on versions that simply run on classic Windows. "It's a giant flywheel," he said. "Developers bring customers, customers bring developers." It's sort of the computer-age take on chicken and egg.
Whether Microsoft achieves its goals of wooing hardware and software partners — and ultimately the masses — with this revamped Windows 8, the immediate task is to get it into the hands of the nerds who will give it immediate (and not necessarily positive) feedback. That's why they release the entire OS for free to the entire world before it's done.
It's a nice gesture, but if you're going to check out the beta release for yourself, be careful, follow the instructions, and if you have any doubts, ask your geekiest friend for help.
Speaking of geeky friends, here are a few Windows 8.1 hands-on pieces from our buddies at Laptop:
Wilson Rothman is the Technology & Science editor at NBC News Digital. Catch up with him on Twitter at @wjrothman, and join our conversation on Facebook.