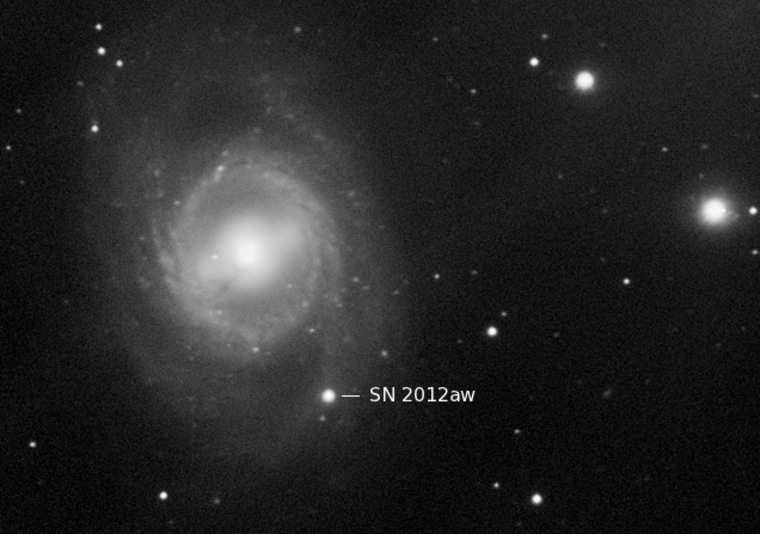 Anger over Twitter's new policy to censor messages on a country-by-country basis is resulting in protests by some Twitter users who say they will refuse to tweet on Saturday.
Using the hashtags of #TwitterBlackout and #TwitterProtest, some of the short-messaging blog's 100 million users are finding each other on the site to spread the word about the boycott.
Twitter said Thursday it would begin restricting tweets, which are limited to 140 characters, in certain countries around the world — which came as upsetting news to many who used Twitter as a means of communication to help start revolutions in the Middle East in the past year, and to those in other countries where dissidence is discouraged.
"We urge you to reverse this decision, which restricts freedom of expression and runs counter to the movements opposed to censorship that have been linked to the Arab Spring, in which Twitter served as a sounding board," the Reporters Without Borders group said in a letter Friday to Twitter. "By finally choosing to align itself with the censors, Twitter is depriving cyberdissidents in repressive countries of a crucial tool for information and organization."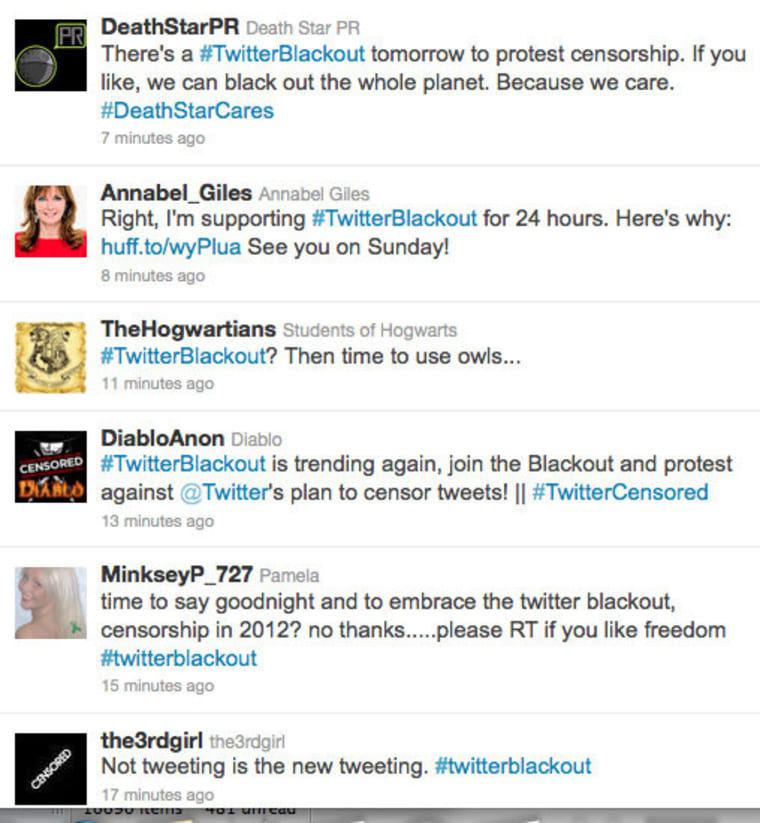 Some civil liberties organizations and news sites asked Twitter users to try to understand the site's new policy before protesting it.
"Twitter's increasing need to remove content comes as a byproduct of its growth into new countries, with different laws that they must follow or risk that their local employees will be arrested or held in contempt, or similar sanctions," said the U.S.-based Electronic Frontier Foundation on Friday.
"By opening offices and moving employees into other countries, Twitter increases the risks to its commitment to freedom of expression. Like all companies (and all people) Twitter is bound by the laws of the countries in which it operates, which results both in more laws to comply with and also laws that inevitably contradict one another."
The EFF also said that Twitter "has not yet blocked a tweet using this new system, but when it does, that tweet will not simply disappear — there will be a message informing you that content has been blocked due to your geographical location. Fortunately, your geographical location is easy to change on the Internet. You can use a proxy or a Tor exit node located in another country."
Social media news website Mashable told Twitter users to "relax," and reminded them that "Twitter's technology appears to be easy to circumvent. And further, Twitter appears to clearly be telling users how to get around its censors." (That's something that msnbc.com's Rosa Golijan wrote about as well).
Despite the furor, as of Friday evening ET, "TwitterBlackout" and "TwitterProtest" were not trending high on Twitter itself. Instead, the top-trending phrases referred to subjects such as "The Grey," a newly released movie, and "Happy National Chocolate Cake Day."
Related stories:
Check out Technolog, Gadgetbox, Digital Life and In-Game on Facebook, and on Twitter, follow Suzanne Choney.