Some who use Twitter are quite mannerly, others are totally rude — and a series of maps of Twitter users in the United States gives us an idea about who's naughty and who's nice, and where they're tweeting from.
The Twitter "heat map," developed by Vertalab, took two common phrases, "Good morning," and "F--- you," and scanned tweets containing those phrases in 462 specific locations in the U.S., over several different days in July.
"In order to get enough data for creating an animation we scanned Twitter at intervals approximately once per hour," Vertalab said on its site.
The results? Let's look at the more civil "Good morning" first, on July 1: They're mighty polite in Texas (at least on Twitter), and the D.C. to New York nexus came through with an abundance of the greeting. Other areas in the South, Midwest, Texas, Florida and Southern California also did well:
Now, for the less-proper-but-to-the-point "F--- you." On two different days in July, two different areas of the country were particularly piqued: On July 14, Southern California was in a nasty mood; and on July 28, folks in Tennessee were pretty riled up: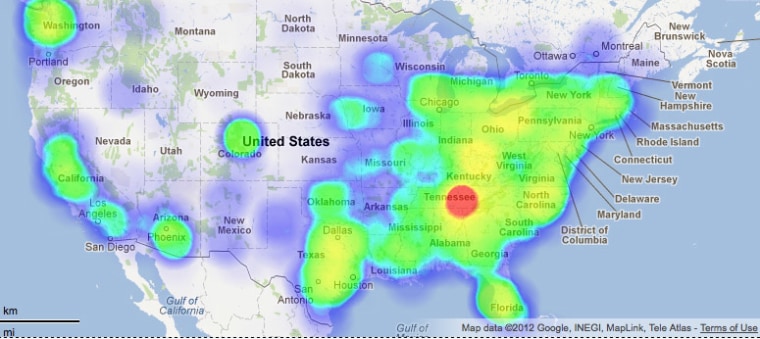 You can study the maps for various days of the month and see when and where changes happen. As Keir Clarke wrote on the unofficial Google Maps Mania blog, "I'll let you come to your own conclusions about where the rudest Americans live."
Noted one wag in the comments on the Maps Mania blog: "Actually as soon as the 'f--- you's cross the Canadian border they become 'I beg your pardon's."
Check out Technolog, Gadgetbox, Digital Life and In-Game on  Facebook , and on  Twitter , follow Suzanne Choney.