Self-driving cars operated by ride-sharing service Uber hit the public roads Wednesday in Pittsburgh, as the company launches a pilot program that will pick up actual passengers.
Uber has spent months outfitting Ford Fusions with self-driving hardware and software, including 360-degree radar, and a laser system that can detect obstacles in the road.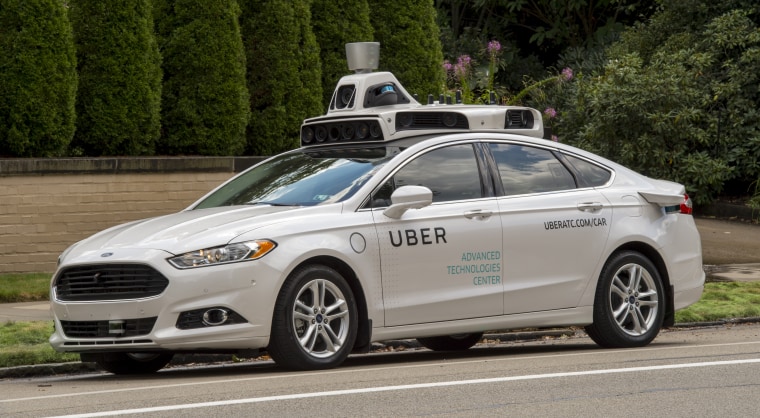 Customers won't be riding alone in the self-driving car, since an Uber safety driver will hover over the wheel in the driver's seat, while another engineer monitors real-time data on a laptop.
NBC News was given early access to the self-driving vehicle, and the opportunity to take it for a test drive.
For More: Watch NBC Nightly News on Wednesday 14 September at 6:30 p.m. ET for a Behind-the-Scenes Look at How Uber Developed the Self-Driving Car
Engineers spent nearly 18 months in Uber's "Advanced Technologies Lab" in Pittsburgh with the goal of making the self-driving Uber a reality, said a company spokesperson. The vehicles are equipped with 20 cameras, 7 lasers, roof and trunk GPS antennae, and a custom software platform.
Related: Fax Machines in Cars? That's What We Wanted in the 1990s
"This pilot is a big step forward. Real-world testing is critical to the success of this technology. And creating a viable alternative to individual car ownership is important to the future of cities," Uber CEO and co-founder Travis Kalanick said in a blog post with the self-driving program's executive, Anthony Levandowski.
"Safety needs to be the fail safe," said Debbie Hersman, president and CEO of the National Safety Council, addressing the issue of self-driving cars on public roads. "They've got to be conservative — and we know that other people on the roads are not always taking the conservative approach."
Read More: Uber and Volvo Team Work Together on Self-Driving Technology